« Early Morning Thread 1/25/15: Sunday Comics edition. [krakatoa]
|
Main
|
Secular Arguments for Life [Y-not] »
January 25, 2015
Sunday Morning Book Thread 01-25-2015: Science! [OregonMuse]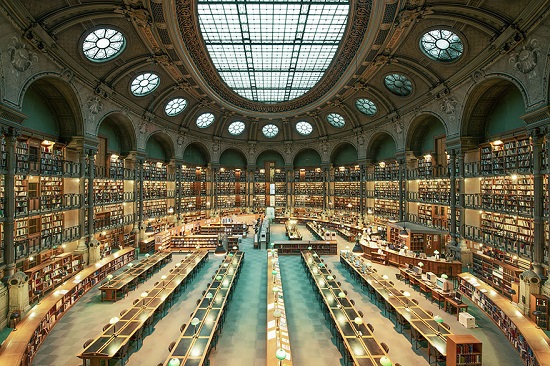 Paris - France National Library (Bibliothèque Nationale de France)
(library photo stolen from the HuffPo who got it from this guy)
Good morning morons and moronettes and welcome to AoSHQ's stately, prestigious, and high-class Sunday Morning Book Thread. The only AoSHQ thread that is so hoity-toity, pants are required. Or kilts. Kilts are OK, too. But not tutus. Unless you're a girl.
Quote Of The Week
If you only read the books that everyone else is reading, you can only think what everyone else is thinking.

-Haruki Murakami

Man's Search for Knowledge
Younger book thread readers might not know, and hence find it hard to believe, that there once was a time in America wen those who spoke to the public at large in the name of science weren't a bunch of smug, arrogant jerks. In particular, Bell Laboratories (yes, the old monopoly phone company) produced a series of educational movies on topics such as blood, the sun, heredity, the weather. They were originally broadcast on TV between 1957 and 1964, but then Bell made 16mm copies freely available for educational purposes, so they became science class staples in primary and secondary schools all over the country. If you're old like me, you're probably remember the AV club setting up the film projector in your classrooms so the science teacher could show the class films such as Hemo the Magnificent, or Our Mr. Sun, or maybe even The Unchained Goddess. I think they actually hold up pretty well, all things considered, they're entertaiing and yes, they're a bit hokey, but not as much as you might think.
Of course you can read about all of this, the history, the personalities, the films themselves, and more, in the book Sonnets & Sunspots: "Dr. Research" Baxter And The Bell Science Films by Eric Niderost.
And I'd much rather listen to Dr. Frank Baxter than Neill DeGrasse Tyson any day.
For more "man's search for knowledge" type stuff for a general audience, you might want to look into Daniel Boorstin's trilogy The Discoverers, followed up by The Creators: A History of Heroes of the Imagination and The Seekers: The Story of Man's Continuing Quest to Understand His World.

Mean Girls
You know 'em, you hate 'em, you love to hate 'em, they're 30 literary 'mean girl' characters, although I don't think some of them really qualify as mean girls, so caveat lector.
And Susan Pevensey from the Narnia stories isn't a "hussy". I think the word Lewis would use to describe her would be "worldly", which is quite different.
What The Boss Is Reading
A while back, Congress established the Financial Crisis Inquiry Commission (FCIC) to look into the whys are wherefores of the 2008 housing crisis. But:
In a just-released book, former FCIC member Peter Wallison says that a Democratic Congress worked with the commission's Democratic chairman to whitewash the government's central role in the mortgage debacle. The conspiracy helped protect some of the Democrats' biggest stars from scrutiny and accountability while helping justify the biggest government takeover of the financial sector since the New Deal.

...The final FCIC report put the blame squarely on Wall Street.

In 2009, then-House Speaker Nancy Pelosi appointed her California pal Phil Angelides, a long-time Democrat operative, to lead the commission. The fix seemed to be in, and Wallison's account of the inner workings of the 10-member body confirms it.
The book referred to is this one, Hidden in Plain Sight: What Really Caused the World's Worst Financial Crisis and Why It Could Happen Again, which ace mentioned earlier this week. What's interesting to me is that, since the Jan 13th release date, the book has picked up 59 one-star reviews (out of 89 total as of this writing) on Amazon, a venue where reviews tend to skew positive. So either (a) this is a really crappy book, or (b) the book has struck a nerve among progressives who are spontaneously rising up in progressively righteous wrath, or (c) this is what a fully operational Democrat/Alinskyite astroturf operation looks like.
I would like to think I'm not one who is given over to conspiracy theories, but given the targets of the book, the allegations and malfeasance described therein, and the Democrat Party machine's adroitness in trolling social media, I'm kind of tending toward (c).
And what exactly is David Axelrod up to these days, anyway?

Is There Such A Thing As A Liberal Muslim?
Well, maybe there is. Tarek Fatah is a Canadian Muslim who argues that Muslims shouldn't pray to defeat non-Muslims. Actually, I don't have much of a problem with this. After all, if that's all the jihadis did, the world would be a much more peaceful place, and tens of thousands of those who are now dead would still be alive.
And by way of explicating and expounding upon his beliefs that Muslims should be more about personal devotion and not so much blowing people up, Fatah has authored a couple of books, the titles of which pretty much explain their contents, Chasing a Mirage: The Tragic Illusion of an Islamic State, and also this one, The Jew is Not My Enemy: Unveiling the Myths that Fuel Muslim Anti-Semitism, which should get him into a lot of trouble:
Fatah uses extensive research to trace how literature from as early as the seventh century has fueled the hatred of Jews by Muslims. Fatah debunks the anti-Jewish writings of the Hadith literature, takes apart the Arab supremacist doctrines that lend fuel to the fire, and reinterprets supposed anti-Jewish passages in the Quran. In doing so he argues that hating Jews is against the essence of the Islamic spirit and suggests what needs to be done to eliminate the agonizing friction between the two communities.
Good luck with that. I mean, it's a noble goal and all, and I wish Mr. Fatah success in his efforts, but I would think that preaching against Jew hatred to radical, jihadi Muslims would be a bit of a hard sell, rather like explaining the virtues of chastity and modesty to Lena Dunham.
Plus, the bit about Jews being turned into monkeys and rats, that comes from one of the Hadiths, right? I wonder how Fatah squares that circle?

Reading Is Oppressive
Thanks to moron commenter The Political Hat I learned that "millenials" don't read books because they consider books to be a luxury item and you're a classist if you own them. And a privileged member of the oppressive class to boot.
On the other hand, the good news is that there is a gratifyingly large number of negative comments directed at the whiny emo twit who authored the screed in question, so there's that

The Best of George Orwell
Here is a brief introduction to the works of English novelist/essayist/critic George Orwell that provides links to a number of his shorter writings, including his famous essay Politics and the English Language.
For more Orwell reading, go here.
___________
So that's all for this week. As always, book thread tips, suggestions, bribes, rumors, threats, and insults may be sent to OregonMuse, Proprietor, AoSHQ Book Thread, at the book thread e-mail address: aoshqbookthread, followed by the 'at' sign, and then 'G' mail, and then dot cee oh emm.
What have you all been reading this week? Hopefully something good, because, as you all know, life is too short to be reading lousy books.


posted by Open Blogger at
09:09 AM
|
Access Comments