« Obama's Second-to-Last Trolling of the Nation: Open Thread
|
Main
|
Morning Thread (1-21-2015) »
January 20, 2015
Overnight Open Thread (1-20-2015)
I can't claim to have known Georges Wolinski, the 80-year-old cartoonist among the dead on Wednesday, but I met him briefly, a few years ago. Via Laura Rosen Cohen, I learn of the strange, circular journey of his life and death. His father was a Polish Jew who fled to Tunisia to lead a life free of pogroms. Georges was born there in 1934. Two years later, his dad was murdered, and the family moved again, this time to France.

And on Wednesday, like his father, the son was killed.

Wolinski pθre fled Jew-hate in Europe to be murdered in the Muslim world.

Wolinski fils fled Jew-hate in the Muslim world to be murdered in Europe, by Muslims.

-- Mark Steyn in #JeSuisCharlie - But You're Not
'Why is Beheading Always in the News, is This Really 2015?'
Welcome to the 21st century where beheadings and crucifixions are back in style. But on the plus side you can read and tweet about them on your hand-computer that also makes phone calls.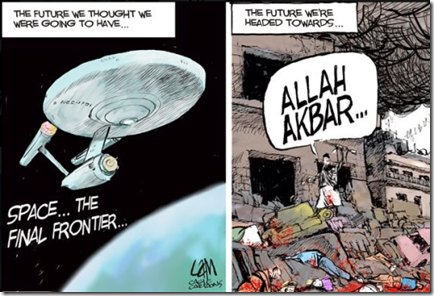 How Hackery and Dishonesty Manage to Thrive in Journalism
US Set to Evacuate Embassy in Yemen
Or else find a nice patsy filmmaker.
The SJWs Will NEVER EVER EVER Be Satisfied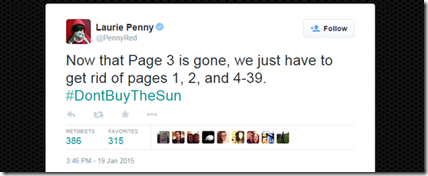 PA State Lawmaker Moves to Ban Human Silhouette Targets
Rep. Thaddeus Kirkland:
In the near future, I will introduce legislation amending Title 18 of the Pennsylvania Consolidated Statutes, which will address the use of human silhouette targets at shooting ranges.

Rather than perpetuate violence by continuing to allow individuals to practice their target shooting by shooting at human silhouette targets at shooting ranges, my legislation will prohibit the use of targets that depict human silhouettes at shooting ranges across the Commonwealth. Instead, silhouette targets could include, but are not limited to the following: white-tailed deer, black bear, wild turkey, and elk.

My legislation creates a new section under Title 18 Chapter 61 regarding firearms and other dangerous articles. Specifically, the bill prohibits the use of human silhouette targets at shooting ranges across the Commonwealth except by law enforcement officers, military personnel or other public safety personnel in line with their official duties.
So in PA you can legally shoot a person in self-defense (which is why most people own guns) but you would not be allowed to practice shooting someone in self-defense. Because violence.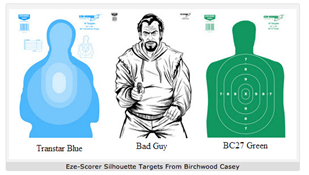 Mattress Girl Attends State of the Union
Sans mattress.
Mexico Starts Issuing Birth Certificates to Its Citizens Already Illegally in U.S.
I don't think the US government even does this for American citizens overseas. And hell I've always wanted a Mexican birth certificate as well. For just in case. All I need is a legit name, date and place.
The Mexican government on Thursday will start issuing birth certificates to its citizens at consulates in the United States, seeking to make it easier for them to apply for US work permits, driver's licenses and protection from deportation.

Until now, Mexico has required citizens to get birth certificates at government offices in Mexico. Many of those living in the US ask friends and relatives back home to retrieve them, which can delay their applications for immigration or other programs.
How to Get the Fish Out of an Abandoned Shopping Mall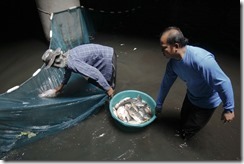 So This Was Published: On Using Compressibility to Detect When Slime Mould Completed Computation
Slime mould Physarum polycephalum is a single cell visible by an unaided eye. The slime mould optimizes its network of protoplasmic tubes in gradients of attractants and repellents. This behavior is interpreted as computation. Several prototypes of the slime mould computers were designed to solve problems of computation geometry, graphs, transport networks, and to implement universal computing circuits. Being a living substrate, the slime mould does not halt its behavior when a task is solved but often continues foraging the space thus masking the solution found. We propose to use temporal changes in compressibility of the slime mould patterns as indicators of the halting of the computation. Compressibility of a pattern characterizes the pattern's morphological diversity, that is, a number of different local configurations. At the beginning of computation the slime explores the space, thus generating less compressible patterns. After gradients of attractants and repellents are detected the slime spans data sites with its protoplasmic network and retracts scouting branches, thus generating more compressible patterns. We analyze the feasibility of the approach on results of laboratory experiments and computer modelling. © 2015 Wiley Periodicals, Inc. Complexity, 2015
Over twenty years ago I had an idea of using PCR and genetically modified bacteria to create bio-computers capable of solving certain difficult problems. But at the time there were no graduate programs that would let me work in this area so I pursued other interests.
Britney Spears' Ex Killed by Taliban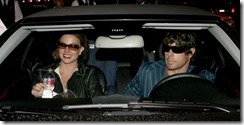 Le Shock: It Turns Out That Energy Drinks Won't Let You Outrun a Train
Even if you're a professional fitness trainer.
Teh Tweet!
Tonight's post brought to you by mistakes were made: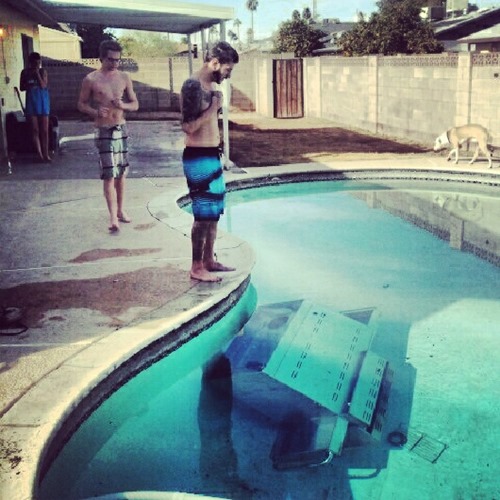 Notice: Posted by the imprimatur of Group E, AceCorp LLC. Please e-mail your tips to el gran maetenloch at gmail. Otherwise bother the ewok. Coraje!

posted by Maetenloch at
10:07 PM
|
Access Comments