« CFP National Championship
|
Main
|
Morning Thread (1-13-2015) »
January 12, 2015
Overnight Open Thread (1-12-2015)
He knows exactly how smart he is. . . . I think that he has never really been challenged intellectually. . . . So what I sensed in him was not just a restless spirit but someone with extraordinary talents that they had to be really taxed in order for him to be happy. . . . He's been bored to death his whole life. He's just too talented to do what ordinary people do. He would never be satisfied with what ordinary people do.

-- Valerie Jarrett describing Obama in 2010
The reason that Jews can live normal lives as citizens of Western democracies today is not that human nature has markedly improved since 1945, or that another series of attacks by anti-Semitic fanatics is unthinkable. Sadly, that's not true, as the events of the last week and the last year in Paris show. We are not afraid because we know, whether overtly or in a dark half-acknowledged corner of our minds, that there is one state in the world-however imperfect it is in some of its particulars-where we and our children will be welcome, and whose government will do its best to protect us, with all the force at its disposal.

...What has changed for the Jewish people over the past 75 years isn't that we have ceased to love the countries where we live. It is that we are no longer compelled to bet-with our lives-that our love will be requited.

-- Tablet magazine from Au revoir les juifs et La France
As Insty has pointed out before whenever the Jews start leaving your country, it's a sign that bad things are coming.
Comment of the Day - On the Muslim Banlieues Where Police Fear to Tread
544 Let's call those 'No-Go Zones' what they are...they're Colonies.

It's not immigration if you are ceding them territory. It's Colonization.

Posted by: wheatie at January 12, 2015 07:40 PM (AQysw)
Do the French Really Love Jerry Lewis?
Short answer: Not really - but they are fond of him and respect him.
Part of this is due to the fact that the French have always liked slapstick and pantomime-type humor much more than Americans and that they admired that he was one of the first comedic actors to ever write, produce, perform and direct his own movies.
Levy conjectures that French audiences took to Lewis in part because he exemplified the French notion of the auteur - the individual, typically the director, who imposes his artistic vision on the production, which Lewis definitely did. But it's probably equally true that the French, despite or maybe because of their devotion to art (you know, pushing the envelope and all that), were also suckers for low comedy. One recalls the legendary French stage performer Le Petomane, aka the Fartiste. Not that Jerrymania was strictly a French thing. Lewis was voted director of the year three times in France, but he won the same honor in Italy, Germany, Belgium, Spain, and the Netherlands.

Today I'd say French critics still like Jerry Lewis but their appreciation is tempered by a recognition of his failings.

...Say what you will about the French, Lewis deserves more respect from Americans than he gets. Woody Allen, for one, admired Lewis and wanted him to direct Allen's early films. As a kid I remember watching The Errand Boy (1961) and being touched by the exchanges between Lewis and the little clown puppet. A small thing, but how much of most movies do you remember the next day, much less after 38 years?
And remember that he was a major comedian and a big box office draw in the US up until the mid 60s when he quickly began to fade. So the alternate question is why has he remained popular in France and elsewhere and yet become a joke in the US?
Well one answer is that audience tastes changed and his clowning style of acting fell out of favor, especially as he got older. Some also point to his easily parodied performances during his MDA telethons (and steroid-induced puffy appearance) as the point when he became a punch-line instead of a comedian.
The Telethon, of course, has been a force of outstanding humanitarian good.  Jerry Lewis gave generously of himself to advance a worthy cause and because of him, many lives are materially improved.

Lewis' charity work won him a French Legion of Honor in 1984-an award that may have helped contribute to the whole "French love Jerry Lewis" myth, but which had nothing to do with him as a filmmaker or comedian and was entirely based on his humanitarian accomplishments.

...And this calcified a certain image of Jerry Lewis, as a somewhat tone-deaf entertainer who didn't fully connect with own fans, as someone more interested in parading his faded glory than earning new glory.
And we won't even go into the saga of his never-released 1972 movie, The Day the Clown Cried, about a clown in a Nazi concentration camp. Only a select few in Hollywood have ever viewed even parts of it and supposedly it was so epically terrible that Lewis has vowed that the only remaining copy will be buried with him so that no one will ever see it. But here he was in his prime:
It Turns Out That Obama WAS in Paris for the March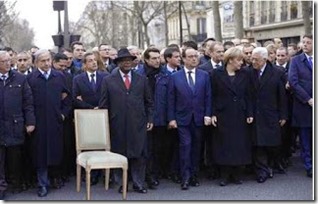 Why did we do this? There are really only two reasons - both disturbing in their own way.

1. This was a case of nationalizing a point of personal pique. For some reason, perhaps related to this episode, Obama just does not care to expose his ego to possible injury in groups of other national leaders. He also does not like Europeans.

2. We have another example of the horrible national security brain trust he as around him. President Obama has never had good instincts concerning the care and feeding of our traditional allies. If they are giving him awards and praise from Oslo to the Tiergarten, he is fine. But showing support to them? No, there is some kind of blocking diode there. If he has good advisers who can help him work around his own biases and pre-conceived notions, he is movable. That is the function of a good staff. However, look who he has around him now. Instead of Hillary Clinton, Leon Panetta, Robert Gates, and James Jones - we have John F'n Kerry, Susan Rice, and Joe Biden who, along with the slum lord Valerie Jarrett, drown out any other advisers out there.
Paris Sends Soldiers to Guard Schools
Paris is deploying 10,000 soldiers and police to provide security within metropolitan France, and will send "thousands" of police to protect Jewish schools in the wake of attacks by Islamic terrorists that left seventeen French citizens dead last week. This is certainly a step in the right direction, given the severity of recent attacks, and the fact that the Jewish community has been repeatedly been the target of violence in the past, to the point that some recently talked about leaving their homes for safer countries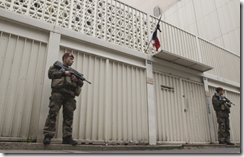 ISIS Hacks CENTCOM's Social Media Accounts
And just a few weeks ago the White House intranet got hacked and as far as I know it's still barely functioning as they try to fix it. Good times, good times.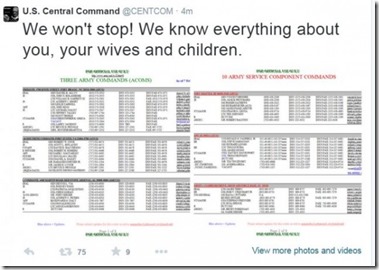 Jonah Goldberg: A Win for the Jihadists
It is right and good to say we are not at war with Islam, but it is dishonest to claim that there are no Muslims waging war against us. Falling back on sanitized euphemisms is the rhetorical equivalent of pixelating Mohammed; it fools no one except fools.

A free society cannot allow freedom to be held hostage to murderers. And that is why I favor running those images of Mohammed even if some of them offend me. Moderation, tolerance, and respect are essential to a free society, but we are in a moment where moderation, tolerance, and respect are too easily confused for appeasement. And that is why the jihadists are winning. They are forcing us into only bad options. The center is not holding.
Book Recommendation: Escape From Corregidor
I happened to come across this book many years ago and recommend it if you're looking for something worth reading from WWII that's not as well known as it ought to be.
It's the true story of Edgar Whitcomb who was a B-17 navigator stationed in the Philippines right before the war. When the Japanese destroyed his plane the day after Pearl harbor he was forced to fight as an infantryman in the Bataan campaign. When the forces in Bataan surrendered, he managed to evade the Japanese and make his way to Corregidor in a stolen rowboat and keep fighting. But when Corregidor fell a few months later, he became a prisoner of the Japanese.
Soon after he managed to escape one night by swimming 8 hours across Subic bay to the mainland. After that he hooked up with other escaped American soldiers and were planning a boat escape to Australia when he was betrayed and captured (and tortured) by the Japanese. But through cleverness and quick wit he eventually made his way back to the US (you'll have to read the book to find out how) and was able to fly a bombing run over Japan before the end of the war. He later became governor of Indiana and is still alive today at 97 living in a log cabin in the Hoosier National Forest.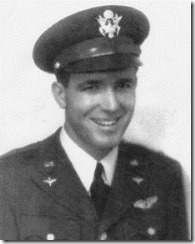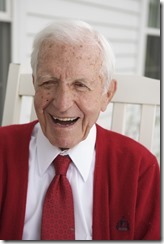 Federal Court Tosses Texan(!) Hair-Braiding Regulations
A federal judge has ruled as unconstitutional Texas laws regulating businesses that teach African hair braiding.

The judge in Austin ruled the regulations do not advance public health and safety or any other legitimate government interest.
10 Incredible Accidentally Discovered Time Capsules
A 1795 time capsule, said to have been placed in the cornerstone of the Massachusetts State House by Paul Revere and Samuel Adams, was found by a worker fixing a leak in 2014. This wasn't the first time it was accidentally found - in 1855 workers also stumbled upon it.

It was opened in a ceremony, with other items added and then the capsule was replaced inside a copper box. This is considered the oldest time capsule to have been discovered in the United States and contains coins, newspapers, and a silver plate thought to be carved by Revere.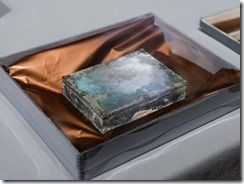 The Yahoo AoSHQ group - it's got electrolytes.
And my twitter thang.
Tonight's post brought to you by Teddy Roosevelt in a plane in 1910: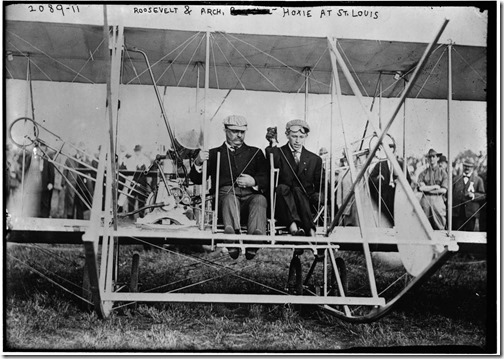 Notice: Posted by permission of AceCorp LLC. Please e-mail overnight open thread tips to maetenloch at gmail. Otherwise send tips to the man.

posted by Maetenloch at
10:28 PM
|
Access Comments