« Food Thread: Free Speech Edition [CBD]
|
Main
|
Morning Thread (1-12-2015) »
January 11, 2015
Overnight Open Thread (1-11-2015)
Many progressives say that the 34 states that have passed laws requiring voters to have a government-issued photo ID are practicing "vote suppression." Does requiring a photo ID at airports constitute "travel suppression"? Visitors to the Justice Department are required to present photo IDs. Will you. . .plan to end this "visit suppression"?

-- George Will posing questions for Attorney General nominee Loretta Lynch
Movie Night: Barbarians at the Gate
I believe Y-Not mentioned this as her go-to Wall Street movie a few weeks ago and actually it's one of mine too. You wouldn't think that a movie about one of the largest leveraged buyouts ever could be both very funny and educational but Barbarians at the Gate proves that wrong.
This HBO movie based on the book of the same name was made in 1993 and documents the 1988 attempted LBO of the company by the CEO of RJR-Nabisco and how it turned into an insane bidding war that came to be viewed as a classic example of executive greed run amok. James Garner and Jonathon Pryce are excellent as the bidding rivals F. Ross Johnson and Henry Kravis. Fred Thompson also appears as the CEO of American Express and buyout partner of Johnson. The classic Premier 'smoke-less' cigarette scene appears at the 20 minute mark.
I myself am careful not to refer to Muhammad (spelled however) as "the Prophet." Fine if he's yours, and no offense intended, but he's not mine.

Tuttle observes with considerable understatement: "There seems to be an implicit, unique measure of respect accorded to the religious leader of Islam that is passé when it comes to the carpenter from Nazareth." Not to mention Moses or Isaiah or Elijah and all the rest.

...The rot has spread to Fox News. On Wednesday's "Special Report" panel, Bret Baier and Juan Williams both referred to Muhammad as "Prophet Muhammad." Charles Krauthammer and Steve Hayes did not.
Voxsplaining The Charlie Hebdo Massacre
The Two Muslim Heroes of the Paris Terror Attacks
As the world mourns the victims of the Paris attack, we should also recognize two acts of bravery by Muslims in the course of the week's events at the Charlie Hebdo offices and Hyper Casher Kosher supermarket.

The first is Ahmed Merabet, a French policeman who was killed at Charlie Hebdo.

...The second is a 24 year old shop assistant named Lassana Bathily. As horrific events unfolded at the Super Cacher kosher supermarket, Bathily saved the lives of French Jews by hiding them in the walk-in refrigerator of the store.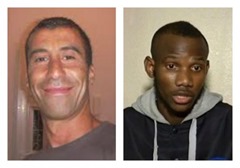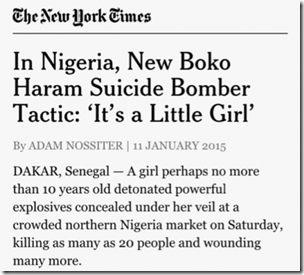 Reading this I can't help but think of the Philip K Dick story, 'The Second Variety', the inspiration for the movie Terminator. You can read it here.
Dem Dilemma: Hillary "Very Old, Slow" But Elizabeth Warren Unelectable
A Classic: Weightlifters Debate How Many Days Are in a Week
Well to be fair it's mostly one calendar-challenged dude who thinks a week is really 8 days and is immune to all other posters' attempts to educate him otherwise.
Best comment: "Seems to me that you're all neglecting the fact that TheJosh has a time-machine."
Warning: This may make you dumber for having read it.
How the Colombian Army Sent a Hidden Message to Hostages Using a Pop Song and Morse Code
Colonel Jose Espejo was a man with a problem. As the Colombian army's communications expert watched the grainy video again, he saw kidnapped soldiers chained up inside barbed-wire pens in a hostage camp deep in the jungle, guarded by armed FARC guerillas. Some had been hostages for more than 10 years, and many suffered from a grim, flesh-eating disease caused by insect bites.

It was 2010, and the straight-talking Espejo was close to retirement after 22 years of military service. But he couldn't stand the thought of quitting with men left behind enemy lines. He needed an idea, and when he needed an idea, he always went to one man.

...But this operation would be far more challenging. They had to create a message that could be understood by the hostages, but remain invisible to their captors. They needed to give the hostages hope, and encourage any soldiers harboring plans of escape that now was the time. Ortiz agreed to participate, and boarded the next plane to Bogotá.
How To Ruin Your Life With a Single Misdirected Fapping Video
My Dentist, the Leopard Slayer
Prashant Singh is a picture of concentration as he performs a root canal operation on a patient. He is equally focused stalking a man-eating leopard through a dense jungle. The Doon-based dentist belongs to a select tribe of professionals who have staid day jobs but who are passionate about hunting killer big cats. In fact, these professionals -- who work as teachers, contractors and businessmen -- are often called in for help by the forest department when an animal turns man-eater. Singh for instance hunted down a man-eater which was stalking the city's cantontment area a few years ago. "I still remember the terror the animal caused. It killed a woman and a young girl. Prashant managed to trace the animal and brought it down in one shot," recalls conservationist Vinod Giri.
Weekly Commenter Standings
Top 10 commenters:
1 [694 comments] 'ThunderB' [97.50 posts/day]
2 [505 comments] 'rickb223'
3 [473 comments] 'Nip Sip'
4 [432 comments] 'Thin veneer of civility'
5 [373 comments] 'artisanal 'ette '
6 [362 comments] 'J.J. Sefton'
7 [344 comments] 'Ricardo Kill'
8 [318 comments] 'AllenG (DedicatedTenther) - TrueCon'
9 [318 comments] '---'
10 [311 comments] 'Carol'
Top 10 sockpuppeteers:
1 [129 names] 'guy who wants the pic of the Patriots' cheerleader in the sailor
uniform' [18.12 unique names/day]
2 [101 names] 'The Political Hat'
3 [88 names] 'Thin veneer of civility'
4 [56 names] 'Bob's House of Flannel Shirts and Wallet Chains'
5 [47 names] 'Anderson Cooper's Smoked Sausages'
6 [40 names] 'Nip Sip'
7 [37 names] '---'
8 [35 names] 'Sandra Flook'
9 [31 names] 'Radeaminit'
10 [30 names] 'Big Bad Wolf'
The group. Never heard of it.
Where it's at - the Twitter
Tonight's post brought to you by a perfect match: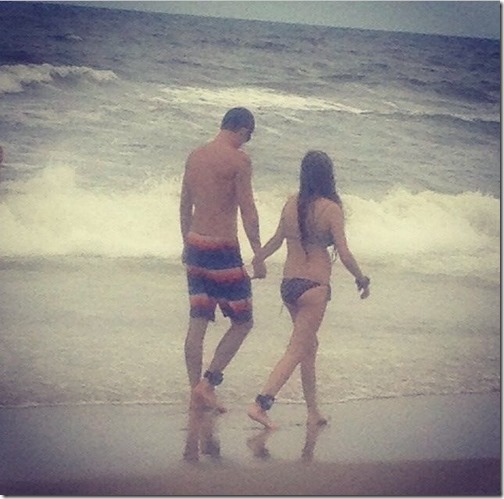 Notice: Posted by permission of AceCorp LLC. Please e-mail overnight open thread tips to maetenloch at gmail. Otherwise send tips to Ace.

posted by Maetenloch at
10:14 PM
|
Access Comments