« Double Emergency Elbows Thread [Y-not for Dave in Texas]
|
Main
|
Stipulated: The refs are in the tank -- Open Thread (CBD) »
January 04, 2015
A Method For Extraction and Concentration of Various Organic Compounds Using An Aqueous Solvent (CBD)
Otherwise known as soup.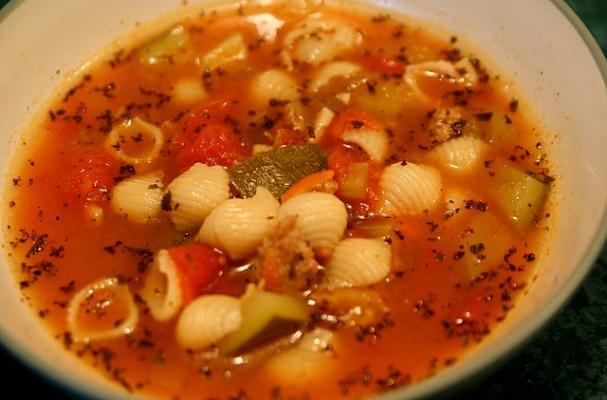 But for God's sake, make your own stock. It's infinitely better than commercial, and you get to use up stuff you normally throw out.
Remember that Spatchcocked Chicken recipe? Well, keep the backs in the freezer until you have a few pounds, roast them in a hot oven, with whatever other chicken parts you have been industriously saving, until they are browned, toss them in a pot of cold water, bring to a boil, skim it and throw in those long-in-the-tooth carrots and onions and celery sitting in the back of your refrigerator. If you have some Italian parsley toss that in too. Simmer for two or three hours and then filter through cheese cloth or a chinois.
I chill the stock and then skim the solid fat off the top, then portion into pint or quart containers and freeze.
For beef stock it's pretty much the same idea, but save all of the bones from whatever grilled or roasted or braised beef you eat, and when you have enough follow the same basic plan. If you can get a pound or two of something really, really cheap (chuck is often on sale for very little), roast it with the bones for added flavor.
Vegetable stock? Yup.....same plan.
Notice something missing? Yeah...no salt. I much prefer having total control over the amount of salt in my food. Why salt the stock when it is an ingredient and not an end product?
Fish stock is a PITA. I will always use shrimp stock made from the shells (and if you ever eat lobster, save those shells too). But I don't make it very often....I usually prefer the flavor of a well-made chicken or vegetable stock.
Here's a selection of some nice soup recipes, but mix and match to your heart's content. And please, simplify down to the very basic recipe if you don't feel like jumping through the hoops that most recipe-writing chefs insist upon.
Tuscan Vegetable Soup With White Beans
This is overly complicated, but it is very good. The cabbages add an interesting zing to the soup.
Winter Minestrone Soup
Best soup recipe I have ever found. It's just great. Err on the side of under-cooking the pasta if you are going to reheat or freeze this soup.
Roasted Potato Leek Soup
Another solid effort from Ina Garten. She may be a leftie, but she can cook!
Mediterranean Fish Soup
Emeril LaGasse seems to have fallen out of favor with the manaegement of the Food Network, but he can still cook. I would use the cheapest fish available...cod works great....because this dish is not subtle, and there are lots of flavors that will make $20/lb. grouper taste just like $7/lb. cod.
French Onion Soup
This is a good basic recipe from Tyler Florence, whose recipes all seem to be well-tested and almost foolproof. Are they great? Not usually, but they are a great place to begin, knowing that the end result will be a strong effort.
And from our very own Y-not, a great link to Saveur's 20 Simple Vegetable Soups.
Shrimp with Ceci Beans and Chiles
1 lb. good quality raw shrimp
1 can ceci beans
1-2 serrano chiles (Jalapenos will work too)
Juice of one lemon
Extra Virgin olive oil
Chopped flat-leaf parsley
Kosher salt
Boil the shrimp until barely cooked. Overcooked shrimp taste like rubber bands, so be careful. Err on the undercooked side and you will be happy. Dump them in ice water to stop the cooking, then peel, cut into chunks a bit bigger than a ceci bean, and stick them in a bowl.
Open the can of ceci beans, rinse and drain them, and dump into the shrimp.
Now comes the fun part. If you like hot food, simply slice the serranos into thin rings and toss them into the shrimp bowl. If you don't want the sometimes considerable heat from the serranos, you'll have to remove the seeds and veins. But this dish looks great with those cool slices of chile so, using your thinnest bladed knife, slice the tips off the chiles and core them without slicing them lengthwise. It will take a few seconds, and don't forget to wear gloves, or wash your hands thoroughly, or you may experience the joys of a capseicin burn on any mucous membrane you touch.
Slice them into those rings I just described and toss them in with the shrimp and beans.
Dress the shrimp with the fresh lemon juice, a few tablespoons of olive oil (use something good), the chopped parsley and (this next step is important) and more salt than you might think. The shrimp aren't salty, and the beans aren't salted at all, so the dish will need a healthy dose of kosher salt.
Let it marinate for a few hours before you serve it in ramekins. This can be prepared in advance so your guests can enjoy (or suffer) your company.

posted by Open Blogger at
04:00 PM
|
Access Comments