« Way Too Early Morning Thread 1/4/2015 [krakatoa]
|
Main
|
Open Thread [Y-not] »
January 04, 2015
Sunday Morning Book Thread 01-04-2015 [OregonMuse]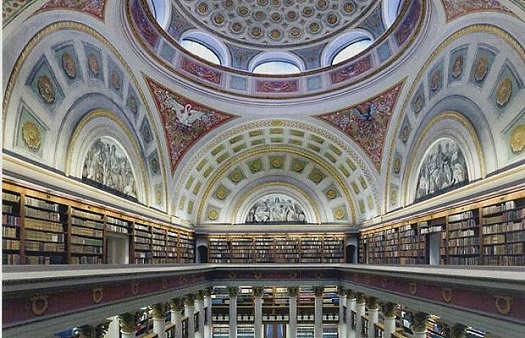 National Library of Finland - Helsinki, Finland

Good morning morons and moronettes and welcome to AoSHQ's stately, prestigious, and high-class Sunday Morning Book Thread. The only AoSHQ thread that is so hoity-toity, pants are required. Or kilts. Kilts are OK, too. But not tutus. Unless you're a girl.
Quote Of The Week
Always read something that will make you look good if you die in the middle of it.

-P.J. O'Rourke

Taxes Are Going Up, Sun Rises In East
I swear that the only function that politicians and bureaucrats are good at is figuring out new ways to extract money from those who have elected them:
LONDON - Europe's tax showdown could be headed straight to people's wallets.

With the new year, a change in fiscal rules in the European Union is increasing the tax on many purchases of digital content like e-books and smartphone applications.

Under the new rules, first approved in 2008, the tax rate on digital services like cloud storage and movie streaming will be determined by where consumers live, and not where the company selling the product has its European headquarters.
The problem is that dastardly American companies like Amazon have located their European offices in Luxembourg, which has a value-added tax (VAT) of 3% for e-book purchases, as opposed to, say, England, where they typically pay 20% VAT.
So, if it were like that here, instead of paying $14.99 for the Kindle edition of a best-seller, you'd be paying $17.98.
Tax experts say Europe's revamped rules could add up to an extra $1 billion in annual tax revenue for European governments.
Of course, it won't. I'll bet you anything that this projection is based on nothing being any different. Nobody will take their business elsewhere and everybody will continue to buy stuff from the same online outlets, just like before.
Every time a politician says that the tax hike will bring in 'X' dollars in increased revenue, it's never the case, it always turns out in the end to be 'X' minus 'Y', where 'Y' can be quite large.
The only thing I see increasing here is torrent downloads.

How Do You Know British Literature?
You can take this quiz and find out. I scored 83%, so it can't be all that difficult.
Dubious Books
Moronette Anna Puma sends along this list of awful library books. Some of these we've seen before, but many are new. Some are just Wrong. And some don't actually look like they should be on the list.
But, seriously, Wrestling For Gay Guys? Is that a real book? Yes, it is.
That cover art is almost NSFW.
Apparently, there's an entire web site devoted weird and wacky books librarians find on their shelves.
And there's some conflicting messages here. Should we go with Nice Girls Do or It's OK To Say No?

End-of-Year Lists
For all you cheap bastards out there like me, here is Amazon's list of their top 100 free e-books for 2014.
And, just because I'm an equal opportunity kind of guy, here are Amazon's top paid books for 2014.
Judging by the number of entries with cover art consisting of bare-chested, abs-of-steel guys, the 'free' list appears to be heavy on the "harlequin romance" type books, for the ladies.

Life Magazine Now Online
And not just the covers.
Couple three weeks ago, I was bemoaning the fact that back issues of The Saturday Evening Post were not available online, and how cool it would be if they were. Moron commenter 'rickl' pointed out something almost as good, i.e. that you can browse a few decades' worth of Life Magazine online, free:
For you young'uns, Life was a weekly news magazine that concentrated on photographs. It was a big part of my childhood in the 1960s, but it was eventually made obsolete by television news.

I spent much of yesterday reading issues around the start of WWII. It's interesting to read those events as breaking news, with reactions and editorials.


For many people in America, Life was probably the closest thing they got to real-time news reporting.
The complete archives of Life from 1936-1972 are available online here.

Beowulf To Screen - Again
The screen adaption of this classic poem with Angelina Jolie was sort of meh, by all accounts, but this one is going to be a small-screen adaptation. According to The Guardian:
The epic poem Beowulf is to be made into a 13-part drama by ITV.

Described as a western set in the dark ages of Britain's mythic past, the series will use locations in County Durham and Northumbria to represent the poem's Scandinavian setting, and will deliver "epic fights, thrilling chases, raids, celebrations and battles", following the eponymous hero's battles with a monster and a dragon
A couple of things. First, Mrs. Muse and I are liking more and more the limited run miniseries with a definite beginning and a definite, predetermined end, rather than the TV shows that just go on and one until they get cancelled at which point the writers have to figure out how they're going to end it. But second, it seems to me that by making Beowulf a 13 week miniseries, they're going to have to pad it out quite a bit. Lots of backstory, I'm thinking. Beowulf is already a warrior of renown, so maybe they'll gin up some of his earlier heroic exploits?

What The Morons Are Reading
From the ONT of a few days ago, Maetenloch recommends the alt-history novel The Peshawar Lancers, based on this review by Moe Lane. Maet says:
The central idea to the book is that there was a comet strike in the Atlantic in the late 19th century that devastated Europe and North America. The British evacuated most of their people to India creating new country with a hybrid Hindi-Brit culture that becomes the new British Empire. As Lane describes it it's the world that Kipling would have wanted to live in. I'd love to see more books set in the same world as well.
Stirling is also the author of the alt-history novel Conquistador, as well a many others.
___________

About this time last year, moron commenter 'Oldsailors Poet' was having a fun time reading the very "entertaining, interesting and titillating" expose' Writers Between the Covers: The Scandalous Romantic Lives of Legendary Literary Casanovas, Coquettes, and Cads by Joni Rendon and Shannon McKenna Schmidt.
Imagine hundreds of pages of Morning MP4 writings, only relationship based and about writers.

These people are FKD UP. From Lord Byron to Tennessee Williams you will see that they had no shortage of material based on personal experiences. It's lots of fun. I give it 5 stars for sheer entertainment value.
And on that note, there is also Writers Gone Wild: The Feuds, Frolics, and Follies of Literature's Great Adventurers, Drunkards, Lovers, Iconoclasts, and Misanthropes by Bill Peschel, where you will discover that Upton Sinclair once published an obituary for one of his characters to gain public attention and William Faulkner worked at the post office and would go through people's mail, throwing away what he thought they didn't need and keeping the magazines for himself.
Of course, I always wonder how much more writers are "FKD UP" than the population in general.
And here is a collection of photos of authors boozing it up.

___________
So that's all for this week. As always, book thread tips, suggestions, bribes, rumors, threats, and insults may be sent to OregonMuse, Proprietor, AoSHQ Book Thread, at the book thread e-mail address: aoshqbookthread, followed by the 'at' sign, and then 'G' mail, and then dot cee oh emm.
What have you all been reading this week? Hopefully something good, because, as you all know, life is too short to be reading lousy books.

posted by Open Blogger at
09:27 AM
|
Access Comments