« Poll: Republicans Prefer Anyone Else to Boehner
|
Main
|
Cybersecurity Experts Claim That Sony Hack Was Inside Job, Initiated by Laid-Off Technical Employee Named "Lena" Seeking Vengeance Against the Company »
January 02, 2015
Harry Reid Breaks His Face
That's Drudge's headline. Drudge also has funny flashbacks about Reid's troubling history of Mysterious Injuries. He reports the injuries with Doubt Quotes, suggesting something may be amiss.
So what happened to Reid? And will this shed any light on the man authorities know as the Searchlight Strangler?
Senate Democratic leader Harry Reid is in a Las Vegas hospital following injuries sustained while exercising at home.

A statement issued Friday by Reid's office said doctors expect a "full recovery."

"A piece of equipment Senator Reid was using to exercise broke, causing him to fall and break a number of ribs and bones in his face," according to the statement.
Can you think of a fall that causes you to break your face and ribs, but not, somehow, an arm or wrist?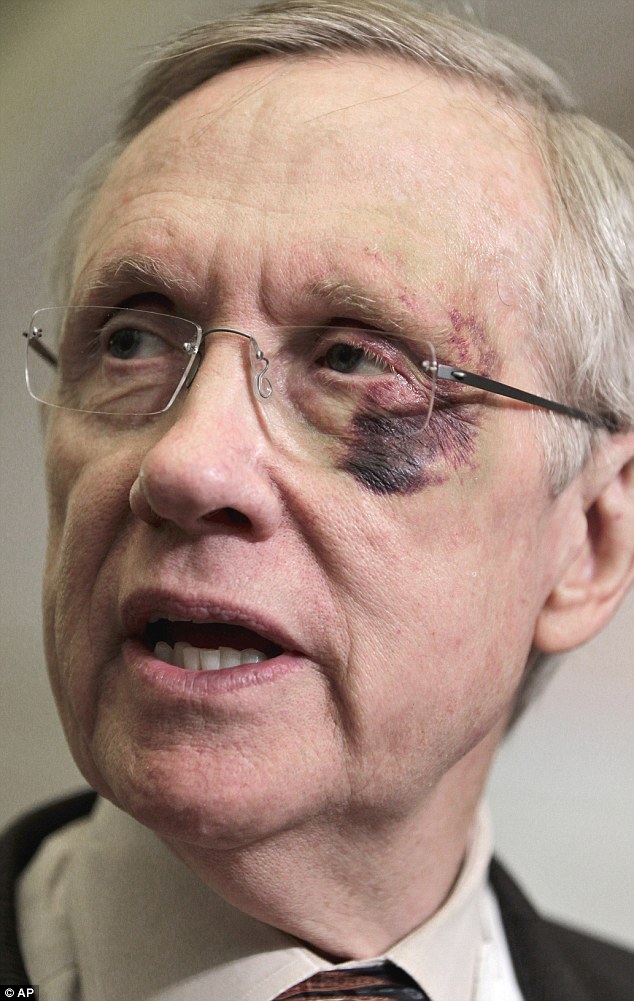 (c) AP. Found at The Daily Mirror.
The Daily Mail notes this is Reid's second "exercise-related accident" in three years. Supposedly, three years ago, he was out jogging and "dislocated his shoulder."
He dislocated his shoulder and bumped his forehead in May 2011 when he slipped and fell during a morning jog in the rain.

Reid leaned on a wet car near his home in Washington, D.C.'s Ritz-Carlton hotel and tumbled to the ground.

That fall left him with a contusion just below his left eye, but he was back in action later that night at a fundraiser for California Sen. Barbara Boxer.

What time did that allegedly happen? Because, according to my watch, "morning" could also be "very late night."
Eh, nothing suspicious here. Just that our outgoing Majority Leader is a in Fight Club. Nothing to see here, folks. Move on.

posted by Ace at
12:42 PM
|
Access Comments