« Oppo Drop: Louisiana Congressman and New House Majority Whip Steve Scalise Spoke at Gathering Organized by David Duke in 2002
|
Main
|
Tuesday Morning News Dump »
December 29, 2014
Overnight Open Thread (12-29-2014)
Quietly, the US and NATO End the War in Afghanistan
After 13 years of fighting.
With zero fanfare, a small flag-lowering ceremony was conducted in Kabul that marked the end of the war in Afghanistan.

As the military and political leadership continues to assure us that the Afghanistan army is up to the challenge of defending the country, the Taliban has continued to advance in several provinces while attacking targets of opportunity all across the country.
ISAF was set up after the U.S.-led invasion as an umbrella for the coalition of around 50 nations that provided troops and took responsibility for security across the country. It ends with 2,224 American soldiers killed, according to an Associated Press tally.

The mission, which was initially aimed at toppling the Taliban and rooting out al-Qaida following the Sept. 11, 2001 attacks, peaked at 140,000 troops in 2010. Obama ordered a surge to drive the insurgents out of strategically important regions, notably in the southern provinces of Helmand and Kandahar, where the Taliban had its capital from 1996 to 2001.
If the goal was to build Afghanistan into a viable secure nation-state, then the mission was a failure. But if the goal was to disrupt Islamic terror groups and keep them from establishing safe havens for training and preparations in Afghanistan, then it was a success. And whatever politicians have said over the years, I've always viewed the latter goal as the only real reason why we were in Afghanistan.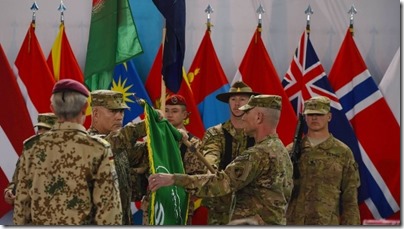 France Ends its 75% Tax Rate on the Rich
It turns out that the rich had the means to avoid paying the tax by just leaving France - along with their assets and businesses.
What Does It Take to Be a Driver in Obama's Motorcade?
Well pretty much nothing other than political connections and a valid license it turns out.
Ms. Tyson said in a telephone interview several weeks after she drove in the motorcade that she had received little instruction from the Secret Service about what to do in the event of a high-speed emergency. She assumed that she should just follow the car in front of her no matter what happened.

"Whatever I am," she said, "is good enough for them."

"Good enough for them" is apparently having a driver's license and a clean criminal record, and knowing someone at the White House.

A week before Mr. Obama arrived in San Francisco, a childhood friend of Ms. Tyson's from Cupertino, Calif., who now works at the White House, reached out to her to see if she was interested in driving.

"He just texted me and said, 'Do you want to volunteer as part of this and drive in the motorcade?' " Ms. Tyson said. "It was kind of sudden. I didn't even know the president was going to be in town."

Ms. Tyson said that her driving record was "pristine" and that she had "driven a pickup truck but not a van."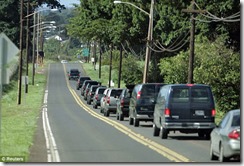 Le Shock: The New 'Ocean Acidification' Scare May be as Fraudulent as 'Global Warming'
Also: Remembering the Pop Culture Ice Age Panic of the 1970s
The Takeaway: Toyota Should Hope that Prius-Curious Shoppers Don't Pull Out a Calculator
Who Really Controls Hollywood?
The overseas market.
Two-thirds of the revenues for Hollywood blockbusters are generated from overseas markets. China is far from being the most lucrative of these-according to Ben Fritz of the Wall Street Journal, it is fifth on the list, after the UK, Japan, Russia, and South Korea. But it is already a cash cow for Hollywood, with revenue hitting $3.55 billion this year, up 32 percent in the first nine months of 2014. Transformers: Age of Extinction took the lead with $320 million in profits.

Measure this against the potential of a Chinese market completely open and friendly to U.S. entertainment products, and you have all the explanation you need for why American movies feature so many North Korean villains and so few Chinese.
Best predictor of divorce? The age when couples cohabit
I've always wondered why living together before marriage seemed to correlate with later divorce but maybe the entire connection was actually due to bad methodology.
As it turns out, those studies that linked premarital cohabitation and divorce were measuring the wrong variable, says Arielle Kuperburg, a professor at the University of North Carolina, Greensboro, who produced much of the research released Monday. The biggest predictor of divorce, she says, is actually the age at which a couple begins living together, whether before the wedding vows or after. . . .

Couples who begin living together without being married tend to be younger than those who move in after the wedding ceremony - that's why cohabitation seemed to predict divorce, Professor Kuperburg explains. But once researchers control for that age variable, it turns out that premarital cohabitation by itself has little impact on a relationship's longevity. Those who began living together, unmarried or married, before the age of 23 were the most likely to later split.
Can you fill in the missing detail?
Alerted to the sale in Sydney of a book titled Women Who Deserve to go to Hell, which claims that only four women in history have matched male levels of "intelligence" and "perfection", local feminists reacted with uncharacteristic silence. This possibly had something to do with the book being sold in ______________.
This is why Noonan is on my For-Entertainment-Only list until 2018.
Peggy Noonan is an entirely different case. Little that's original appears in her writing. She's the voice of conventional wisdom, presented with a nice turn of phrase and, often, a moralistic tone. I can't recall ever learning anything significant from a Peggy Noonan column.

To make matters worse, one can't be sure that Noonan actually believes what she says. As I discussed here, during the Sarah Palin mania at the 2008 Republican convention, Noonan wrote a column in which she argued that Palin represents "a real and present danger to the American left" which therefore needs to "kill" her.

However, a few days later, when she thought her microphone was off, Noonan said that McCain had "blown it" by selecting Palin as his running mate. So much for the danger Palin's selection presented to the left.

Brooks and Noonan both write political commentary. In a sense, however, they are engaged in different businesses. Brooks, it seems to me, is on a search, at times, perhaps, a quixotic one, for insights. Noonan appears mainly to be in the business of telling people what they want to hear.
CA Community Colleges to Start Offering BA Degrees
This is a good thing as it will let people get a degree for around $10K total (affordable with a part-time and summer job and with no student loans) and will put economic pressure on the existing clown-circus university system.
And speaking of clown-circuses the Cal-State Northridge Department of Social Work has beclowned itself. Quite an achievement when you're surrounded by clowns.
The Robots are Coming: In Abu Dhabi Small Robots Replace Children As Camel Jockeys
Yep the 2015 Ladies of Manure calendar is out.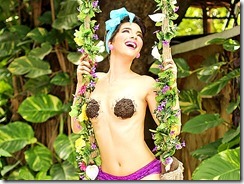 The Yahoo AoSHQ group - it's got electrolytes.
And my twitter thang.
Tonight's post brought to you by the DMZ: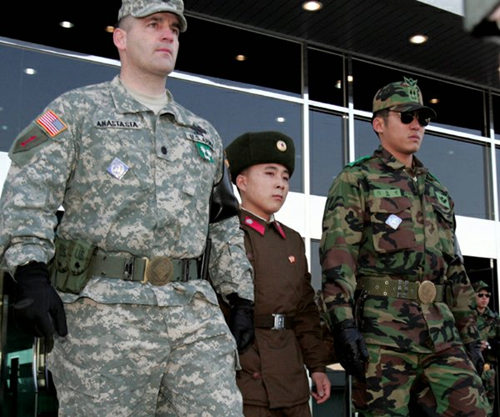 Notice: Posted by permission of AceCorp LLC. Please e-mail overnight open thread tips to maetenloch at gmail. Otherwise send tips to Ace.

posted by Maetenloch at
10:19 PM
|
Access Comments