« Open Thread
|
Main
|
Monkey Saves Dying Friend Morning Thread »
December 25, 2014
Overnight Open Thread (12025-2014) - Christmas Day Edition
Mr Pierce then granted Monis and Droudis bail on the grounds that the case against them was "weak".

"Are they a threat to other people? No they are not. If there was a threat it was to this woman who was murdered," Mr Pierce said.

-- Australian Magistrate William Pierce explaining why he he was granting bail to Sydney gunman, Man Monis, last year after he was charged with killing his ex-wife.
These stories about the killings of African-American men by police officers (or by a "neighborhood watch captain," in Trayvon Martin's case) are all what my long-time radio and podcast partner Brian Ward calls "stories of choice." They are plucked from a nearly endless supply of sad events that occur daily in a nation of 315 million, and are promoted because they further a political narrative. An unholy alliance of activists and newspaper reporters and editors tries to distort our perception of reality by giving undue emphasis to them. Then, of course, reality begins to catch up with perception, and we have riots, murders of police officers, and so on. But understand that the decision to promote these stories, in preference to others that are equally or more newsworthy, is a choice that is consciously made by people with a political agenda.

-- Powerline's John Hinderaker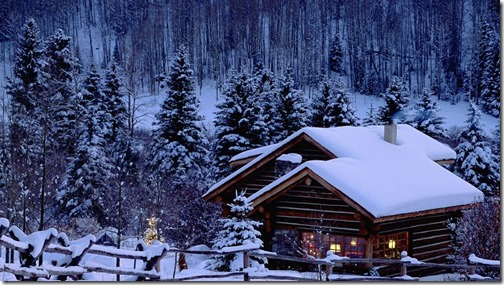 Slate Admits that Kwanzaa is a Made-Up Holiday
Which reminds me that I haven't heard much about Kwanzaa in the last Christmas or two.
Or why do liberals hate Capra's It's Wonderful Life so much?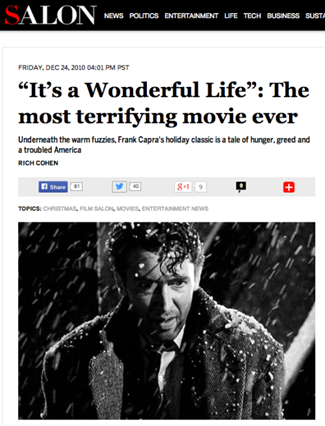 Vox's Matt Yglesias: Hey Let's Have a Second Christmas in the Spring
Believe it or not this is one of the lesser dumb ideas that the World's Dumbest Smart Man has had this year.
Thugs Win as NY Fire Department Forced to Abandon Station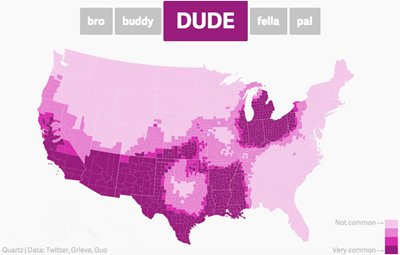 How North Korea Trains Its Hacker Squads
Mirim University produces most of the hackers that get placed in Bureau 121. It's a highly competitive program, with each class accepting only about 100 students out of 5,000 applicants. They take six 90-minute classes every day, learning different coding languages and operating systems, from C to Linux. Jang says a lot of time was spent dissecting Microsoft programs, like the Windows operating system, and how to attack the overall computer IT systems of enemy countries like the US or South Korea.

But the core principle is to develop its own hacking programs and computer viruses without having to rely on programs already built in the outside world. Jang says he believes North Korean hackers are as good as the top programmers at Google or CIA, if not already better. "Especially in terms of coding, I'm confident they're better because they've invested in it for so long," he says.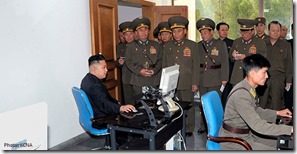 China's manufacturing industry continues booming, which has led to the the town of Yiwu (a city of about 1.2m people in central Zhejiang province) being christened "China's Christmas village." The town has become the home of 600 factories that collectively churn out over 60% of all the world's Christmas decorations and accessories. The "elves" that staff these factories are mainly migrant labourers, working 12 hours a day for a maximum of £200 to £300 a month - and it turns out that all of them are not even entirely sure what Christmas is. Nevertheless, there are corridors lined with nothing but tinsel, streets throbbing with competing LED light shows, stockings of every size, plastic Christmas trees in blue and yellow and fluorescent pink, plastic pine cones in gold and silver. The complex of Yiwu International Trade Market was declared by the United Nations to be the "largest small commodity wholesale market in the world" and the scale of the operation necessitates a kind of urban plan, with this festival of commerce organised into five different districts, of which District Two is solely dedicated for Christmas stuff.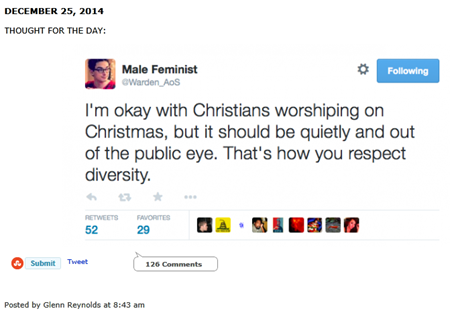 Self-Defense Tip: Don't Invite Hookers Over to Your House at 1am
Freedom Group on the Brink of Bankruptcy?
Yahoo group. That is all.
Come on be a smartie and join the yahoo group party! For the children.
And my lo-fi Twitter spew.
Tonight's post brought to you by the greatest gift ever: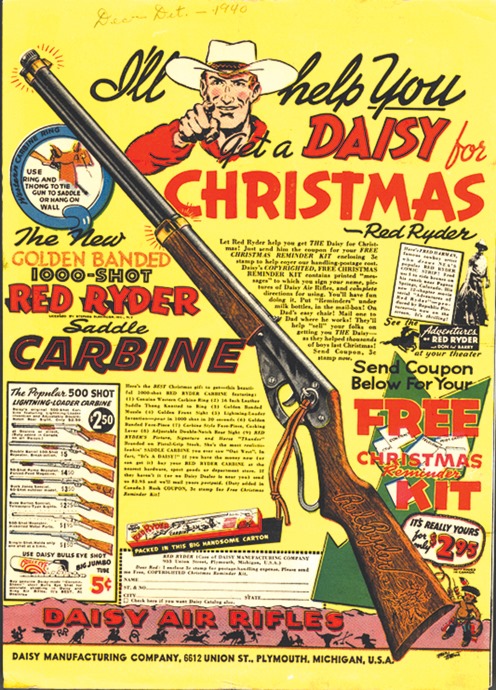 Notice: Posted by permission of AceCorp LLC. Please e-mail overnight open thread tips plus $1 for S&H to maetenloch at gmail. Otherwise send your scraps to BizarroAce. Do not taunt happy-fun ball.

posted by Maetenloch at
10:28 PM
|
Access Comments