« Incredibly, Chancellor of UVA Keeps Frat-Ban On Despite Disintegrating Story, Because... Narrative or Something
|
Main
|
Morning Thread (12-11-2014) »
December 10, 2014
Overnight Open Thread (12-10-2014)
Tweets of the Day
How You Know The UVA Rape Story Was a Hoax in a Single Line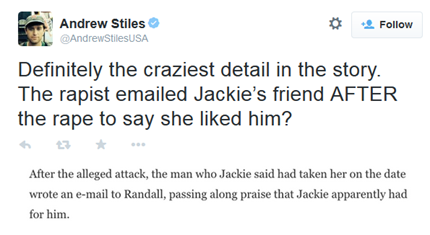 What kind of rapist emails the girl's male friend the day after and tells him how awesome she thinks he is? Well you know other than the kind, empathetic sensitive super-nice-guy kind of rapist - but really how common are these outside of fiction or soap operas. Hell even normal, decent non-rapey guys are notoriously bad about calling or texting the next day.
Jackie's Story: Going, Going, Gone Girl!
Here Steve Sailer delves into the latest revelations in the UVA story. After reading this I have to wonder if everything single action described in the RS article isn't false in some way.

Steve also suggests a Sixth Sense re-interpretation of Jackie's story in which the muted, passive response of her friends, aquaintances, and the UVA dean isn't due to a desire to protect UVA and fraternities against rape claims but rather because they're humoring her like you would with someone who's mentally disturbed and is making wild, grandiose claims.
How You Know the Senate Democrats' Report on the CIA is Partisan Bullshit in a Single Line
Astonishingly, the SSCI Majority staff interviewed no CIA officers responsible for establishing, implementing, or evaluating the program's effectiveness. Let us repeat, no one at the CIA was interviewed.
Kevin D. Williamson on the Myth of the South's Shift to the GOP Because of the Civil Rights Act
This has been the democrats go-to explanation for years to explain why they weren't doing well in the South. And it's wrong.
A few obvious questions: If white Southerners were really so enraged about the Civil Rights Act of 1964, and if they switched to the Republican party to express their displeasure, then why did they wait 30 years before making that preference felt in House elections? Why did Dwight D. Eisenhower - a supporter of civil-rights legislation who insisted on the actual desegregation of the armed forces (as opposed to President Truman's hypothetical desegregation) and federal agencies under his control - win a larger share of the Southern vote in 1956 than Barry Goldwater, the most important Republican critic of the 1964 Civil Rights Act, did two cycles later? Why did Mississippi elect only one Republican governor in the entire 20th century, and that not until 1992? Why didn't Alabama have a Republican governor until 1987? And why did Louisiana wait 60 years to eliminate its last Democratic senator in favor of a candidate from the party of Condoleezza Rice, Ben Carson, Allen West, Mia Love, Tim Scott, and that not-very-white guy who serves as governor of Louisiana? White supremacy should be made of sterner stuff: Did somebody forget to tell Louisiana state senator and newly confirmed Republican Elbert Guillory that he's black?

Strange that redneck bigots would wait for so many decades to punish the Democrats for giving up cross-burning; my own experience with that particular demographic suggests that its members do not in general have that sort of attention span.
The Hidden Bad Assumptions in Socialist Thought
Okay you don't like socialism. But can you identify the assumptions being made by those who actually think it can work?
Jeanine Pirro: Why Is It That We Only Hear From Obama When A Death Involves A Black Person?
Initially, the Pentagon claimed Zarqawi was killed outright after two bombs were dropped on the building in Baqubah, north of Baghdad, where he was hiding ...

The Pentagon later stated Zarqawi had been wounded and survived for an hour before succumbing to his injuries.

Now a third version has emerged: in an account posted on the respected Special Operations Forces Situation Report website, it has been claimed that Zarqawi was killed in cold blood as he lay grievously wounded.

The account was purportedly written by a member of the 75th Ranger regiment that had worked with Delta Force operators to identify the building.

"With a gloved hand, the commando grabbed the side of Zarqawi's head and slammed it against the inside of the ambulance, again and again, until the number-one terrorist leader of Iraq was dead," wrote the ranger, who uses the pseudonym "Utlendr".

"No call was made over the radio to the joint operations centre in nearby Balad air base" because it "would likely be better to ask for forgiveness than for permission".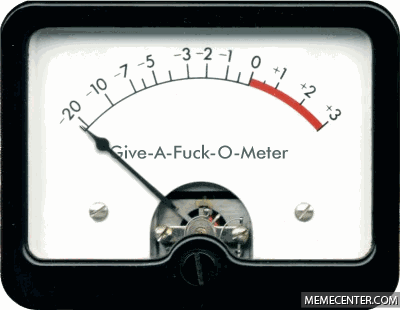 Harvard Business School Professor Caught Threatening Another Asian Restaurant
Now maybe he's a jerk to restaurant owners of all ethnicities but just prefers asian cuisine. Note that the racist restaurant reviews supposedly posted by Edelman making the rounds on twitter are probably fake.
Update: Boston.com has retracted the above story since they were unable to verify the emails were from Edelman.
Man With Gender Studies Degree Terrorizes Party
A form of sea-lioning in real life.
5 Ways That Going to the Movies Has Changed Since the 70s
1. It's Insanely Expensive

The fact that movie tickets are much more costly (even when you factor in inflation) is bad enough by itself, but yields a variety of other problems.

When a movie ticket is hovering around $10, you're much less likely to take chances on a dud. If you're going to spend that kind of money (a family of four is going to be over $40, not including snacks), you're less likely to gamble.  Subsequently, it's the movies that are "sure things" that do well (an Avengers movie, a movie with Tom Cruise, etc.).  If you're not willing to take chances on a film, Hollywood producers aren't either.  Thus, you wind up with a homogenous offering of superhero movies, sequels, and movies with big, big stars.

In the 1970s, there were not only the cheap grindhouse B-movies, but a ton of films we'd call "low budget" today.  When a ticket is under a dollar, you're okay with taking a chance, and, subsequently, so is Hollywood.   It's under a dollar, so it doesn't need to be a 5 hour Hobbit film or a 3-D CGI sensory explosion.
I've been arguing for years that Hollywood and the theaters need to come up with a multi-tier pricing scheme. There are a lot of movies that I'm not willing to pay $12+ to see without knowing I'll like it. But for $4 or $5 I'll take a shot on an unknown movie.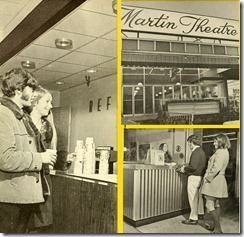 The Group knows what you did.
Tonight's post brought to you by otherwise you don't know what you're getting into: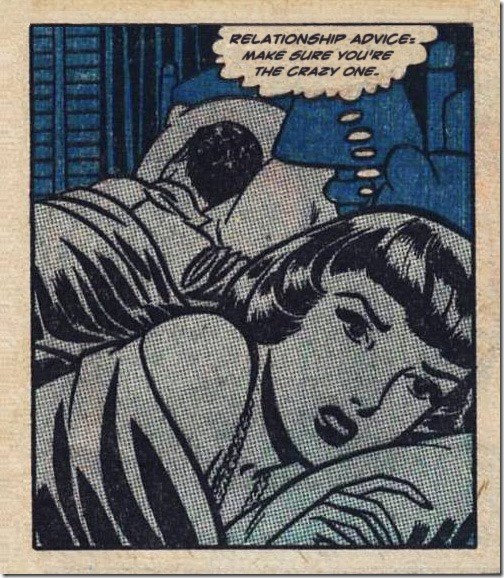 Notice: Posted by implicit permission of AceCorp LLC. Please e-mail overnight open thread tips to maetenloch at gmail. Otherwise send tips to Ace.

posted by Maetenloch at
10:38 PM
|
Access Comments