« Cognitive Dissonance: The Moron's Dilemma [CBD]
|
Main
|
Morning Thread (12-1-2014) »
November 30, 2014
Overnight Open Thread (11-30-2014)
Quote of the Day - Blasphemy Edition
"If you look at the most credible evidence [of Michael Brown's death at the hands of a Ferguson, Mo., police officer], the lessons are really basic," [Rich] Lowry said during an appearance on Meet the Press. "Don't rob a convenience store. Don't fight with a policeman when he stops you and try to take his gun. And when he yells at you to stop, just stop."

Those comments elicited gasp from a panel that included the Washington Post's Eugene Robinson and MSNBC's Andrea Mitchell. Mitchell exclaimed "Whoa, whoa" during Lowry's comments, while Robinson said his recitation of the known facts in the case was an attempt to "relitigate" Brown's death.
WaPo Published Darren Wilson's Address, Now Wrings Its Editorial Hands That He Now Lives a Life Under Threat
But luckily he's been gone from his house since August.
National Guard Encounters Armed Blacks with Guns in Ferguson - Cooperation Ensues
Some National Guardsmen patrolling the wreckage of Ferguson, Missouri came on a remarkable, and alarming, sight: black men with guns, their leader a 6'8? giant cradling an AR-15. They stood in the forecourt of a Conoco gas station, a building that rose, unmolested, like a meth addict's last solitary tooth in a micro-Hiroshima landscape of boarded-up, or, worse, looted and burned, small businesses.

This was a building that did not burn, despite containing fuel enough to delight the nihilistic rioters. It wasn't just standing, it was open.

The Guard soldiers demanded that the men put their guns down, and were actually starting to cuff them, when the owner of the station emerged. Doug Merello is a second-generation owner of the station, and even though he's white, he and his shop's neighbors, just about all black, had always been friendly. They were his customers, and the neighbors were where he turned for his workers, too.

The nervous Guardsmen soon learned that the giant, Derrick "Stretch" Jordan, 37, and his armed friends were local men. They were workers and former workers at the station, and their friends, who knew Merello and just thought it would just flat be a crying shame if his station went the way of so many other small Ferguson businesses. Especially when they knew so many good people in their town, of whatever race, and knew also that the looters were mostly outsiders with a sprinkling of local ne'er-do-wells, incited by an irresponsible media that dreams of a world in flames.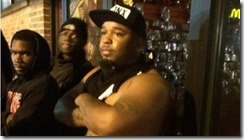 Don Surber: Do Not Rebuild #Ferguson
A contrary view:
From a kid who survived the Hough Riots in Cleveland nearly a half century ago, some unsolicited advice to the business owners in Ferguson, Missouri: Do not bother rebuilding. Your customers do not want you. They tore up your stores - twice. And after one of them robbed a store. These are not protests. They are pogroms aimed at the middle class. Take the insurance money and run.

Police officers, too, should leave. Why risk a criminal trial or worse for doing your job?

Homeowners, too. Black, white, Asian, Hispanic - it does not matter. You are middle class. They do not want you. Leave.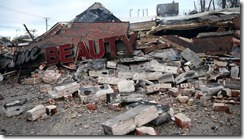 PRESIDENT JARRETT: "Senior Adviser" Reportedly Calling All the Shots, Including Those In Ferguson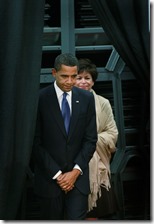 And how Jim Jones was a darling of the Left and Democratic establishment in the 70s.
The Jonestown Massacre was the first news event that I followed from beginning to end and fully understood so I've always marked it as the beginning of my political consciousness. And it's always bothered me that the people who aided Jones and were his allies in politics even as he descended into paranoia have never been held to account for it.
I prefer to call it a suicide/massacre. That places most of the blame where it belongs, on Jim Jones himself.

The first relevant lesson to be learned is the danger of blindly following a charismatic leader. Jones became more deranged later on, but as his congregation grew in the 60s and 70s, he was a respected member of the San Francisco community, with connections to Democratic politicians (I'm not sure there's any other kind in San Francisco) and a strong reputation for racial equality.

The second lesson is to beware of the trust that gullible and trusting human beings can place in that charismatic leader. Jones required that people give over their lives and their assets when they became followers-a danger sign. Members had varied reasons for joining, but it can probably be safely said that most of them were exceedingly idealistic. According to the testimony of many of the survivors (a small group, but an articulate one), once they realized the true character of the man in whom they'd placed such hope and faith, it was too late.

...Another lesson is how connected many on the Left were to Jones' movement. Angela Davis and Huey Newton were involved, for example, in the rehearsals for suicide:

'[Jones] set up a false sniper attack upon himself and begin his first series of White Nights, called the "Six Day Siege", where Jones spoke to Temple members about attacks from outsiders and had them surround Jonestown with guns and machetes. The fiery rallies took an almost surreal tone as Angela Davis and Huey Newton communicated via radio-telephone to the Jonestown crowd, urging them to hold strong against the "conspiracy."'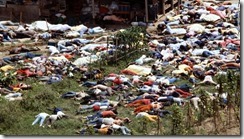 Thanks to an enormous publicity effort by feminists around the world, a hard-working female clothes designer in Oregon is now so overwhelmed with orders that she can barely keep up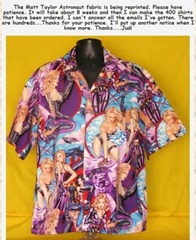 Sonny Bunch: No There Is No 'Black Stormtrooper Controversy'
Ritual denunciation of non-existent crimes as a means to attain status within the in-group:
Of course, this being the Internet Age, where Everything Is TerribleT, soon people were talking about the "black stormtrooper controversy." And then, all of a sudden, there were a series of denunciations of all the "racist" Star Wars fans who freaked out because a black dude was wearing a Stormtrooper costume. This Mashable post is representative of the genre. But there's something odd about this so-called controversy. All of the people writing about it just kind of take for granted that there's some hardcore contingent of Star Wars fans who are writing that the series is ruined because a black dude is playing a stormtrooper. It's just assumed that this is true.

But . is it? I mean, sure, I bet someone somewhere on the Internet is ranting about minorities taking the jobs of, um, Maori clones, because the Internet is a large and terrible place filled with any number of terrible (and probably large) people. That being said, if you search Twitter for "black stormtrooper," you'll find 1,291,074* tweets decrying the super duper racist people who are super duper butthurt about a black stormtrooper, and roughly zero** tweets from people are actually upset about the fact that a black dude was in a stormtrooper costume.*** Go back and read that Mashable post. You know what's fascinating about it? There're exactly zero pieces of evidence backing up the belief that there's any "black stormtrooper criticism."

What we have here is a prime example of a fascinating Internet phenomenon: the preemptive denunciation of a controversy that doesn't exist.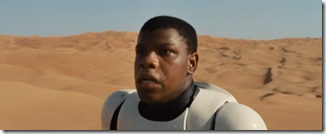 Apparently it's a real thing.
Brought to you by #YouAreAllRapistsNow.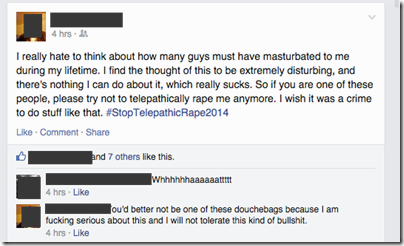 Danish Parents to Save Schools Through Sex
Parents in the northwestern Jutland town of Thy have pledged to get busy between the sheets in order to save the community's daycare institutions and schools.

As part of a deal brokered between Thisted Council and area parents, the municipality has agreed to keep area institutions alive for the next four years. In turn, parents are promising to create new children to fill the institutions.

The daycares and schools face falling enrollment numbers and a municipal analysis suggested that the institutions be closed and merged with others in the area. But local politicians had a hard time accepting that and went to parents with a plea to be fruitful and multiply.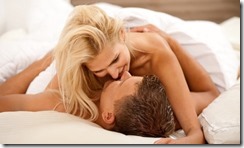 Weekly Commenter Standings
Top 10 commenters:
1 [496 comments] 'Costanza Defense' [69.67 posts/day]
2 [388 comments] 'artisanal 'ette'
3 [373 comments] '---'
4 [360 comments] 'Mike Hammer, etc., etc.'
5 [344 comments] 'toby928(C)'
6 [337 comments] 'J.J. Sefton'
7 [334 comments] 'Nevergiveup'
8 [324 comments] 'Anna Puma (+SmuD)'
9 [297 comments] 'rickb223'
10 [285 comments] 'Ricardo Kill'
Top 10 sockpuppeteers:
1 [81 names] 'The Political Hat' [11.38 unique names/day]
2 [62 names] 'Blue Hen'
3 [56 names] 'Joke Biden'
4 [56 names] 'Nanu Pichu'
5 [43 names] 'King Putt'
6 [39 names] 'Thin veneer of civility'
7 [35 names] 'toby928(C)'
8 [34 names] 'Costanza Defense'
9 [31 names] 'Cicero (@cicero)'
10 [29 names] '---'
The group. Never heard of it.
Where it's at - the Twitter
Tonight's post brought to you by fully-immersive gaming: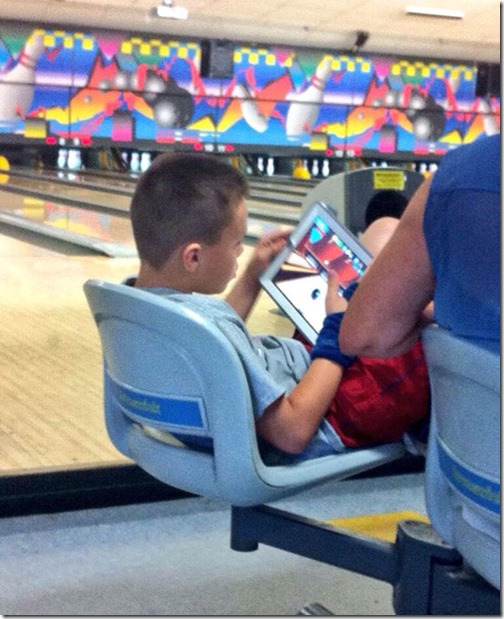 Notice: Posted by permission of AceCorp LLC. Please e-mail overnight open thread tips to maetenloch at gmail. Otherwise send tips to Ace.

posted by Maetenloch at
09:37 PM
|
Access Comments