« New Jurassic Park Sequel to be Released in 2015
|
Main
|
Early Thanksgiving Thread [krakatoa] »
November 26, 2014
Overnight Open Thread (11-26-2014)
Latest Trend in #Ferguson Protests: Blocking America's Highways
Dozens of UCSD students brought traffic to a halt on northbound Interstate 5 Wednesday morning to protest the decision of a grand jury in Ferguson, Mo., not to indict a white policeman for killing an unarmed black teenager.

A crowd of an estimated 50 to 70 protesters marched onto the freeway at Nobel Drive at about 6:49 a.m., blocking the northbound lanes. They remained in the roadway for about 40 minutes until San Diego police arrived and removed them.

The protesters left the freeway peacefully and began marching on surface streets. There were no immediate reports of arrests.
I'll say it right now: This is such an egregious and deliberate provocation and harassment of innocent people that I will not convict anyone who assaults or even kills these kind of protesters.

Just come up with some kind of semi-plausible BS about not seeing them due to reflections of Venus trapped in swamp gas that got into your eye and you'll walk free. People get shot for less every single day. Note that this can be avoided if the police will come down hard on freeway blockers but since they won't, it'll have to be discouraged in a different, harsher way.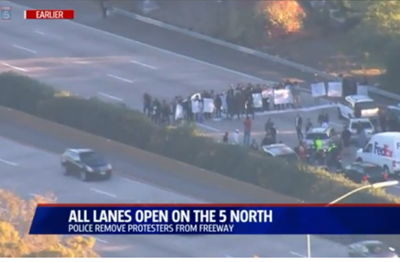 Obama Publicly Admits He Acted Extra-Constitutionally
"Listen, you know -- here. Can I just say this, all right? I've listened to you. I heard you. I heard you. I heard you. All right? Now I have been respectful, I let you holler. All right? So let me just -- nobody is removing you. I have heard you, but you have got to listen to me, too. All right? And I understand you may disagree, I understand you may disagree. But we have got to be able to talk honestly about these issues, all right?

"Now, you're absolutely right that there have been significant numbers of deportations. That's true. But what you are not paying attention to is the fact that I just took an action to change the law."
'Hands Up, Don't Shoot' Was All A Lie
But truth must bow down before the revolutionary narrative.
The forensic evidence collected at the scene includes blood droplet spatter that suggests Michael Brown did in fact turn and then advance upon Officer Wilson.

Evidence collected inside the car, on Wilson's gun, from his uniform, and from Michael Brown's body in three separate autopsies are consistent with the claim that Brown was shot in the hand in the struggle over the weapon.

Multiple eyewitnesses confirmed the physical evidence that Michael Brown was advancing upon Officer Wilson when he was shot and killed.

While there may not be such thing as a "textbook" shooting, every single shot fired by Officer Wilson, from the first attempt inside the Tahoe until the final shot into the apex of a charging Brown's head, was entirely justified as a matter of self-defense.
Remembering Johnny 'Mike' Spann
13 years ago yesterday he was the first American killed in the war on terrorism in Afghanistan.
The story of this small band of men has been told, but not told enough.

Spann was killed during the Battle of Qala-i-Jangi when Taliban prisoners gained access to weapons and attacked.

Spann was killed during that uprising (see video).  One of the prisoners was the so-called American Taliban, John Walker Lyndh, who Spann interrogated shortly before Spann's death.
And his interrogation of Johnny Walker Lindh minutes before the uprising may have been one of his last conversations:
Spann [to Dave]: Yeah, he won't talk to me.

Dave: OK, all right. We explained what the deal is to him.

Spann: I was explaining to the guy we just want to talk to him, find out what his story is.

Spann and Dave talk, inaudible.

Dave [to Spann]: The problem is, he's got to decide if he wants to live or die and die here. We're just going to leave him, and he's going to f-cking sit in prison the rest of his f-cking short life. It's his decision, man. We can only help the guys who want to talk to us. We can only get the Red Cross to help so many guys.

Spann [to Walker]: Do you know the people here you're working with are terrorists and killed other Muslims? There were several hundred Muslims killed in the bombing in New York City. Is that what the Koran teaches? I don't think so. Are you going to talk to us?

Walker does not respond

Dave [to Spann]: That's all right man. Gotta give him a chance, he got his chance.

Spann and Dave stand and talk to each other. Both look frustrated. Spann stands with his hands on his hips, and Dave kicks up some dust with his boot.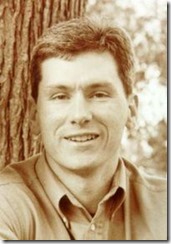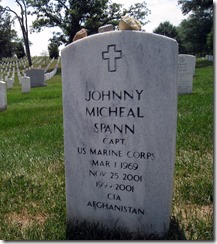 Out: 'Unlawful Combatants'
In: 'Unprivileged Enemy Belligerents'
At any rate, the new nomenclature seems pretty silly, and the need to change from unlawful combatant non-existent. Don't blame the Department of Defense for it, although we can certainly wonder why it took them five years to catch up to the changes (and what may have prompted the recent action). That silliness comes from one of America's great resources of silliness and meaningless redefinitions of perfectly suitable language - from your elected officials on Capitol Hill. On the plus side, we can now ask terrorists to check their unprivilege as they enter the detention system, or something.
26 ace years ago you had mentioned finding dirt on reporters and treating them to It the way they treat the population.
is that still a viable idea?
although i imagine they would have the ability to hide their dirt better as they have Friends in higher places than the average joe

Posted by: willow at November 25, 2014 05:31 PM (nqBYe)
I've thought about doing this in the past but the most useful dirt and details might also open up legal issues. Perhaps if there was a public version and then a private membership version with complete details...
Also it appears that the NYT reporters who revealed Darren Wilson's address have now been doxxed.
But while the quotas for Jews are gone, the Ivy League now, by all accounts, has quotas for Asian students. They are seen as people who study too hard, boring grinds who aren't much fun - and, of course, their parents aren't as rich and connected. And though the numbers of highly qualified Asian applicants have grown dramatically, the number of Asians admitted stays pretty much the same every year.

Now the Asian students are suing. In a lawsuit against Harvard, they are claiming that Harvard demands higher qualifications from Asian students than from others, and that it uses "racial classifications to engage in the same brand of invidious discrimination against Asian Americans that it formerly used to limit the number of Jewish students in its student body."
From the graph it's clear that Caltech did not get onboard with the Asian quota train.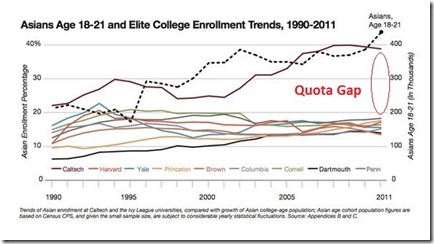 Jackie Chan DVDs Help Boost Solar Panel Efficiency
I was skeptical when I first saw the headline but the results seem to be legit. The biggest improvement comes in the near IR range which means that light between 800nm and 1000nm which was essentially wasted before now gets converted into electrons.
Apparently the pit pattern on a blu-ray disk is great at helping trap photons, rather than reflecting them. Applying this pattern to the glass in a solar panel can boost efficiency by 22%. Researchers at Northwestern tested this system with Jackie Chan discs. From the article: "To increase the efficiency of a solar panel by 22%, the researchers at Northwestern bought a copy of Police Story 3: Supercop on Blu-ray; removed the top plastic layer, exposing the recording medium beneath; cast a mold of the quasi-random pattern; and then used the mold to create a photovoltaic cell with the same pattern....The end result is a solar panel that has a quantum efficiency of around 40% - up about 22% from the non-patterned solar panel."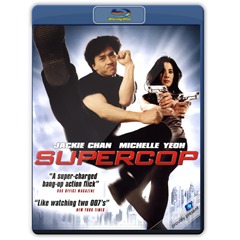 How do you know you're at your parents' house? The wifi password is long, complicated & written on a piece of paper no one can find.

- Chris Rock (@ozchrisrock) November 26, 2014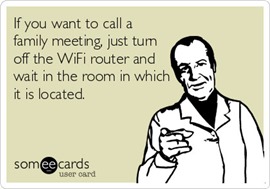 The Group knows what you did.
Tonight's post brought to you by Jackie Chan: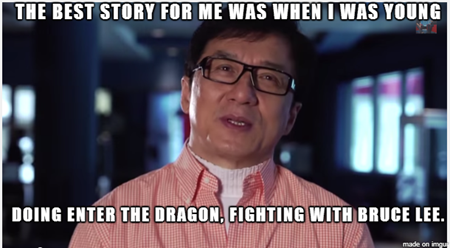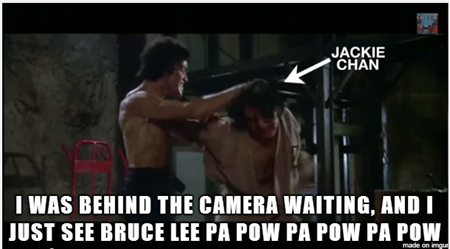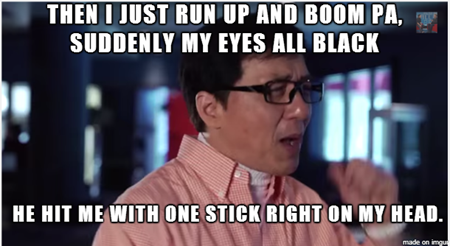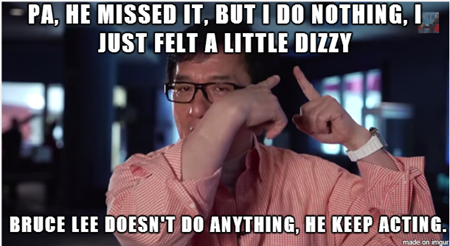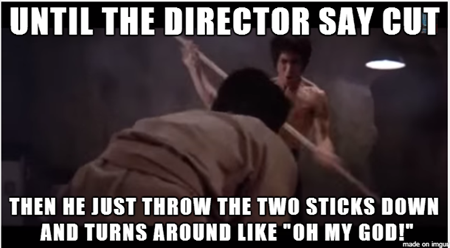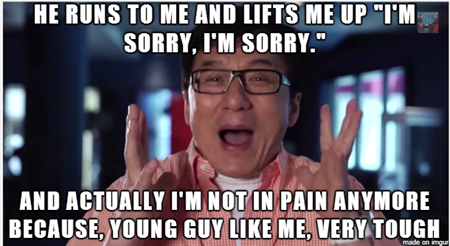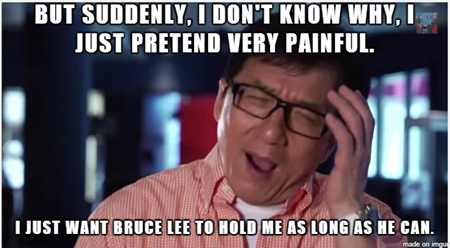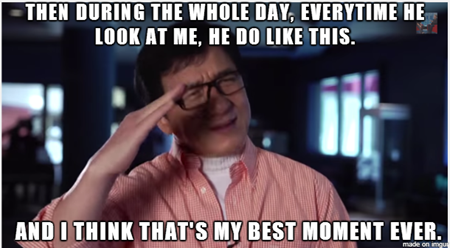 Notice: Posted by implicit permission of LaceCorp LLC. Please e-mail overnight open thread tips to maetenloch at gmail. Otherwise send tips to Ace. Taunting ewoks during the Life Day holidays is not advised. Today's lucky numbers are 8, 12, 19, 22, 34, 41. Tomorrow we act against the turkey menace.

posted by Maetenloch at
10:38 PM
|
Access Comments