« Verdict In: No Indictment for Daryl Wilson
|
Main
|
Morning Thread (11-25-2014) »
November 24, 2014
Overnight Open Thread (11-24-2014)
So I spent all weekend working and then entertaining business visitors from Japan and more of the same today. Which means all you non-Premium members get la suckage d'ONT.
Some tweets: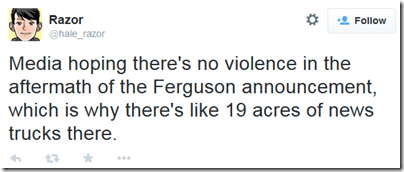 Properties also consistent with the truth...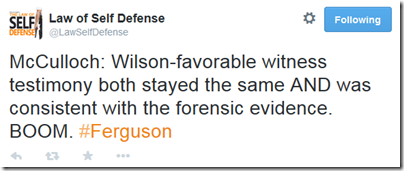 And the left is already spreading its poison:

Thomas Sowell: Black America's Problems Today Are Due to the Great Society Not Slavery
Supreme Court Justice Oliver Wendell Holmes said there were "phrases that serve as an excuse for not thinking." One of these phrases that substitute for thought today is one that depicts the current problems of blacks in America as "a legacy of slavery."

...Despite the grand myth that black economic progress began or accelerated with the passage of the Civil Rights laws and "War on Poverty" programs of the 1960s, the cold fact is that the poverty rate among blacks fell from 87 percent in 1940 to 47 percent by 1960. This was before any of those programs began.

Over the next 20 years, the poverty rate among blacks fell another 18 percentage points, compared to the 40-point drop in the previous 20 years. This was the continuation of a previous economic trend, at a slower rate of progress, not the economic grand deliverance proclaimed by liberals and self-serving black "leaders."

Ending the Jim Crow laws was a landmark achievement. But, despite the great proliferation of black political and other "leaders" that resulted from the laws and policies of the 1960s, nothing comparable happened economically. And there were serious retrogressions socially.

Nearly a hundred years of the supposed "legacy of slavery" found most black children being raised in two-parent families in 1960. But thirty years after the liberal welfare state found the great majority of black children being raised by a single parent.
Is Salon Saying That Rep. Paul Ryan Is A Time Traveller?
Tom, Dick, and Harry Explain the Inequities of the Progressive Income Tax
Taking Firearms technology For Granted
You've come a long way baby.
I began my career as a police officer in the mid 1970s. Very few police agencies carried semi-automatic handguns in those days, and the few that were widely available suffered from significant reliability problems. It was an article of faith that revolvers were flawlessly reliable and accurate while semiautomatic handguns weren't, and there was more than a little anecdotal evidence to support this contention.

...Compared to modern handguns, the weapons available to the budding semi-auto fan in the 1970s and early 80s were crude indeed. When I refer to lack of reliability, I mean that it wasn't uncommon to experience at least one malfunction per magazine. My little Browning BDA .380 was absolutely reliable, but others that tried examples of the same gun-or its Beretta sister-had substantial troubles.
More Rosie-Whoopi Brawling on The View
A shrill, backstage brawl at "The View" Wednesday left co-host Rosie Perez in tears while panelists Whoopi Goldberg and Rosie O'Donnell battled over how to cover the latest allegations against Bill Cosby and the racially charged upheaval in Ferguson, Mo., sources said.
O'Donnell believed the show - now overseen by ABC News - needed to delve deeper into both controversial subjects, while Goldberg wanted to steer clear of the topics altogether.

Ultimately, both news stories were discussed at length on the air by the panel.

"There's terrible frustration and there are problems," a source close to the show told the Daily News. "Whoopi didn't want to talk about Cosby and Ferguson, Rosie (O'Donnell) did - how could you not? These are topics that are uncomfortable for everyone, but it's 'The View' and it's their job to talk about topics that might make some people tense."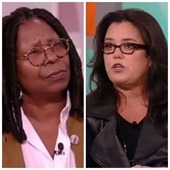 I think I like the German and UK versions best.
Study: Doubling Saturated Fat In Diet Does Not Increase It In Blood
The news that Big Carb doesn't want you to know.
A new study by researchers at Ohio State University found that dramatically increasing the amount of saturated fat in a person's diet did not increase the amount of saturated fat found in their blood. Professor Jeff Volek, the study's senior author, said it "challenges the conventional wisdom that has demonized saturated fat and extends our knowledge of why dietary saturated fat doesn't correlate with disease."

The study also showed that increasing carbohydrates in the diet led to an increase in a particular fatty acid previous studies have linked to heart disease. Volek continued, "People believe 'you are what you eat,' but in reality, you are what you save from what you eat. The point is you don't necessarily save the saturated fat that you eat. And the primary regulator of what you save in terms of fat is the carbohydrate in your diet. Since more than half of Americans show some signs of carb intolerance, it makes more sense to focus on carb restriction than fat restriction."
The Yahoo AoSHQ group - it's got electrolytes.
And my twitter thang.
Tonight's post brought to you by moar roof Koreans: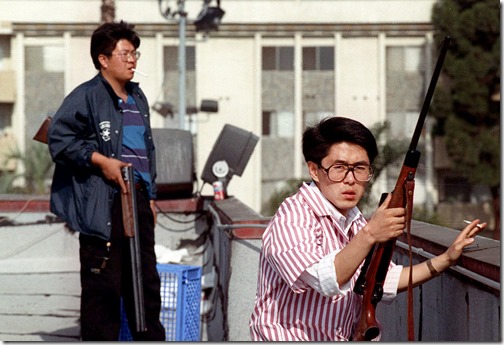 Notice: Posted by permission of AceCorp LLC. Please e-mail overnight open thread tips to maetenloch at gmail. Otherwise send tips to Ace.

posted by Maetenloch at
10:19 PM
|
Access Comments