« Gaming Thread 11/22/2014
|
Main
|
Overnight Open Thread, 11-23-2014 -- Workin' Man Edition »
November 23, 2014
Food Thread: The Last of The Thanksgiving Blather [CBD]
[I have no idea what happened.....but the comments were the most brilliant ever!]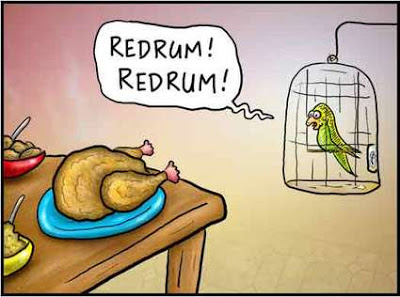 Chez Dildo adheres to a strict schedule for Thanksgiving...roll in around 5:00pm or so, wander around until someone shoves a cocktail into your paws, and then wait around until the cook gets his shit together and serves dinner. Football will be watched, but only because baseball season is over.
Rumor has it that there are other ways to orchestrate the perfect Thanksgiving event. What does the Horde do, and what does it serve that isn't standard fare?
The only interesting thing on my menu this year will be a brussels sprout salad, and in an abundance of caution, I pawned the recipe off on my SIL, so if it is awful, I will gleefully disavow all responsibility.
One day I will subvert the dominant paradigm and serve a main course that I actually like. Turkey is the white paste of the culinary world....yuck. My local market has been selling gorgeously marbled prime rib roasts for not very much money, but I have been informed that it is a non-starter. Eventually I will just take matters into my own hands and make something palatable, but keep it secret.

So....I just made these, and have no idea how they will taste. But they smell great, and look pretty good. All I did was sprinkle grated cheddar on half the dough and fold over to make a layer. I fold five times, so theoretically I should have 31 layers of cheese.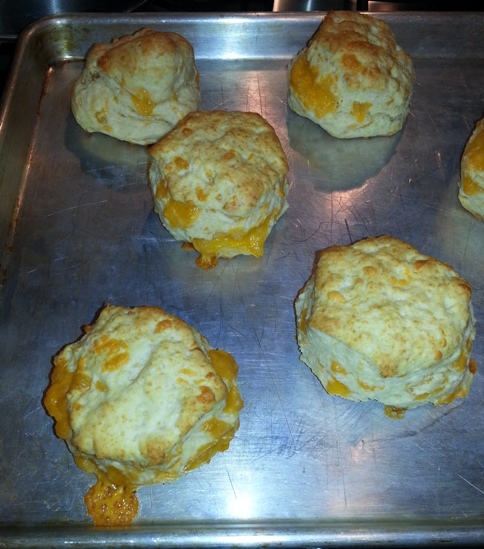 Eat local is a phrase that will immediately raise my hackles. It is a feel-good but nonsensical image that recognizes nothing about the reality of food production and economics. The Locavore's Dilemma isn't new, but I was poking around and found this review. Anyone read it?
"The Locavore's Dilemma" argues that the benefits of eating local have been vastly overstated by food activists and its serious detriments swept under the rug. The tone is distinctly upbeat, no doubt because being a gleeful debunker is fun but also because the two authors are resolutely cheerful about the world's food situation.

Mr. Desrochers and Ms. Shimizu, a married couple who are both professional economists, present a counterintuitive but well-supported case that local self-sufficiency is the worst thing you can do for the environment, since it requires many crops to be grown in the wrong places, with damaging ecological consequences. American farmers, they observe, used to grow wheat locally in the Shenandoah Valley, tilling steep and rocky slope--and unleashing a torrent of soil erosion. With the shift of grain farming to the far more productive and erosion-resistant soils of the Midwest, "more grain is now being produced on fewer acres and, overall, more habitat is available for wildlife." Their study of the history of American agriculture is one of the strongest points of this book.

Famines were common in the past precisely because food security rested on the vagaries of local conditions rather than the resiliency of trade, they observe: "Subsistence farmers periodically starve while commercial agricultural producers who rely on monocultures for their livelihood don't."

I have posted this recipe before (I think), but it is a perfect Thanksgiving starter -- easy to make, tasty, and seasonal!
Butternut Squash Soup
1 butternut squash, about 2-3 pounds: peeled, seeded and cut into one inch cubes
1 large sweet onion, chopped
2 ounces unsalted butter
1 ounce duck fat (or replace with equivalent butter)
1 teaspoon minced fresh thyme
1 quart Chicken Stock (and make it yourself. It's easy, and much, much better)
half & half to taste.
Salt to taste (but be careful).
Saute the onion in the butter and duck fat over medium-low heat until it softens and just begins to caramelize. Add the thyme and saute for another minute.
Then, toss in all of the squash and mix it around to coat with the butter and onions. Keep cooking for 10 or 15 minutes, continuing to caramelize the onions and starting to soften and caramelize the squash.
Pour in the chicken stock (I told you to use fresh, so don't wimp out on me) and reduce the heat to a simmer, cover and cook for 45 minutes, until the squash is perfectly soft.
Puree thoroughly with a hand blender, or make a huge mess in your kitchen by using an upright blender and spraying soup all over the ceiling.
Taste, and add a bit of salt if needed. If the soup doesn't seem rich enough, a bit of half & half is perfect to smooth it out and add some thickness.
Serve hot with a toasted goat cheese crostini floated in the middle of the bowl, and a drizzle of good olive oil.

posted by Open Blogger at
04:11 PM
|
Access Comments