« Top Obama Bundler & Air Force One Cabin-Mate Accused of Raping Child
|
Main
|
AoSHQ Podcast: Guest, @ExJon »
November 21, 2014
More Americans Than Ever Don't Believe Health Care is a Government Responsibility
Obama is the shit-fingered Midas.
Before he took up the cause of health care reform, most Americans thought it was a government responsibility to guarantee it for all Americans; since he incompetently involved his lying mouth, they no longer do.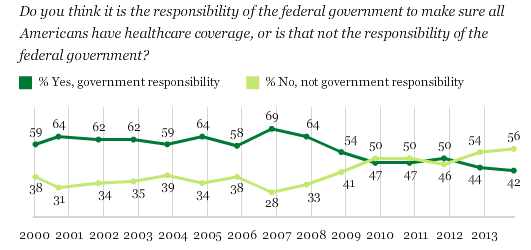 Jonah Goldberg writes about the Gruberization of the Left and the media:
I've been thinking about this:
Most of us are down. But why?
We should naturally be down if Obama were perverting the American constitutional system and profiting from it. We should be down if Obama enacted a welter of socialist policies and the economy boomed anyway, thus suggesting to voters that socialism "works."
We should be down if Obama imposed a socialist health care system on the country and our countrymen enjoyed the tyranny.
But they don't.
At every single pass -- the economy, Iran, IS, Obamacare, immigration -- Obama and the left are being discredited, and not just slightly discredited, but discredited to a Carter-like degree.
Possibly discredited for 20 or 30 years.
We should not be so down.
We do not like what this monster is doing to America, of course.
But he is not succeeding. He is failing, and failing hard.
And he will bring the Democrat Party and the media with him as he falls.

posted by Ace at
03:52 PM
|
Access Comments