ę Early Morning Open Thread - [Niedermeyer's Dead Horse]
|
Main
|
Weekend Funny: The Devil Made Me Do It [Y-not] Ľ
October 26, 2014
Sunday Morning Book Thread 10-26-2014: [OregonMuse]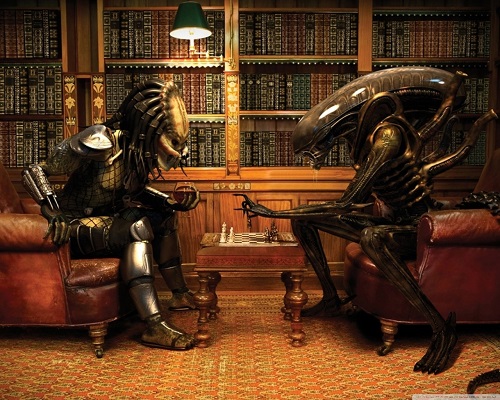 Meanwhile, In A Library Far, Far Away...
I like it that the Predator holding a brandy snifter. Obviously a man(?) of taste, as well befits the book thread,
(I stole the "photo" from here, which also has wallpaper-sized renditions available for download)

Good morning morons and moronettes and welcome to AoSHQ's stately, prestigious, and high-class Sunday Morning Book Thread. The only AoSHQ thread that is so hoity-toity, pants are required. Or kilts. Kilts are OK, too. But
not tutus. They don't count.

Scary Stories
We're coming up on Hallowe'en, so here are 50 of the Scariest Short Stories of All Time, or so they claim. Here are some classics from the list you can read online or download:
The Dunwich Horror, by H.P. Lovecraft (I would have preferred The Shadow over Innsmouth, but this one is good, too)
The Monkey's Paw, by W.W. Jacobs (be careful what you wish for)
The Lottery, (the all-time classic) by Shirley Jackson
The Babysitter, by Robert Coover
Lukundoo, Edward Lucas White
The Landlady, Roald Dahl
Rappaccini's Daughter, Nathaniel Hawthorne
The Willows, Algernon Blackwood (said to be one of Lovecraft's favorites)
Pigeons from Hell, Robert E. Howard (Stephen King called this "one of the finest horror stories of our century.")
Lots of others at the link, but these should hold you for a while.

And Now, A Public Service Announcement From Sabrina Chase
Moronette Sabrina Chase, author of many fine books (just click on her name to see them) wants you to know that with November and NaNoWriMo coming up fast, beware of book scammers. If you're a new author, you may be innocently unaware that you're walking into a minefield. It's not so hard for noobs, eager to get published, to find scam artists and publishers who would take money from them and give them little in return.
Accordingly, she recommends this blog post by David Gaughran, The Author Exploitation Business, which is full of good information about who the scammers are and how to avoid them. I actually think I've linked to this before (it looks very familiar), but doing it gain certainly isn't going to hurt.
Let's be careful out there.
Amazon Agonistes
How can Amazon still remain in business? I mean, I like Amazon, I buy stuff from Amazon all the time, but with these kinds of losses, you've got to wonder if it's a sustainable business model at all:
Amazon has reported increased third quarter losses of $437m, prompting shares to tumble in after hours trading in New York.

The internet giantís losses were significantly higher than in the same quarter last year when it reported a $41m deficit.
You get that? That's half a billion dollars poof, gone. In one quarter. And it's more than ten times what it lost a year ago.
Amazon continues to make a loss on high sales because it reinvests its profit into growing the company by building new warehouses, creating new services like Kindle Unlimited and making business acquisitions like the $1bn video game streaming site Twitch.
So, even though Amazon's income is high, its spending is even higher. Almost like increases in the former are driving the excesses of the latter. But this is no way to run a business. I mean, what's the end game here? Sooner or later, the spending gets so high that there's simply no income that could keep up with it. Just try to imagine if our government was run like that. Why, we'd never get... oh, wait.

That's Racist!
Moron Scott T is trying to use indiegogo to crowd-source his first book, entitled That's Racist!. He e-mailed me:
It's an illustrated children's book about how 'positive' or 'affirmative' racial policies just end up propagating the racial divide. They achieve the exact opposite of ending racism. (After 6 years of Obama's allegedly post-racial Presidency, I think a book like this will really hit the spot with Conservative and Libertarian families!)

And Zack Rawsthorne, formerly of Diversity Lane doing the illustrations.
This sounds like a worthwhile project to me. And Scott sweetens the pot with this additional proposal:
I'm offering 50 e-copy downloads of the finished book free of charge, that you can offer to your readers & commentors on your site. For every 10% overfunded I achieve, I'll add another 10 free downloads.The catch is that if the book isn't funded, then there's no finished book to (eventually) get free! So I could really use the help from you and the moron regulars to spread the word about this project on Indiegogo....
Here's the link to the Indiegogo campaign: http://igg.me/at/thatsracistbook.
And if 'That's Racist!' ever gets published, Scott will probably be denounced as a racist.

You've Read the Book, Now See The Movie - Maybe
The sci-fi novel The Martian by Andy Weir has been a moron favorite ever since it was first published. Plenty of others must like it, too, because for good or ill, it is being adapted for the screen:
According to Deadline, actor Chiwetel Ejiofor has joined an ensemble that includes Matt Damon, Kristen Wiig, Jeff Daniels, and Jessica Chastain. The movie is being directed by Ridley Scott
So Matt Damon (Matt Damon!) is going to be playing the main character, marooned astronaut Mark Watney.
I say "for good or ill" because movie adaptations usually mess things up. Mrs. Muse and I just watched The Giver a couple of nights ago and I was quite disappointed by some of the changes made to Lois Lowry's YA novel. And I couldn't see why the changes were necessary, as far as I could tell, the adaptation would have been just fine without them.
So here's hoping they do a better job with Weir's novel.

Mrs. Muse Reviews
So the missus just finished up Breath: A Lifetime In the Rhythm of An Iron Lung by Martha Mason earlier this week, so I asked her to review it for the book thread:
Breath was written by Martha Mason, a remarkable woman who lived almost continually in an iron lung for 61 years. Though this is her memoir, the book is a tribute to her parents, especially her mother, and friends and to her community in the city of Lattimore, North Carolina.

Contracting polio when she was about 10 years old, she became a quadriplegic in an iron lung, needing 24 hour care her whole life. In spite of this, she went to school and graduated from college with honors and had a very full life.

Her book was a joy to read because from all I can tell she was a joy to be around. She called herself a collector of people. She loved having friends over and having people around her and I believe they enjoyed her as much as she did them.

For most of her life she lived in her own house, and with the help of dedicated friends, even caring for her mother who later in life had a stroke and ended up with severe dementia. At one point in the book she writes, "Thoughts of how blessed I am to be able to live on my own, surrounded and supported by so many good people, flow through my head like a euphonious tune."

This was such an uplifting read for me. God gives people remarkable ability and disposition to live above their circumstances. In this case, I'm not sure Martha would attribute these to God, but I'm sure her parent who were godly people would have done so. They made many sacrifices, joyfully so, in their lives to make sure she had all she needed and in many circumstance all she wanted. She has nothing but praise for them. Their faith in Christ is evident in Martha's description of them.

It was a book I could not put down. She described her life and experience in a delightful way which was almost void of self pity. Her writing drew me into her life as I'm sure she drew many people into her life. I would like to have known her.

Books by Morons
Moron commenter WannabeAnglican has self-published his first novel, Pilot Point. I'll let him tell you about it:
Pilot Point is a very Texan novel set along I-20 in West Texas and around the town of Pilot Point in North Texas. With drought, dust, cowboys, and cattle, it could be called a Western except it is set in the late 20th Century and not many get shot up.

At the same time, Pilot Point has a strong Anglican flavor, weaving The Book of Common Prayer and traditional Christian themes through the story. (And that without being heavy-handed about it. I sought to write a weighty work of literature, not a Christian tract.) Not many novels have both cowboys and Anglicanism.
So this is probably going to be the best damn Anglican cowboy novel you'll read all year.
But wait, there's more:
I will hold the release event for Pilot Point at a GUN SHOW Ė at the Shiners Gun Show in Corpus Christi on November 8th. I thought that more interesting than having it at a local bookstore and a way to get the novel more directly to fellow Texans who would appreciate it. Besides, itís a GUN SHOW!
So it looks like at least some of you Texas morons down near Corpus Christi might be able to take in a gun show and meet the author, too. That's almost a perfect day.

___________
I feel like a complete idiot. Despite all of his intelligent and erudite comments he has posted to the book thread concerning early Islamic history, I never realized that longtime moron commenter 'boulder terlit hobo' was a published author, specializing in, get this, early Islamic history. His first book is House of War: Mecca, the Qur'an, and the Propaganda of 675-695. So bht e-mailed me earlier this week and told me he has finished a followup book, Throne of Glass: Formations of the Islamic State. He says:
It handles how 'Abd al-Malik founded the Caliphate in 692 AD, and then nearly lost it to a revolution in 700 AD. The revolution was led by Ibn al-Ash'ath al-Kindi; he declared a completely different sort of Islamic state, the Nasirate - which is a proto-Sunni notion, that the leader of the believers should *follow* God's law rather than - like a caliph - *transmit* the law (directly from God). The Asha'itha lost the war but won the argument: later "caliphs" retained the name of "caliph" but, in practice, ceded authority to jurists.
No Amazon price yet, so I'm assuming it will be released shortly.

___________
So that's all for this week. As always, book thread tips, suggestions, bribes, rumors, threats, and insults may be sent to OregonMuse, Proprietor, AoSHQ Book Thread, at the book thread e-mail address: aoshqbookthread, followed by the 'at' sign, and then 'G' mail, and then dot cee oh emm.
What have you all been reading this week? Hopefully something good, because, as you all know, life is too short to be reading lousy books.


posted by Open Blogger at
09:28 AM
|
Access Comments