« Saturday Morning Cartoon [Y-not]
|
Main
|
College Football Thread »
October 25, 2014
Saturday Gardening Thread: Pantless Edition [Y-not, WeirdDave, & KT]
Greetings gardeners! Welcome to your Saturday Gardening thread.
KEEP USING THE THREAD BELOW THIS ONE FOR YOUR OPEN THREAD NEEDS.
Take off your pants and stay awhile!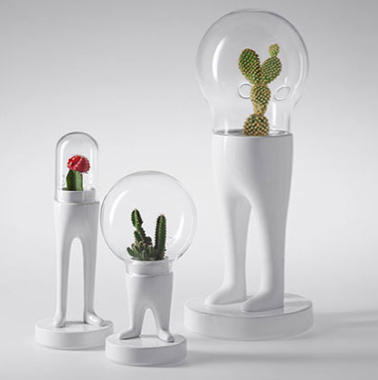 Your blog hosts are rarely caught with their pants down.
Our very own moronette gardening expert, KT, has "turniped" (SWIDT?) this week to teach us about rutabagas while Yours Truly gets dolled up for a charity ball she's attending tonight.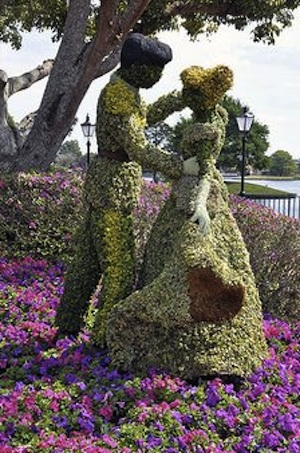 Admit it. You're green with envy, aren't you?

Take it away, KT!
Turnips and Rutabagas and Friends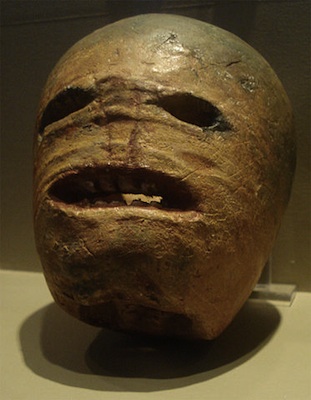 Send the kids out in the dark with the original Jack-o-Lantern this year: The Turnip Lantern.
Or, put some turnip lanterns near your doorstep to welcome trick-or-treaters. Directions for making them are here.
If you really want to impress the kids on Halloween, how about a Turnip Lantern made from a cabbage turnip? A pumpkin Jack-o-Lantern could have a hard time competing in the "gruesome" category.
But wait. Aren't we supposed to EAT the veggies we grow in our garden? Perhaps the ancient Turnip Lantern is an indication of some hostile feelings about these roots. I have noticed that most people who actually think about turnips and rutabagas either hate them or love them. Some people seem to have unusual obsessions with these vegetables. The original, botanically-incorrect Rutabaga Boogie by Paul Shelansky and his Musical Zombies was often featured by Dr. Demento. Such dedication to a vegetable is rare. Covered here by Bill Nelmes:

I totally missed the International Year of the Rutabaga last year. Don't think I'll make the Rutabaga Curling World Championship in Ithaca, New York this December, either. Oh, well. I can look still forward to National Rutabaga Month next March. That month may mark the last of the stored winter rutabagas for most people. It's also about the time rutabagas would start flowering their second year around here. If I had planted any. Yellow rutabagas are low on my garden priority list because of the climate here and because farmers produce a quality product. And because I like some of the turnips better.
Rutabagas and turnips have gone by some interesting common names over the years, but I'm not sure if this is because people liked them or didn't like them. For example, Haggis is served in Scotland with Tatties and Neeps. This translates to "mashed potatoes and rutabagas". Unfortunately, Haggis translates to "Haggis".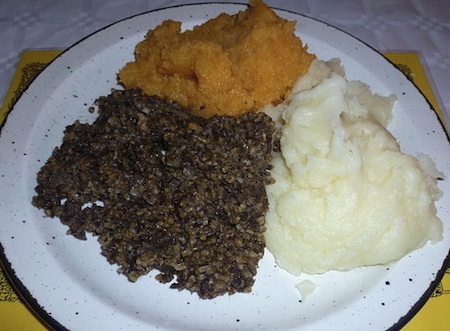 Much of the negativity toward rutabagas and turnips probably comes from their association with animal feed, poverty and famine. Or from childhood experiences with mashed Purple Top - White Globe Turnips, which I think are probably stronger-flavored that the orange mashed American Purple Top Rutabagas. I like them raw, but I am leery of them cooked (except in soup). Those who are into fancy roasted root vegetables, like Y-not, can maybe fill us in on how they taste roasted. People with a certain gene taste a particular compound in these plants as bitter, while other people taste nothing. The first group reportedly experiences turnips and rutabagas as being twice as bitter as those who don't taste this compound.
Turnips get some cultural love in America, too. I don't think there is a Danvers Half-Long Carrot Festival, but there IS a Gilfeather Turnip Festival. It's TODAY, October 25, in Wardsboro, Vermont. Maybe you could make some plans to include it in your travel itinerary next year. Recipes included here.
Here's a festival-related turnip video. Introduction to the Gilfeather Turnip song starts at 40 seconds:
The Gilfeather is my second-favorite type of turnip, or rutabaga - depending on your source of information. It really is distinctive. The folks in Wardsboro insist that it is a turnip. The socialists at Fedco Seeds say it is a rutabaga. They like it for harvests of greens from under the snow in January. But Frank Morton, a plant breeder they respect a lot, says that the Gilfeather is the product of an inter-species cross between a rutabaga and turnip.
I like to think that I didn't just fall off the turnip truck, but I found turnip and rutabaga genetics and nomenclature to be more complex than I had expected. Compared to rutabagas, traditional turnips have relatively straightforward basic genetics. Close relatives include Chinese cabbage, Bok choy, Komatsuna, Mizuna, Flowering cabbage and Rapini (broccoli rabe). Rapini is generally too "picante" for me. But the variety "Quarantina" sounds nice for Ebola preppers like WeirdDave, don't you think?
I highly recommend WeirdDave's sensible, limited prepper plan to Friends and Morons as a model. But for a quick-growing crop to supplement those stored items, I would personally go with a milder veggie than Rapini. One name in Italian, Cima di rapa, means "turnip tops". Greens from traditional turnips are pretty strong, too. Especially in summer. But people in Italy like bitter foods. Even so, there are some nice Italian turnip roots that aren't particularly bitter.
In the American South, people cook the bitter out of turnip greens, for a long time, often with a piece of ham or similar meat and sometimes combined with mustard greens. The greens and "pot likker" are traditionally served with cornbread. Folks get attached to this dish. Mustard greens are the only thing I have ever grown which prompted people to come to my door and ask if they could buy some.
My very favorite type of turnip is the new (in horticultural terms) generation of "summer turnip" hybrids. Their development started in Japan in the 1950s, probably by mad scientists inspired by the Triangle of U. There are some definite signs that these hybrids are not 100% turnip. For one thing, they generally don't have hairy leaves. For another, they are mild, sweet and sometimes fruity, tender and succulent. Their tops don't really taste like turnip greens.
I could go on with variety suggestions, but this thing is getting too long, and it's time for most people to be eating turnips and rutabagas, or carving them into lanterns, rather than planting them. If you live where turnips or rutabagas are being planted now, let me know in the comments. Otherwise, we can probably wait until the seed catalogs come out for 2015 for recommendations.
Hope you have a fun, creepy or peaceful Halloween, according to your preference -- and a wonderful, thankful Thanksgiving -- with or without turnips and rutabagas. Are you planning on cooking some up soon? Are you storing any roots for winter?

Y-not: And now, here's your co-host, the incomparable WeirdDave:
Today's topic is the Expand-ItTM series of lawn and garden tools from Ryobi, although Craftsman and Homelite make identical systems (the parts are interchangeable). I use these tools in my garden and yard prep, and it's a great way to add versatility without having to buy multiple tools.
Everybody has a trimmer. All summer long you use it to trim the grass around obstacles in your lawn. String trimmers do a fine job here, and you can use them to do things like light edging, although not well, and brush cutting, although brush of any diameter will make the trimmer chuckle weakly and throw up it's hands. Try to use the trimmer to prune a tree or loosen the soil in the garden and you'll look like a fool. What Expand-ItTM does is allow you to put different attachments on the head of the tool so that you can do different tasks. It all starts with the motor. This is your standard two stroke trimmer motor, mounted to a short shaft.
I have two of the motor units. Mine are by Homelite.
Each shaft ends in a coupling that mates with the various attachments. Here they are side by side.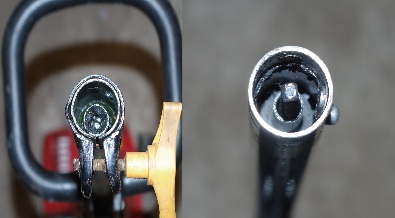 Now, I usually have it configured as a trimmer, after all, that's the tool I use most frequently.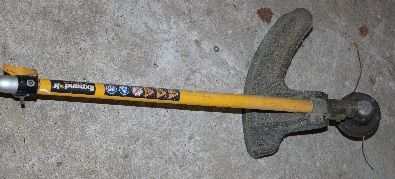 However, come springtime, when I want to loosen the soil in my garden and work in organic matter from the compost heap, all I have to do is loosen the clamp, push the spring loaded button in (just like a tent pole) and pop the trimmer attachment off of the head. I then grab the handy dandy tiller attachment and reverse the process. Now I have a perfectly capable light tiller, equivalent to a MantisTM.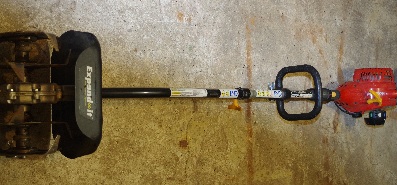 I wouldn't want to attack sun hardened Texas prairie with this, but in my raised vegetable beds, where the soil is already fairly loose, it works wonders. After tilling the garden, if I need to trim the hedges, well, I just pop this onto the head.

And so on. Not only does the Expand-ItTM system give me tremendous versatility in my tools, the various attachments take up a lot less storage space than having a bunch of different mono-task tools. They hang on the wall of the shed, and I just grab the one I need at the moment. The one drawback is that they can be kind of heavy, especially the tiller, but rigging a shoulder strap takes care of most of that. The one attachment that I don't have that I want is the pole pruner, but I'm keeping my eye on Craigslist, one will pop up sooner or later. I bought the tiller and hedge trimmer attachments for $30 each, and also bought the straight trimmer, a second tiller and an edger for at total of $20. I got the heads in a lot of 5 trimmers that cost $50. Kept these two, replaced the fuel lines on another and sold it for $50, and trashed the remaining two. If you're patient, you can find plenty of good deals.
And now that I've written all of that, it occurs to me that I could have just linked video from RyoniTM in the first place. Ah well, here it is anyway.

Y-not: Thanks, WeirdDave and KT!
To close things up...
ANTS IN PANTS!

What's happening in YOUR garden this week?


posted by Open Blogger at
10:10 AM
|
Access Comments