« Early Morning Open Thread - [Niedermeyer's Dead Horse]
|
Main
|
Weekend Open Thread: Amazing Animal Anecdotes [Y-not] »
October 19, 2014
Sunday Morning Book Thread 10-19-2014: Doom and Gloom [OregonMuse]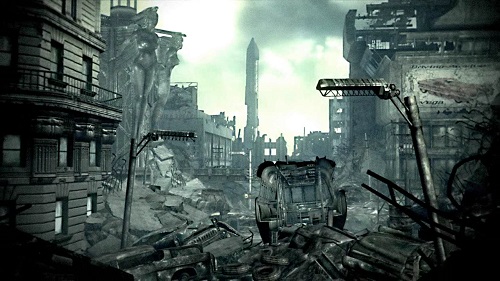 Good morning morons and moronettes and welcome to AoSHQ's stately, prestigious, and high-class Sunday Morning Book Thread. The only AoSHQ thread that is so hoity-toity, pants are required. Or kilts. Kilts are OK, too. But not tutus.

Heh.
I had last week's book thread up on my work computer last week, the one with the photo of the 3 ugly cavemen, and one of the managers happened to walk by and see it, and remarked, "Oh, I didn't know Grand Funk Railroad was doing a reunion tour."

Deriding Dreary Dystopias of Dreck
Author/editor Kathryn Cramer over at the HuffPo wants you to know that she's had it with dystopian sci-fi:
As our world became more complicated and our shiny futuristic infrastructure began to age and fail, dystopias emerged as a subgenre of science fiction...In 2011, following the Fukushima disaster, Neal Stephenson came to the realization that much of our crucial infrastructure is aging, and we are dependent upon infrastructure built in the 50s, 60s, and 70s. He wrote about this in an essay called Innovation Starvation. He gave a speech on this subject at GoogleX conference. Michael Crow, President of Arizona State University challenged him, saying that we had stopped getting big stuff done because science fiction writers like Stephenson had stopped envisioning it.
Well, that's certainly an interesting perspective, but I doubt that it's true. I think the real reason we're no longer getting "big stuff" done is that it just costs too damn much. Combine this with the fact that, most, if not all, of the governments of the world are run by idiots who have absolutely no clue how wealth is created, and who are only interested in taking it from people they don't like and giving it to those they do, and you get a sure-fire recipe for a bleak dystopian future full of poverty, want, and hard times.
One of the purposes of this article is for Ms. Cramer to promote her own, recently published anthology, Hieroglyph: Stories and Visions for a Better Future, which is fine. It's a compendium of "techno-optimistic" stories by writers such as Cory Doctorow, Bruce Sterling, and Neal Stephenson. But this revolt against the smothering, ubiquitous presence of dystopian-themed fiction is being introduced as if it's some Big New Thing.
However, if Ms. Cramer was familiar with the indie sci-fi writers, or even had been reading the stately and prestigious AoSHQ book thread, she would have known that we had this covered a year ago. 'Human Wave' science fiction has been around for awhile. In fact, Sarah Hoyt wrote her HW manifesto back in 2012. I kind of like her guidelines for writing. For example:
5 -- You shall not commit grey goo. Grey goo, in which characters of indeterminate moral status move in a landscape of indeterminate importance towards goals that will leave no one better or worse off is not entertaining...

6 -- Unless absolutely necessary you will have a positive feeling to your story. By this we don't mean it will have a happy ending or that we expect pollyanish sentiments out of you. Your novel and setting can be as dystopic as you want it. In fact, your character can die at the end. Just make sure he goes down fighting and dies for something, so the reader doesn't feel cheated.
For some examples of this, we can start with Ms. Hoyt's own works, such as Darkship Thieves, the first of her Darkship trilogy, followed up by Darkship Renegades, and then A Few Good Men.
There are more human wave authors listed at this old post at Sabrina Chase's blog, with the caveat that the prices she quotes no longer apply.
Webster's Insults
And while I was on the HuffPo site, I came across this piece on some forgotten words from Webster's original 1828 dictionary, and I amused myself by imagining the insults a modern-day politician could create using them. For example, under babblement (babblement means, as you might guess, 'senseless prattle'), we learn that that another word for gossip or chatter is twattle. That's the first word. Combine this with sheep-bite, which means 'to practice petty thefts' and you have this: "my opponent is a twattling sheep-biter", and is that a great insult, or what? It has an almost Shakespearean flavor to it, I think.
Another word on the list is obambulate, which means 'to walk about', and considering how close the first part of this word is to the president's name, you'd think the author would either (a) make a joke, or (b) at least give some indication that such jokes could be made. But being that this is the HuffPo, you know this isn't going to happen. HuffPo writers are a bunch of tardigradous, daggle-tailed mafflers, every one of them.
Not to mention fopdoodles and rakeshames. Or, in modern language, MSNBC.

More Book Covers
Last week I linked to a bunch of really crappy book covers. But this week, I hope to do you a better turn by linking to some better ones, namely, 30 Beautiful Vintage Dust Jackets. Just scroll down past the 'Find vintage books with beautiful dust jackets' search form on that page. Most of them appear to be from the 1930s to the 60s.
Thanks to Mike Hammer for the link.

Google Announces New Products
Google has announced a bevy of new products today, including a new phone. The most compelling new device is a tablet, dubbed the Nexus 9. It is made by HTC and the hardware will seriously give the Apple iPad Air a run for its money.

The Google Nexus 9 features a 8.9-inch display with IPS LCD technology, an 8-megapixel camera at its back, a 1.6-megapixel camera up front, and an NVIDIA Tegra K1 2.3GHz (64-bit) processor under the hood. There is a staggering 2 GB of RAM, which destroys the iPad Air which only has 1 GB. Great sound is provided by the HTC BoomSound speakers, which is the same audio featured in the HTC One M8 and HTC One M7.
That's an impressive amount of horsepower for a tablet. Not that I'm complaining. I really like my Nexus 7, so the 9 may be worth looking at as a future upgrade, perhaps when the price comes down a bit.

NYC Local
If you're ever in New York City and want to visit some of the local independent bookstores, here is a slideshow presentation of the 10 best. I'm not sure what criteria was used to determine that these particular bookstores are the best, other than the opinion of whoever it was who compiled the list.
But the photos are nice, regardless.

The Advent of Our Lord and Saviour
This one's a real hoot. In a thread from a couple of weeks ago, moron commenter D-Lamp brought The Gospel According to Apostle Barack: In Search of a More Perfect Political Union as "Heaven Here on Earth" to my attention.
Hear ye and know ye that this is no ordinary book. It is, as its author informs us, divinely inspired:
[A]s I began to contemplate ways to assist Barack in his 2012 re-election bid something miraculous happened. I felt God's (His) Spirit beckoning me in my dreams at night. Listening, cautiously, I learned that Jesus walked the earth to create a more civilized society, Martin (Luther King) walked the earth to create a more justified society, but, Apostle Barack, the name he was called in my dreams, would walk the earth to create a more equalized society, for the middle class and working poor. Apostle Barack, the next young leader with a new cause, had been taken to the mountaintop and allowed to see over the other side. He had the answers to unlock the kingdom of "heaven here on earth" for his followers. The answers were repeated - over and over - in speeches Barack had made from his presidential announcement to his inaugural address. Those speeches or his teachings contained the answers to the middle class and working poor people living in a "heaven here on earth." For when the answers were unlocked and enacted, Apostle Barack's vision of America would be realized.
You might well ask, what sort of person would write such a book?
Barbara A. Thompson is a native of Tallahassee, Florida, with graduate degrees from Florida A&M University and Florida State University. She has been teaching for more than twenty-five years at the university level with experience in the areas of health, physical education and sport management. She is a professor at Florida A&M University...
Naturally. Only a peer-reviewed academic could be responsible for producing this mind-bogglingly stupid hagiography. Next time one of your liberal relatives or facebook friends tries to tag you with the "conservatives are dumb" line, just show them this. It should shut them right the hell up.
I've never seen a book on Amazon with 100% one-star ratings. The three "5-star" ones? They're actually joke reviews.
Once you get tired of laughing at that, I would recommend Obama: The Greatest President in the History of Everything by Frank J. Fleming. I especially like the review written by the guy who first bought it and then realized, "But this is satire!"

Books By Morons
Heh. Heard from a moron this week who identifies himself like this:
Hello,as a long time heckler under a thousand different names, none of which are Hector or Average Joe...
Not sure which one of you he is, but he wants us all to know that he has just published two novels. The first is Wolf Hunters : Origins. It's about
...settling a frontier with the premise that even with advanced technology, you can't carry with you all the modern, magical stuff. You are (at first) limited to hand tools, and primitive construction. Eventually the heroine makes a discovery that changes everything and wars start.

It's mostly about human behavior, mostly about characters. There are no dragons, vampires, or magical spells cast by wizards. It's about wilderness survival, about being hunted, about military tactics, about small unit tactics, and survival.
Wolf Hunter is 869 pages long, so you'll be in for a good, long read.
He's has also written a sequel, Wolf Hunters : Transitions. I don't know anything about him, but I like his Amazon bio:
Retired, after a lifetime of menial labor, the last fifteen years in an eighteen wheeler. Five of those years in a forty two wheeler.

Started reading Science Fiction in the sixth grade, a book by Andre Norton "The Stars are Ours". It changed my life. My parents bought me Zane Grey's westerns, all of them, and World Book Encyclopedia which I read as though they were novels.

I have trouble finding Science Fiction that I want to read, so I'm writing my own.
Sounds like a Real MoronTM. He also asks:
As a newly self published, never before published author, reader feedback would be appreciated. Thanks,

___________
How many of you are familiar with the Lone Ranger's backstory? I wasn't, until I read the wiki entry:
The Lone Ranger was named so because the character is the only survivor of a group of six Texas Rangers,[citation needed] rather than because he works alone (as he is usually accompanied by Tonto)...A posse of six members of the Texas Ranger Division pursuing a band of outlaws led by Bartholomew "Butch" Cavendish is betrayed by a civilian guide named Collins and is ambushed in a canyon named Bryant's Gap.[12] Later, an Indian named Tonto stumbles onto the scene and discovers one ranger is barely alive, and he nurses the man back to health. In some versions, Tonto recognizes the lone survivor as the man who saved his life when they both were children...Among the Rangers killed was the survivor's older brother, Daniel Reid, who was a captain in the Texas Rangers and the leader of the ambushed group.
And now moronette Sgt. Mom has just published her own take on this and other events in the life of this legendary hero in her new book, Lone Star Sons: Being The Entertaining and Mostly If not Always True Adventures of Texas Ranger Jim Reade and his Blood Brother Delaware Scout Toby Shaw in the Time of the Republic of Texas, which has just been released on Kindle for your reading pleasure at the low, low price of $2.99. I was fortunate enough to be one of the alpha readers for this book, and the stories were a delight to read. This book is actually intended for a YA audience, but don't let that deter you, fans of Sgt. Mom and of the Old West in general should thoroughly enjoy it.
___________
So that's all for this week. As always, book thread tips, suggestions, bribes, rumors, threats, and insults may be sent to OregonMuse, Proprietor, AoSHQ Book Thread, at the book thread e-mail address: aoshqbookthread, followed by the 'at' sign, and then 'G' mail, and then dot cee oh emm.
What have you all been reading this week? Hopefully something good, because, as you all know, life is too short to be reading lousy books.


posted by Open Blogger at
09:31 AM
|
Access Comments