« It Gets Worse
|
Main
|
Top Headline Comments 10-16-14 »
October 15, 2014
Overnight Open Thread (10-15-2014) - Clearing the Spool Edition
Just a little potpourri of topics that didn't make it into a real ONT.
"I watched a documentary in the 80's where they showed that by November 2015, GE would develop a small automotive Fusion reactor that would run on banana peels and beer. It was called "Mr. Fusion"... I've been putting off my vehicle purchases until then... Only a year to go now!"
Houston Mayor Backs Off From Sermon Subpoenas - But the Witch Hunt Continues
As reported by KTRH Mayor Parker admitted that the subpoenas were too broad, and that the pastors' sermons should not have been included. "It's not about what did you preach on last Sunday," she said. "It should have been clarified, it will be clarified." City Attorney David Feldman had an odd admission of his own: that he had not reviewed the subpoenas before they were issued. "When I looked at it I felt it was overly broad, I would not have worded it that way myself," said Feldman.  "It's unfortunate that it has been construed as some effort to infringe upon religious liberty."

City officials told KTRH that they would narrow the scope of the subpoenas, but it is not clear how they will address the other concerns voiced by the pastors regarding their free speech and religious liberty issues with the rest of the items requested by the subpoena.
It's still not clear why the city thinks it should be able to rummage around in the churches' financial details and private communications for any references to the mayor or homosexuality in general when there's absolutely no evidence that a crime was committed. Well other than a potential thought crime that is.
The Walking Dead in an Age of Anxiety: Why We're Obsessed With Zombies
Something I once wrote about a long, long time ago.
Here Michael Totten also has some thoughts:
With the end of the Cold War, however, the threat of total destruction eased. Political theorists talked about the triumph of liberal democracy and the opening of a new age of peace and prosperity. Postapocalyptic scenarios on film and television were rarer and tended to be set in the future, as in 1999's The Matrix. Zombies weren't really part of the picture.

It's probably no coincidence that the zombie craze began barely a year after the September 11, 2001, terrorist attacks, with Danny Boyle's hit film 28 Days Later. Boyle's zombies weren't the shuffling "walkers" of The Walking Dead but living people, made rabid with a virus called Rage, who ran-fast-making them especially terrifying. The film's depiction of a London transformed into a post-apocalyptic horror show resonated with a public recently shocked by images of the World Trade Center's destruction and the abrupt realization that Islamic terrorists posed a serious threat to the modern world's prosperity and order. The fascination with the zombie apocalypse, I believe, is a cultural reflection of the new age of anxiety that opened on 9/11, with its fear of social collapse. As Penn State professor Peter Dendle puts it, the zombie is a "barometer of social anxiety"-and we're plenty anxious. The Anxiety and Depression Association of America claims that anxiety disorders are now the most common mental illnesses in the country, affecting more than 40 million people.
With such cataclysms, man-made or natural, comes the risk of social breakdown that makes us so apprehensive. Shortly after Hurricane Sandy struck the East Coast in 2012, residents in parts of New York City armed up with booby traps, baseball bats, and bows and arrows to protect themselves from potential looters. "Bow and arrow," wrote Jeffrey Goldberg in The Atlantic. "Think about that for a minute. In New York City. This is exactly the appeal of The Walking Dead. . . . A zombie invasion is simply a metaphor for any situation in which the government cannot protect its citizens."
NLRB Declares Other Companies' Employees Are Also Your Employees
Which means the employees of every company in your supply chain can potentially file a claim against you.
President Obama's National Labor Relations Board recently announced that due to complaints against a McDonald's franchise, it will expand its definition of employer to make one company an employer of another company's employees.

The impact of the NLRB's alarming decision to find "joint employment" expands far beyond just the franchising world. Those two words - "joint employer" - would effectively alter the relationship between businesses at every level of the supply chain.

For now, the NLRB seems most focused on attacking franchises - since July 2014, more than three dozen unfair labor practice charges have been filed against franchises including McDonald's, Taco Bell, Subway, Burger King, Panera Bread, and Jack in the Box.
How Bad is Detroit? So Bad They've Even Abandoned the Crack Houses
But not to worry the city is still installing wheelchair ramps on empty blocks so the future ghost town will be handicap accessible.
The bankrupt city put in ramps, costing about $10,000 per intersection, along crumbling sidewalks along Warren near Conner. In one half-mile stretch, from St. Jean to Cadillac, there are 52 new sets of ramps.

Some face brick walls. Others provide access to an empty lot where Helen Joy Middle School stood until it was razed in 2009. On many corners, sidewalks end after the ramps.

...Detroit officials say they have no choice. The work is the latest in a decade-long, court-imposed effort to force Detroit into compliance with federal handicapped accessible laws.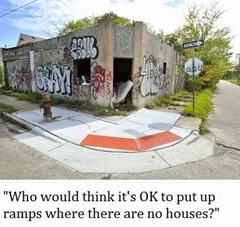 Facebook, Apple Will Pay to Freeze Female Employees' Eggs
I can understand why they're offering this but I can't help but think that the women employees are being sold an ultimately false path to fulfillment with no recourse if it doesn't pan out.
From the Blog of the Last Survivor
Apparently a printout of a blog, translated from the original Hungarian. The first entry begins this way:
2008 04 10:  Today I had an interesting experience. A Muslim couple has settled in our town. The refugee family has eighteen members. They are kind and modest and they walk the streets in a file that reminds of ducks waddling on the way to the pond.
A later entry:
2027 09 02: They have released me from jail. I sat for four months because I was caught with my pork-chop poster. The only way they could be persuaded not to chop off my hand was to promise that my family and I would convert to their faith.
My son is not affected any more. After his wedding night with his wife, he escaped for Chile. The rumor is that there are still living people there the old way.
Flight Attendants Want to Ban Electronics During Takeoff Again
Because the devices might fly around the cabin during landing and because you probably won't pay the proper amount of attention to the waitresses-in-the-sky flight attendants during takeoff.
Get Ready For Hello Kitty Missiles
The Japanese are back in the weapons business.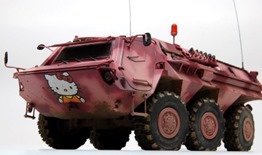 Long-time Employee Fired For Admitting That He Owned A Gun
Apparently just owning a gun at home is somehow a violation of the community association's 'no tolerance' policy. The lawsuit should be fun.
Canadian Company Rejects, Insults Applicant for Her Christian Beliefs and Education
Effing Scandi dicks.
Amundsen's next e-mail can only be described as revolting and very graphic. After addressing her allegations of discrimination against the company and chastising her biology degree from a university "that rejects the concept of evolution," Amundsen addressed Paquette's "God Bless" closing:

"God Bless" is very offensive to me, and yet another sign of your attempts to impose your religious views on me. I do not want to be blessed by some guy who was conceived by a whore, outside of marriage, and whom has been the very reason for the most horrendous abuses and human rights violations in the history of the human race. If I was to meet the guy, I'd actually f*** him.

...Amundsen explained to Paquette that most of "the guys at the management level" in the Norwegian-owned company believe Christianity is to blame for destroying Norse culture, traditions, and its way of life.
Danish Supermarket Stops Selling Fabric Softener
Because they decided it's bad for the environment and their customers don't really need it anyway.
We could motor on down this road for another 100 miles, but the fact is that the Indians of North America were primitive tribal societies. They were living in the Stone Age, something that Europe, Asia and North Africa had left behind thousands of years earlier. The Vikings, who in 1000 AD struck most of Europe as savages, were miles beyond the most sophisticated of the Indians in world knowledge, technological mastery, and social organization.

The Europeans then knew "savage." They'd been there, done that - as Neanderthals.

When the Europeans called the Indians "savages," they weren't being judgmental. They were being observant.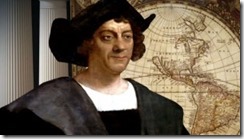 Austria's Struggle: No One Wants Hitler's House
Red States Give, Blue States Don't
From Rags to Riches To Rags: 15 Athletes Who Squandered Their Fortune
$400 million dollars lifetime earnings and now all Mike Tyson has to show for it are tattoos and some pigeons.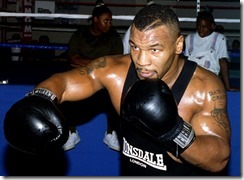 The Group knows what you did.
Tonight's post brought to you by sumo school: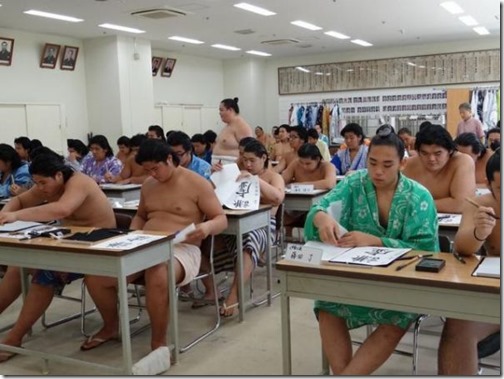 Notice: Posted by implicit permission of AceCorp LLC, a division of Whammo-CDC. Please e-mail overnight open thread tips to maetenloch at gmail. Otherwise send your boiled and sealed tips to Ace.

posted by Maetenloch at
10:29 PM
|
Access Comments