« College Football Thread
|
Main
|
Fundamental Concepts: The Tragedy of the Commons [WeirdDave] »
October 18, 2014
Saturday Gardening Thread: TIMBER! [Y-not and WeirdDave]
Greetings gardeners! Welcome to you Saturday Gardening Thread. This week's thread is brought to you by the aspen: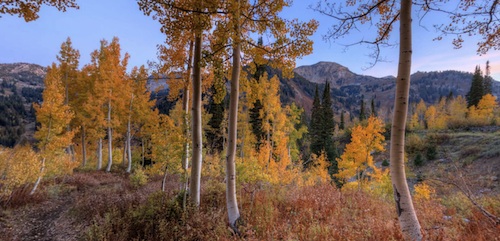 Follow this link for a 3D interactive display of autumn aspens in Alta, Utah.

Take it away, WeirdDave:
So, everything seems to be done for the year. It's time to sit back, relax, and plan for next year.
Or is it?
Corn Maze
There are still garden related things that can be done, although many of these are the milieu of the professional farmer rather than the green thumbed amateur. For example, there's a place in Dixon, Ca. That claims to have the World's Largest Corn Maze. Now, a Google search shows that lots of places claim this honor, but this story had pictures (of corn. With a path between rows. Not exactly visually exciting journalism). It covers 40 acres, and I think that'll do until a larger maze comes along.
Pumpkins!
Fall also means pumpkins. Here are some pictures of pumpkins, in case you don't know what they are (are you out of your gourd?).
Most of us think of pumpkins like this: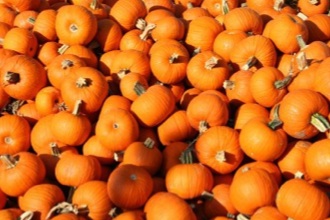 However, they can get pretty big, this one weighs more than a ton: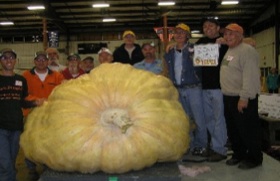 And when they get that big, there's a lot you can do with them: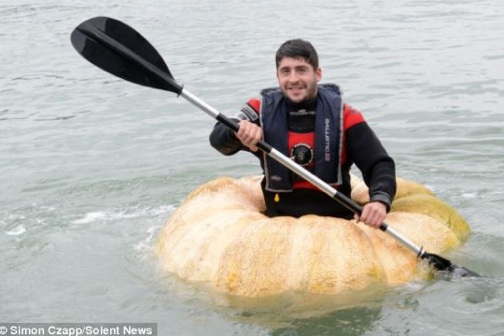 Hay Rides
It's a chilly October evening. The air has that crisp bite that whispers "winter's coming" to your lungs. A harvest moon hangs pregnant in the sky, and mugs of mulled cider warm every hand. What better activity than a good old fashion hay ride? Sure our betters in San Fran and DC will look down their noses at us bumpkins, but what do they know? Whether it's snuggling and spooning deep in the straw with your honey or a rowdy trip across rutted fields while having hay fights with your kids, hay rides are good, clean, itchy fun. If that makes me a bumpkin, it's a label I'll wear with pride.
Cider
Fall means cider season, and I'm with Ned Flanders on this one:
If it's tangy and brown, you're in cider town. If it's clear and yella, you got juice there fella.
For more on the topic, we turn to Cecil Adams of The Straight Dope. Yes, Cecil is a moonbat, but he's an entertaining and knowledgeable moonbat on non-political subjects.
A word to the wise: The message boards over there can be quite entertaining and informative on general information subjects, but the political threads make Daily Kos seem fair and balanced. I should know, I posted there for over a decade, it's where I met my wife. Remember AoSHQ rules: NO BOARD WARS! The banhammer will be swift.

Y-not: Thanks, WeirdDave!
Like my partner in crime, I was also in a Fall mood when I composed my part of the Gardening Thread. In my case, I was focused on trees... and what you can do with them.
To get you in the mood, enjoy the sights -- and sounds -- of aspens:
We are fortunate to have six very tall aspens in our backyard. Our upper story windows are perfectly positioned to enjoy the dappled light and soothing sounds made by the leaves as the canyon breezes come through our neighborhood in the late afternoon and early evening. It's heaven.
Ever wonder why aspen leaves "quake?"
Quaking aspens "quake" because of the way the leaves are attached. Each heart-shaped leaf is attached to the petiole (leaf stem), which is in turn attached to the branch.

In the case of the aspen, the petiole is flat, instead of the usual round. So instead of the flat leaf and stem being in the same plane, the flat petiole is attached at a 90-degree angle to the flat leaf. That causes the leaf's trembling movement.
Native Americans have their own story that explains the quaking aspen, The Legend of Strong Wind. (It's a lot like the story of Cinderella.)
To be honest, what really got me thinking about trees and aspens was this terrible story out of Utah:
A Durango man was killed Saturday in south-central Utah when a falling tree struck him as he rode his motorcycle on Utah Route 12 west of Lake Powell.

The falling aspen had been cut by two Boy Scouts who were with a group cutting firewood, said Joe Dougherty, a spokesman for the Utah Department of Public Safety.

Edgar E. Riecke, 69, died at the scene, Dougherty said. He was wearing a helmet but he rode directly into the path of the tree, he said.

"It was a direct hit," Dougherty said. "He died pretty quickly."

A doctor who was with the group, confirmed the death.

The accident occurred at 12:40 p.m. Riecke was riding about 50 mph, the speed limit there, Dougherty said.

I've been shaking my head (and fists) about this incident all week. I cannot fathom how someone, especially a Boy Scout Troop Leader, could be so g-d irresponsible about felling a tree onto a state route. Just awful.
Here's how to cut down a tree per the Handbook for Scout Masters:
Clearly, they need to amend that to include a few steps, such as posting scouts down the road with warning flags to ensure the thing doesn't fall on an innocent motorcyclist.
On a lighter note, here are some cutting down trees "fails":
Once you have felled your tree, you might want to use that wood in a fire pit. Mr Moxie has been clamoring for us to buy or build one for some time. I found this How To Guide on building a masonry one at Popular Mechanics.
Have any of you ever built a fire pit? Do you have recommendations on what to look for?
**UPDATE WITH A SUGGESTION FROM THE COMMENTS**
The easiest way to get a firepit is to go to a tire store that sells rims for the big tires on a tractor. Buy a used one, take it home, throw it on the ground, add wood, add flame, add marshmallows. Hey presto! Firepit!

Posted by: madamemayhem
Finally, a brief "farm report" from Casa Moxie. We're still harvesting tomatoes and Padron peppers (the ancho peppers have given up the ghost), although the overnight lows are starting to get a little nerve-wracking (we even hit the high 30s a few times). I've also been doing some yard cleanup, mostly in the form of trimming off the dead branches and some of the lower hanging branches that are heavily laden with leaves. The latter is just to prevent tree damage should we get a heavy snowfall before our leaves have dropped. Mr Moxie has promised to help me plant bulbs this weekend... as he did the past two weekends, so I'm not holding my breath! LOL
What's happening in YOUR gardens?

To close things up, how about a song?

Make sure to send your pictures, tips, questions, and flippin' great wadges of cash to me at MOXIEMOM on Twitter or to BAILESWORTH at g m ail.
Here's a great picture of some flowers that I received on Twitter this week from fastfreefall: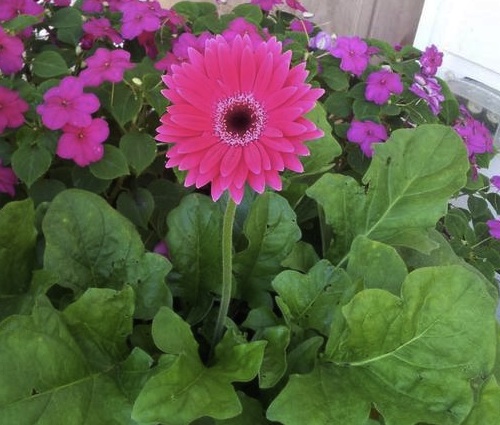 posted by Open Blogger at
12:40 PM
|
Access Comments