« Your Right To A Speedy Trial - [Niedermeyer's Dead Horse]
|
Main
|
Provisional ONT »
October 05, 2014
Spaced-Out Challenge: Blood Moon #2 and Seeing the Impossible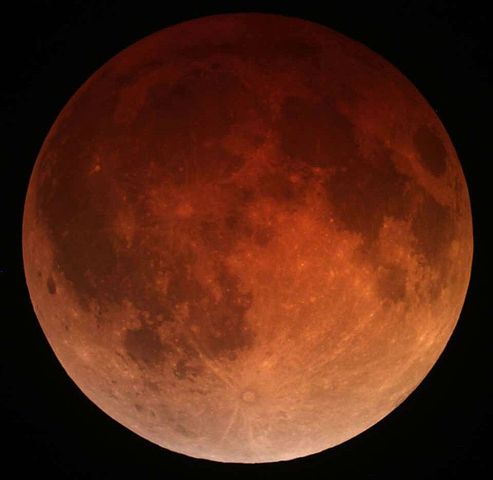 April's Total Lunar Eclipse as imaged by Alfredo Garcia
Apologies for the absence of the astronomy posts, but the Decision Desk (which, again, badly needs more 11/4 volunteers) has gobbled up much of my time. However, even I won't miss an eclipse!
The second "blood moon" of the tetrad makes it's appearance in the pre-dawn/dawn hours (depending on your timezone) this Wednesday morning. Simply look to the West to enjoy a view. Those of us on the East Coast on Wednesday morning will enjoy totality but not the full experience, while night owls and insomniacs on the West Coast will be best positioned to do so. Follow the chart below to see when you need to either set your alarm or pull over on your morning commute to enjoy a nice rusty sight: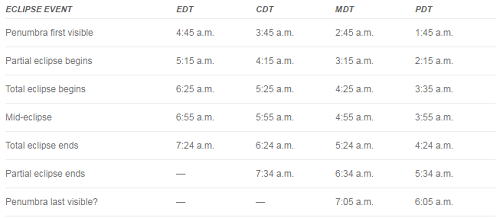 Chart courtesy Sky and Telescope, which has an excellent write up on Wednesday's event.
NASA also hints at the possibility of catching a band of turquoise on our sole satellite:
A lunar eclipse is always a fun sight.
But what about seeing something you shouldn't?
If you live on the East Coast, you will have a narrow window where you can see the rising sun AND the eclipsed moon simultaneously. As they will be at syzygy, a perfect 180 degree alignment, you would expect this to be impossible. But unlike less fortunate planets, ours has an atmosphere which refracts the light of objects below the horizon, "lifting" them to visibility. If you timed your observation for the eclipse, stick around until sunrise, then begin scanning the Western and Eastern horizons. Can you catch the selenelion?

posted by CAC at
08:31 PM
|
Access Comments