« Early Morning Open Thread - [Niedermeyer's Dead Horse]
|
Main
|
Sunday Football Thread »
September 28, 2014
Sunday Morning Book Thread 09-28-2014: Hegemony [OregonMuse]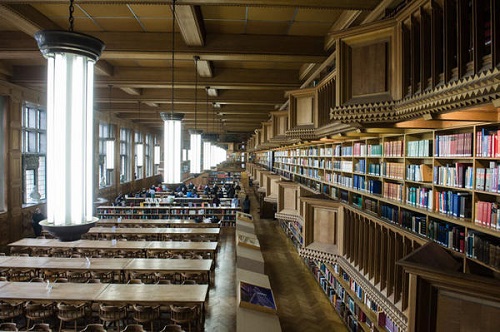 The interior of the Leuven University Library in Leuven, Belgium.

Good morning morons and moronettes and welcome to AoSHQ's stately, prestigious, and high-class Sunday Morning Book Thread. The only AoSHQ thread that

Found: Another Progressive Anti-Text
OK, so I was reading this article here wherein a number of horror enthusiasts were asked what was the scariest book they ever read. I didn't find anything noteworthy to comment on, except for one exception, a book I had never heard of before, Wisconsin Death Trip by historian Michael Lesy:
In the late 1960s, another desperate time, historian Michael Lesy...examin[ed] a collection of several thousand glass plate negatives and historical documents from Jackson County, Wisconsin, he concocted a sprawling treatise on a past that had been willfully forgotten, a brooding rejoinder to Edgar Lee Masters's Spoon River Anthology. First published in 1973, Lesy's Wisconsin Death Trip...became a key text of the counterculture...alongside Bury My Heart at Wounded Knee and Custer Died for Your Sins--and it sometimes reads like a hip product of its time.
"A hip product of its time." Ugh, that can't be good. So, how did this book come about?
Lesy stumbled across a cache of 30,000 glass plate images made by a local town photographer named Charley Van Schaick and spools of microfilm from the local newspaper - and combined the most compelling of these images and newspaper excerpts to create a vivid examination of Victorian prairie life.
Emphasis mine. So my question is, out of the 30,000 photos he had available, how did Lesy decide which ones were "most compelling"? Let me guess: he picked the absolute worst ones he could find, the ugliest, the most disturbing, the most shocking. And any that conveyed any hint at all of joy or beauty or happiness were not used. I don't know this for a fact, but considering all I've been able to read about this book, I think it's highly probable.
Pre-progressive America, as settled by the descendants of Europeans, must always be presented in the worst possible light. Dee Brown beat this particular horse to death in Bury My Heart At Wounded Knee (as did Howard Zinn in the execrable People's History of the United States), and I think Lesy is doing yeoman's work here.
The Amazon blurb contrasts Wisconsin Death Trip with Spoon River Anthology, another book which I had never heard of, so I had look it up, too. The WDT Amazon review suggests Spoon River is a "everything was great in the good old days" type book, but that turns out not to be true. It's a collection of free-verse poems that, taken all together, describes life in the fictitious small town of Spoon River, the people, their hopes, their dreams, their disappointments and anguish. Many of the poems read like epitaphs. Here's an example:
Ollie McGee

Have you seen walking through the village
A Man with downcast eyes and haggard face?
That is my husband who, by secret cruelty
Never to be told, robbed me of my youth and my beauty;
Till at last, wrinkled and with yellow teeth,
And with broken pride and shameful humility,
I sank into the grave.
But what think you gnaws at my husband's heart?
The face of what I was, the face of what he made me!
These are driving him to the place where I lie.
In death, therefore, I am avenged.

I don't see anything even remotely pollyannaish about this. And other poems in the anthology are similar, speaking frequently of heartbreak, heartache, and death. Anyway, I bought the 99-cent Kindle edition, and I think it's going to turn out to be a more worthwhile read than WDT. No that I don't think the turn-of-the-century photos from Wisconsin wouldn't be interesting, I think they would, but I am also interesting in looking at some of the other 30,000 photos that didn't get picked. Just sayin'.
What Won't Be Assigned
There are some interesting selections on this list, 5 Satires Your Professor Won't Assign You. I'll mention 2:
Love in the Ruins: The Adventures of a Bad Catholic at a Time Near the End of the World by Walker Percy
depicts "bad Catholic" psychiatrist and philanderer Dr. Tom More trying to save his neck and his soul as civilization shatters into tiny, sharp-edged pieces. Ex-priests turned sex therapists experiment on human souls, while gun-toting fundamentalists shoot it out with black separatist guerrillas in the bayous.
Like another southern writer, Flannery O'Connor, Walker Percy is not for the squeamish or faint of heart. He doesn't pull any punches. Mrs. Muse read the sequel to LitR, The Thanatos Syndrome, and she almost didn't finish it, it was so emotionally wrenching and disturbing.
And then there's The Camp of the Saints by French author Jean Raspail, who asked the question, "what would happen if millions of third-word immigrants took seriously all the western rhetoric about tolerance and compassion and the evils of exploitation of the third-world peoples, and all moved to France?" This is quite a remarkable premise for a novel, but that it was written in 1973 is even more remarkable. In this parable Raspail argues that the West "has no soul left" and "it is always the soul that wins the decisive battles." In other words, if western civilization has grown too morally flabby to defend itself, it will be replaced by something else.
Naturally, the cries of "Racism!" directed at this book are many. Conveniently ignored is one of Raspail's other novels, Who Will Remember the People, which is about the extinction of a small tribe of indigenous people who made their home on the extreme southern end of Argentina (Tierra del Fuego) at the hands of European explorers, soldiers, missionaries, and even Charles Darwin. It's a fictionalized account of a real event. It is not shy about showing the depredations inflicted by Europeans on an aboriginal population, which should keep the progressives bubbling with happiness.

Non-Literary Writers
I thought this piece about famous authors who started out or spent significant time in other fields was kind of interesting. I had heard, for example, that Arthur Conan Doyle had studied medicine, but not that Kurt Vonnegut had started out as a chem major, or that his brother was the one who discovered that you could seed clouds with silver iodide to make it rain.

Listen Up You Slackers, There's Big Money To Be Had In Writing
Here are the authors who made the most money in 2014. These are the heavyweights who earn as much as pro athletes or movie stars. The careers of some of these authors is amazing. Danielle Steele, for example has published 128 titles that that have sold more than 600 million(!) copies. Her 2014 earnings? $22 million, and she's not even at the top of the list.
So, all you authors and wannabe authors out there, what are you waiting for? Get off your duffs and get to work! And truckloads of money will soon be rolling in to your house.

Are You Ready For Some Football?
Now that football season is here, take a break from the interminable beer and financial planning commercials on Saturday afternoons and read one of the five influential football books, at least according to the guy who compiled the list. My favorite has to be Strange But True Football Stories, which I'm thinking I may have read when I was a kid. Imagine getting beat 222-0.
And this list is by an author who wrote his own football book, Season of Saturdays: A History of College Football in 14 Games.

Moron Recommendation - With A Caveat
Moronette Anna Puma e-mailed this list with a book she thinks might be interesting,
Bridge To The Sun: A Memoir of Love and War by Gwen Terasaki:
Gwen Harold Terasaki, author of Bridge to the Sun, was born in Johnson City, Tennessee. The memoir chronicles her life and marriage to Hidenari Terasaki, a Japanese diplomat who was serving as head of intelligence in the Western Hemisphere for the Empire of Japan when Pearl Harbor was bombed. She accompanied her husband back to Japan, where she lived during the war years and the early occupation period.
An American living in Japan during WWII would certainly have a interesting, and I daresay unique, perspective on that period of history. That alone makes the book worth reading.
But:
Anna suggests that those interested not purchase the 2009 edition because a new forward, written by the the author's daughter (Gwen Teraski died in 1990), is filled with America-hating crap such as:
But the militarists had the upper hand, and that most dangerous amalgam of delusions, uncritical patriotism and nationalist fervor, swept the land. I would live to see many outbreaks of this plague during my lifetime, including the potentially terminal one plaguing my mother's country for the last decade.
Yes, because we were all required to worship George W. Bush as the divine Emperor, just like Hirohito. And it gets worse. But instead of subsidizing this claptrap, Anna recommends you instead purchase a used paperback of the 1961 edition. The link I included for 'Bridge To The Sun' is to the Amazon used listings.
___________
So that's all for this week. As always, book thread tips, suggestions, rumors, threats, and insults may be sent to OregonMuse, Proprietor, AoSHQ Book Thread, at the book thread e-mail address: aoshqbookthread, followed by the 'at' sign, and then 'G' mail, and then dot cee oh emm.
What have you all been reading this week? Hopefully something good, because, as I keep saying, life is too short to be reading lousy books.


posted by Open Blogger at
09:43 AM
|
Access Comments