« Early Morning Open Thread - [Niedermeyer's Dead Horse]
|
Main
|
Southwest Ohio Moron Meet-Up »
September 13, 2014
Let's Talk About Three (More) Republican Governors: Kasich, Haley, and Martinez [Y-not]
Yesterday when I was reading this post at Hot Air about the tough time some GOP governors are having facing re-election, I spotted this line:
There are some bright spots for GOP gubernatorial hopefuls, too. Governors like Ohio's John Kasich, South Carolina's Nikki Haley, and New Mexico's Susana Martinez are likely to be returned by their state's voters this year.
A few weeks ago we discussed the pros and cons of Walker, Jindal, and Perry as potential POTUS candidates, so how about we discuss three more governors: Kasich, Haley, and Martinez?
First, a quick poll:

OK, with that "sense of the moron horde" poll out of the way, here's a very short primer on each of these three governors. I'll also give you my gut reaction to each, just to get the ball rolling on the discussion. But what would be great is to hear what YOU think about these three potential candidates' records and ideologies.
John Kasich, Ohio
John Richard Kasich (b. May 13, 1952 in McKees Rocks, PA) is the 69th and current Governor of Ohio. A Republican, he was first elected on November 2, 2010 and assumed office on January 10, 2011. In the race, Kasich defeated incumbent Ted Strickland (D) by some 77,000 votes. His win led the 2010 Republican sweep of statewide offices in Ohio.

Before his election to the Buckeye State's top seat, he served in the Ohio State Senate from 1979-1983 and the U.S. House of Representatives from 1983-2000. He made an unsuccessful bid for President in 2000.

Kasich is seeking a second term as governor in 2014. He has also been named as a contender for the Republican nomination for President in 2016. Elected by a strong conservative base, including support from tea party groups, Kasich drew their fury in February 2013 when he announced he would expand Medicaid in the state using federal money, possibly hurting his re-election chances.

An analysis of Republican governors by Nate Silver of the New York Times in April 2013 ranked Kasich as the 23rd most conservative governor in the country.
Kasich has a B.S. in political science from Ohio State. He seems to have slid straight from college into political life, starting out as an assistant to a state senator. As far as I can tell, his only non-government jobs were as a Fox News commentator and as managing director of Lehman Brothers' Columbus, Ohio office.
Kasich is currently pummeling his challenger in the polls.
He has a long record which is difficult to summarize. Frankly, anyone in office that long is going to have deviated from ideological purity and made some poor choices along the way. But at least he has a record to examine.
That said, I'm not sure what his Big Issue is. He seems like a manager-type more than an ideological leader. Can any Buckeyes chime in here?
**I'm going to add this link which CoolCzech gave me, just for more about Kasich:
Since Kasich became governor, the results of his "Jack Kemp style" economics have made a dramatic difference in the Buckeye State. Here are just a few examples:

* Over 170,000 new private sector jobs have been created

* There have been more new businesses created since Kasich took office than at any other time in Ohio history.

* Incomes in the state are now rising twice as fast as they are across the country

* The state's unemployment rate has dropped by 21%.

Kasich, who took a private sector job with Lehmann Bros. after leaving Congress, was part of the business team that took Google public.

As governor, he has offered a shining example, an Economics 101 class if you will, on why the free enterprise system works.

Nikki Haley, South Carolina
Nimrata "Nikki" Randhawa Haley (b. January 20, 1972, in Bamberg, South Carolina) is the 116th and current Governor of South Carolina. A Republican, she was elected on November 2, 2010, defeating Democratic nominee Vincent Sheheen. She was sworn into office on January 12, 2011.

Haley's election made her the first Indian-American woman to become governor of South Carolina and the second Indian-American governor in the United States after Louisiana Governor Bobby Jindal.

As governor, Haley's focus has been on creating jobs and improving the state's business climate. She has also worked towards cutting taxes for small businesses, pension reform, Medicaid reform, illegal immigration reform, Voter ID, and created the office of Inspector General.

An analysis of Republican governors by Nate Silver of the New York Times in April 2013 ranked Haley as the 21st most conservative governor in the country.

Haley previously served in the South Carolina House of Representatives, representing District 87, Lexington County, from 2005-2010.

Haley's first term will expire in January 2015 and she is running for re-election in 2014. State Senator Vincent Sheheen, whom Haley defeated in the 2010 general election, is seeking a re-match.
Haley has a B.S. in accounting from Clemson. After graduation she worked
for a waste management company and later for her family's clothing business (where she was CFO). She was active in the Chamber of Commerce for a number of years before entering political life.
My gut reaction to Nikki Haley's resume is more favorable than to Kasich, who had spent a lot of time in the Beltway. When I've seen Haley speak, she's come across as intelligent and attractive. I don't know if the Will Folks "sacred honor" nonsense had any major impact on her political prospects. I doubt it given that she is doing well in the polls for re-election. 'Any South Carolina morons care to tell us about your governor?

Susana Martinez, New Mexico
Susana Martinez, (born July 14, 1959, in El Paso, TX) is the 31st and current Governor of New Mexico. A Republican, Martinez won election on November 2, 2010, defeating former Lieutenant Governor Diane Denish (D) with 53.3 percent of the vote. Martinez is New Mexico's first female governor as well as the nation's first female Hispanic governor. She is seeking re-election in 2014.

An attorney by trade, Martinez previously served as District Attorney for the 3rd Judicial District in Dona Ana County, New Mexico, from 1997 until 2011.

An analysis of Republican governors by Nate Silver of the New York Times in April 2013 ranked Martinez as the 24th most conservative governor in the country.

Martinez was a Democrat until 1995, when she switched to the Republican Party.
Martinez is a lawyer. Her undergraduate degree was from UTEP and her law degree was from the University of Oklahoma College of Law. Her only private sector experience was working as a security guard for her parents' business, which they operated from their home.
I confess (and pre-denounce myself) that I tend to like District Attorneys and prosecutors as candidates. They often strike me as direct talkers and good debaters. That said, I don't know if Martinez possesses those qualities because I'm not sure I've ever heard her speak at great length. I confess that I think that being from New Mexico probably puts her at a disadvantage relative to the other governors given New Mexico's relatively small population and economics (although it does look like NM ranks well in terms of fiscal management, if I'm reading this Mercatus study correctly.) I'm eager to hear what our New Mexican horde members tell us about Gov. Martinez.
She is currently favored for re-election in the polls. You might have heard about her WHITE MALE DEMOCRAT opponent who apparently has some sort of medical degree because he asserted that she "doesn't have a Latino heart." What is this fascination liberal men have with female Republicans' body parts, anyway?

BTW, this is the Nate Silver article that Ballotpedia keeps referencing in which he scores the governors according to how "conservative" they are.
The table below lists the ratings for the nation's 30 Republican governors as calculated by this method; higher ratings reflect more conservative positions.
**FOR THOSE OF YOU HAVING TROUBLE FOLLOWING THE LINK, HERE'S THE CHART.**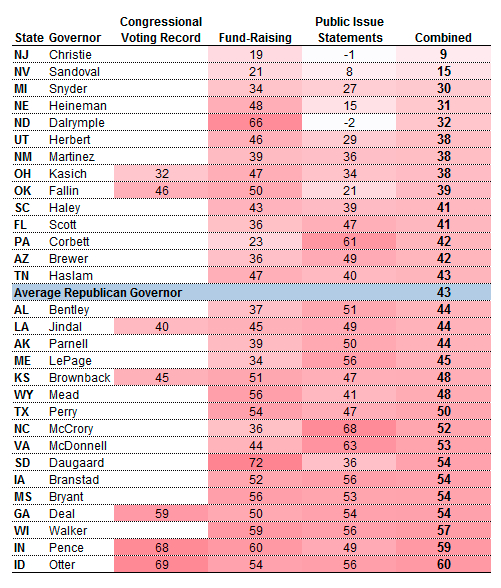 The average GOP Governor scores a 43. Chris Christie (RINO DIABLO - New Jersey) scored a 9! Jindal scored a 44, Perry scored a 50, and Walker scored a 57. The most conservative governor per Silver is Idaho's Otter. (Kasich, Haley, and Martinez are all considered more liberal than the average GOP governor, per Silver's scoring.)

To wrap things up, let's one more poll, including all six governors we've discussed thus far. Which three of these six candidates would be your top choices to go against the awful candidate the Democrats will put up in the 2016 Presidential election?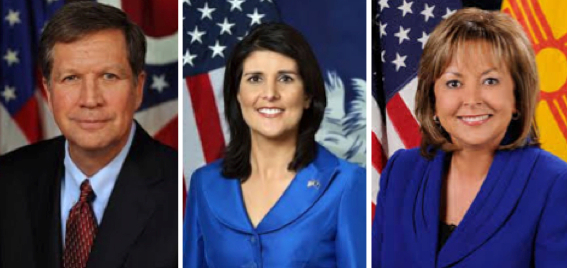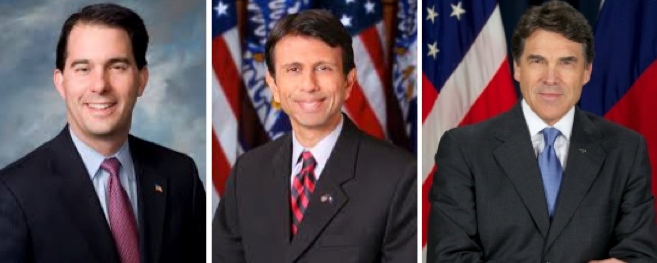 Right now out of those six I'd be leaning Perry, Haley, and either Walker or Jindal. How about you?

posted by Open Blogger at
09:01 AM
|
Access Comments