« Not-So-Early Morning Open Thread - [Niedermeyer's Dead Horse]
|
Main
|
NFL Sunday »
September 07, 2014
Sunday Morning Book Thread 09-07-2014: Deja Vu All Over Again [OregonMuse]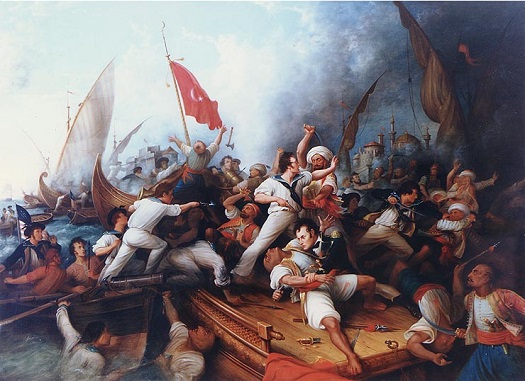 "Decatur Boarding the Tripolitan Gunboat"

(Oil painting by Dennis Malone Carter, depicting Lieutenant Stephen Decatur (lower right center) in mortal combat with the Tripolitan Captain)

Good morning morons and moronettes and welcome to AoSHQ's stately, prestigious, and high-class Sunday Morning Book Thread. The only AoSHQ thread that is so hoity-toity, pants are required.

"Millions For Defense, Not One Cent For Tribute!"
Last week I brought up the subject of a naval engagement that doesn't get talked about a lot in school history books, the sinking of merchant ships off the East Coast during WWII by German U-boats. Even though it isn't taught much in school, there's a wealth of material on the subject, as I found out in my e-mail this week.
But I heard from a lurker this week who called my attention to another historic naval engagement that gets equally weak coverage:
Americans need to learn fast the lessons of the hottest American geopolitical issue of the late 18th century: the brutal, bloody, deadly and cynical North African Barbary hostage and extortion crisis that threatened to cripple US maritime trade, undermine American liberty and threatened the personal security of Americans and American interests abroad.
Few people know today that this was a huge national issue back in the day. This is detailed in Captives and Countrymen: Barbary Slavery and the American Public, 1785-1816 by Lawrence Peskin:
In the late eighteenth and early nineteenth centuries the Barbary States captured and held for ransom nearly five hundred American sailors. The attacks on Americans abroad - and the government's apparent inability to control the situation - deeply scarred the public.
Imagine how bad that would be, seeing Americans killed in the Mideast and the federal government doing nothing about it. I'm glad crap like that no longer happens. Oh, wait...
One thing that came out of this was the creation of the U.S. Navy and Marine Corps. The old Continental Navy had been disbanded, so a new, modern navy had to be developed quickly, and one that could project American power a long distance overseas. To the Shores of Tripoli The Birth of the U.S. Navy and Marines by A.B.C. Whipple tells how
Jefferson sent a squadron of warships to the Mediterranean while Congress was in recess, prompting the first major debate on the war-making powers of a U.S. president. The war included a blockade of Tripoli, sustained bombardment by the Navy's new frigates, and finally a ground war fought by a U.S. Army captain, eight Marines, and a rabble of Christians and Arabs sent to free the hostages.
So, early on in our country's history, it was discovered that merely playing defense doesn't work. Sometimes, you have to take the war directly to the enemy and stick it in his face.
A couple of other book suggestions on this topic given to me by my lurking correspondent:
The Crescent Obscured: The United States and the Muslim World, 1776-1815 by Robert Allison
White Slaves, African Masters: An Anthology of American Barbary Captivity Narratives by Paul Baepler
And The Pirate Coast: Thomas Jefferson, the First Marines, and the Secret Mission of 1805 by Richard Zacks is on my Nexus tablet, I stopped reading it awhile ago, but maybe I should pick it up again.
Any number of epic, action-packed, thrill-a-minute movies could be made about these events in American history. It's a pity few, if any, have.

A Special Note To Lurking Lurkers Who Lurk
Hi. I know you're out there. I know because I hear from you in e-mail. You tell me how much you enjoy the book thread and all the books you've read based on tips in the comments. All well and good. Connecting readers with books is what the book thread is all about. But those of you who have gained so much, I'd like you to consider giving something back, so that others may benefit the way you have,
First, and this is for everybody, not just lurkers, consider hitting ace's tip jar, that's always an appropriate response. Valu-Rite and flea powder don't buy themselves, you know.
But here's something else you can do that directly relates to the book thread: read a book, fiction, non-fiction, doesn't matter, and post a one or two paragraph review to the comments section. It doesn't have to be big and involved, just a brief synopsis of what you've read and why you're recommending (or not recommending) it. That's all you have to do. You don't have to be a regular, or post every week, you can go back to lurking, but what might happen is that someone else, another lurker perhaps, might read your review and want to go out and read it for themselves. Thus you will have enriched others as you yourself have been enriched.
And everybody wins.

Is That What They're Calling It Now?
Here's an article from (amateur webzine) Slate, and I've gotten burned before on their crap, so take this with a grain of salt, 29 Historic Slang Terms For Sex. Notable: "ride below the crupper" (that just sounds dirty), "join giblets" (ew) and "dance the kipples" (this one reminds me of that old literary joke, "do you like Kipling?" "I don't know, I've never kippled.")

A Wilder Autobiography
According to the Guardian, Laura Ingalls Wilder's memoirs, which were rejected by publishers way back in the 1930s, will soon be released:
The South Dakota Historical Society Press will release a researched version of the book for the first time this autumn, including more than 100 images, maps, and hundreds of annotations drawn by editor Pamela Smith Hill, author of a biography of Wilder, from additional manuscripts, diaries and letters.
And the reason for this is...?
"Wilder's fiction, her autobiography, and her real childhood as she lived it are three distinct things, but they are all closely intertwined, and readers will enjoy seeing how they reflect one another. Even more interesting, though, are the places where one story differs from another, and Pioneer Girl: The Annotated Edition explores these differences too," said Nancy Koupal, the publisher's director.
From casual browsing here and there, I have discovered that there a large amount of scholarship devoted to Wilder and her "Little House" series, and a lot of it appears to be negative, i.e. showing that what she said happened, couldn't have happened. On the one hand, there's nothing wrong with this. There are at least a couple of tales in LH that have always smelled a bit fishy to me, and I'm a sympathetic reader. But on the other hand, Wilder writes simply and eloquently of normal people living normal life, and since academics, like other progressives, are at war with normal life, they have a vested interest in the deconstruction of these children's books and their author. Yeah, I know this is a bit tinfoil-hattish, but I simply can't deny the possibility. Also, the fact that LIW's daughter, Rose Wilder Lane, was an outspoken conservative libertarian probably doesn't help. Rose is the author of The Discovery of Freedom: Man's Struggle Against Authority, first published in 1943.
According to Amazon, Pioneer Girl: The Annotated Autobiography will be released this November.

Food Lit.
Here's a silly food in literature quiz. As is usual with these sorts of quizzes, providential guessing kept my low score from descending even lower.

Don't Read These Books
I discovered the refreshingly traditionalist Intercollegiate Review site a few weeks back. It appears to be a quarterly publication, so the site doesn't change much from day to day, but I did find, and was amused, by one of their articles, The Five Worst Books I've Ever Read - And Why You Should Read Them Too.
Interesting take on authors such as Voltaire, James Joyce, and Dorothy Day.

Books Of Note
The Old Farmer's Almanac 2015 Edition has been released. Now in its 223rd year(!) of publication, the Almanac is packed full with good stuff:
* traditionally 80 percent-accurate weather forecasts
* creatures from hell
* readers' wacky coincidences
* making sausages at home
* wildfires' effect on weather
* love potions
* beauty secrets
* odds of almost everything
* unmasked mysteries of plant seed dispersal

Plus, Moon phases and other celestial sightings, tides, gardening tables, best days, and more. I've never in my life actually read this book. The Kindle edition is less than $5, I might have to finally buy a copy.

___________
Louis L'Amour wrote short stories as well as novels. The Kindle edition of The Collected Short Stories of Louis L'Amour, Volume 1: Frontier Stories is on sale until Sept. 13th for $1.99. There are other collections, such as Vol. 2, but they cost a bit more. And the entire collection of L'Amour's stories costs a whole lot more.
Via Bookbub.

___________
Many of us here at the HQ enjoy the videos of author and social commentator Andrew Klavan at PJMedia and lately, at TruthRevolt.org. But before the videos, he was a prolific, award-winning fiction writer (True Crime is probably his most well-known novel). Shortly after he converted to Christianity, he wrote Empire of Lies, which I thought was kind of meh, which is unfortunate. I like Andrew. He's one of the good guys, and I want him to succeed. So I hope his new novel, MindWar, will do well. Klavan says:
The story centers on Rick Dial, a one time star high school quarterback who retreats into obsessive gaming after his legs are shattered in a car crash. Turns out, his gaming skills combined with his quarterback reflexes and mentality, make him the perfect candidate to fight the MindWar and he's injected into a video game-like atmosphere where the stakes are very real and very high.
It's the first installment in a trilogy of YA science fiction adventure novels.

___________
So that's all for this week. As always, book thread tips, suggestions, rumors, threats, and insults may be sent to OregonMuse, Proprietor, AoSHQ Book Thread, at the book thread e-mail address: aoshqbookthread, followed by the 'at' sign, and then 'G' mail, and then dot cee oh emm.
What have you all been reading this week? Hopefully something good, because, as I keep saying, life is too short to be reading lousy books.

posted by Open Blogger at
10:07 AM
|
Access Comments