« Who Knew There Were Four!: Open Thread [CBD]
|
Main
|
No Dog Left Behind [Y-not] »
September 06, 2014
Saturday Car Thread 9/6/14 - [Niedermeyer's Dead Horse and KBDaBear]
Let's get down to it.

From our friends at Automotive News, a list of the Top 10 Geriatric Cars:

Wow! That's a looker!

And, the car thread bids Ms. Rivers adieu. You were one helluva broad.

Now, KBDB offers a few items for your perusal:
The Best Used Cars for Under $20,000
As the 2015 model year is rolling out for most models this autumn, it's not just the best time to find a bargain on a new car, but an optimum time to take the trade-ins off the dealer lots. Under pressure to move their 2014 inventory to make room for 2015 models, they have to either move the used trade-ins or consign them to the auctions.
Nowadays, cars are built to last so long that at 50,000 miles it's just getting broken in, and most new models aren't significantly different from a 2 or 3 year old version. Not only do you avoid the huge depreciation hit, but you have a car that will still be in good condition 5 years from now. In many cases the original warranty is transferable to a new owner, check with the manufacturer on their policies. Don't ask the dealer as they'll want to sell you high margin extended warranties and service plans.

Porsche Powered VW Karmann-Ghia
Most of the Moron gearheads focus our fantasies on American classics and muscle cars when it comes to customizations, but there are others like our own Moronette incarnatino of Mona Lisa Vito we know and love as Anna Puma. So for AP, here's a KG doing a run around the track pushed along quickly by a Porsch 911 engine.

70's Movies for Motorheads
The early 70's were the beginning of the nadir of American cars, but that same period was a golden age for those of us who loved some good old flat out V8 dialog;
James Taylor and Dennis Wilson took some time from the recording studio to try their hands at acting in this road trip Minimalist flick as two street racers who travel from California to Tennessee and earn cash on the way by racing their muscled up 1955 Chevy against locals in the towns they encounter.
Barry Newman is an ex-cop turned car courier who contracts to deliver a 440 Dodge Challenger R/T Magnum from Denver to San Francisco. He bets a drug dealer that he can deliver the car by 3 pm the next day. Of course he draws the attention of the highway patrol in Colorado and Utah and leads them on an escalating high speed chase.
Duel
Directed by some guy named Steven Spielberg, this made for tv thriller was penned by Richard Matheson. If you've never seen it, a Los Angeles traveling businessman played by Dennis Weaver has an appointment with a client in Northern California. Detouring through the Soledad Canyon region north of Santa Clarita, he draws the ire of a psychotic truck driver in an old Peterbilt tractor trailer who chases Weaver through the desert. Spielberg did a great job making the truck itself the antagonist, it exuded pure menace.
If you're going to piss off a psycho in a souped up semi, don't do it in an underpowered 1970 Slant Six Plymouth Valiant

American Graffiti
Directed by some guy named George Lucas, this is not the minimalist genre of the other three, it was one of the early "Coming of Age" films. It's the story of four friends spending the final night of summer cruising the streets of Modesto California in 1962. Starring Richard Dreyfuss and Ron Howard, the film was a thrill for fans of 50's muscle cars, hot rods and the Golden Oldies that served as the soundtrack throughout the film.
The first prominent car was the 1932 Deuce Coupe of John Milner (Paul LeMat).
Then Milner's antagonist challenging him for "fastest car in the valley", the 1955 Chevy* of Bob Falfa (some guy named Harrison Ford)
*This is the same '55 Chevy that starred in Two Lane Blacktop
Steve Henderson's (Ron Howard) 1958 Chevy Impala that he entrusts to his nerdy friend Terry the Toad (Charles Martin Smith)
The Pharaohs gang leader's (Bo Hopkins) 1951 Mercury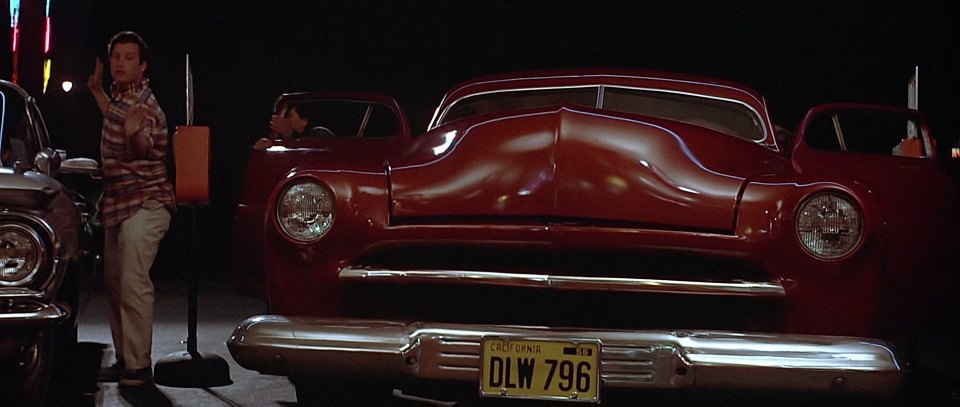 Blonde Mystery Girl's (Suzanne Somers) 1956 Ford Thunderbird

Elbows!
[Ed. note: The tamest tweet KBDB ever tweeted]
A bonus:

Please feel free to send any complaints or commendations to us at Twitter: Nied's Dead Horse and KBDaBear.

posted by Open Blogger at
06:06 PM
|
Access Comments