« Labor Day Words Of Wisdom From Mike Rowe
|
Main
|
State Department Hikes Fee To Renounce Citizenship Amid Record Number Of Renunciations »
September 01, 2014
Labor Day Thread: Burgers and Ice Cream Edition [Y-not]
Someone last weekend asked for a thread about the best places to get ice cream. It's the end of summer, so why the hell not? And for added measure, let's toss in a discussion of the best place to get burgers. Good end of summer, Labor Day weekend fare.
First ice cream...
The folks at Food and Wine have created a list of the top cities for ice cream. It's in one of those annoying slide show formats, so here are a few highlights from their list (and you can click thru for the full monty):

Columbus, OH - Jeni's Splendid Ice Creams "...some of the country's best ice creams, sorbets and frozen yogurts in imaginative flavors like wildberry lavender, Thai chili, and exceptional salty caramel."
Scottsdale, AZ - Sweet Republic "This two-year-old shop prides itself on using exceptional ingredients, from local dairy to single-origin, fair-trade coffee beans for its espresso flavor."
Austin, TX - Amy's Ice Cream "Amy's offers more than 300 flavors on a rotating basis, including the Shiner Bock, made with the iconic Texan beer of the same name and a signature Mexican Vanilla ice cream."
Cambridge, MA - Toscanini's "In contention with Christina's for best local ice cream, this cult parlor wins for its burnt caramel flavor."
New Orleans, LA - The Creole Creamery "Alongside fountain-shop classics like banana splits and sundaes, this local favorite features rotating ice creams in flavors like Creole Cream Cheese (made with a curdled cream cheese local to New Orleans)."
Have you been to any of these places? Which do you like?
And here's another recommendation, from Dr. Kill on the August 31st thread:
Here's a shameless plea for you to include the ice cream shop of my wife's family in your next Sunday travel thread. It is called Sundae Best, and it's at the corner of 29th Street and Dune Drive in Avalon, NJ. They should be open in the evenings for a few more weeks before closing for the season. They have a nice website, too.
Mr Y-not told me he has fond memories of a local New England chain called Viking, that I gather was a competitor of the New England institution, Friendly's. I don't think Viking is around any longer.
Me? I do recall being impressed by Ben & Jerry's when it first came out. I went to college in Vermont, so I did go to the original one a few times. The lines were long.
But these days I'm more into soft-serve and shakes. Out here in Utah "shakes" are essentially soft-serve. You eat them with a spoon, not a straw, and they usually have things mixed into them. Locally, there's a chain called Arctic Circle that has a couple of dozen flavors at any given time. And when we were down in St. George we visited a place called Nielsen's Frozen Custard that has really good ones. I gather Nielsen's is a chain.
As an aside, I suppose we could spend some time debating the various words for frozen concoctions, from frappes to shakes to cabinets (some New Englanders may know that one) to frozen custard to gelato. And don't get me started on black cows! I enjoy learning about all the regional differences for common foods.
Where are your favorite places for frozen treats?

And now for the burgers!
Fortunately, via my subscription to Zagat, I have this handy list to use as a jumping off point.
Well, it's not a "list" per se. It's a bunch of cities in which they've ranked the best burgers. For example, in Denver they say the best burger can be found at the Highland Tap & Burger and it's called a "Shroom Luva's." In Chicago you're advised to go to the Lockdown Bar & Grill and order The Lockdown Warden. Naturally, they did not rate burgers in Salt Lake City because we are considered to be in a food wasteland. I'm not sure we deserve that reputation (imho Indy was much worse than SLC, especially when you factor in Park City's restaurant scene), but there you have it.
I'm not sure I can name a "best burger." I like a good hamburger (or ostrich burger or bison burger), but I don't tend to get them when I'm out simply because I can make one exactly the way I like it at home. BTW, if you are making one at home and have a Williams-Sonoma handy, splurge on their truffled steak sauce. I picked some up from the bargain bin and have been really enjoying it on burgers.
But I can tell you my least favorite burgers were eaten in Heidelberg, Germany, primarily because the Germans don't know how to make a decent catsup... and I like catsup on my burgers (except for those rare occasions when I have truffled steak sauce handy!).
Yesterday, I made us lamb burgers and they were gooood: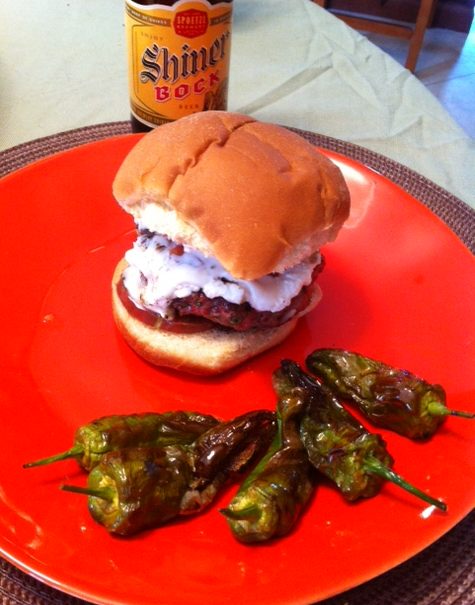 Here's the "recipe:"
Mix 1 lb of ground lamb with a couple of cloves of pureed garlic, chopped cilantro, finely chopped red onion, and a couple of tablespoons of Persian advieh spice mix.
Grill -- but do not over-cook! Leave the lamb pink. The more you cook lamb, the "lambier" it becomes. (I'm convinced most people who hate lamb have never had properly cooked lamb.)
Towards the end of the cooking time, plop on a tablespoon or two of goat cheese and let it melt a bit.

Serve with sliced tomatoes and yogurt dill dressing.

Where are your favorite places to get a burger?

posted by Open Blogger at
03:00 PM
|
Access Comments