« Weekend Headlines [CBD}
|
Main
|
Open Thread for Your Scrolling Pleasure [Y-not] »
August 30, 2014
Saturday Politics Thread: Scott Walker, Bobby Jindal, and Rick Perry [Y-not]
College football season is fully underway this week. (Yes, there were some games last week, but this is the weekend the Big Dogs started playing.)
Tonight, the Wisconsin Badgers (14) will be meeting the LSU Tigers (13) at Reliant Stadium in Houston, Texas. (I have no idea why they're playing in Houston.)
Coincidentally enough, this game involves three states whose Republican Governors should be considered amongst the top contenders for 2016. So let's use that as an excuse to talk about them.
Wisconsin's governor, Scott Walker, is a favorite amongst many here, including the traitorous Meatball, I believe. Here's a short biosketch for those of you unfamiliar with his background:
Born in Colorado Springs, Colorado, Walker attended Marquette University in Milwaukee. He started his career working for IBM before gaining a marketing job with the American Red Cross. At age 22, Walker lost a run for the Wisconsin State Assembly in a Milwaukee district in 1990, though he won later, after moving to a more Conservative district in Wauwatosa, Wisconsin. He served five more terms in the Wisconsin Assembly from 1993 to 2002. In 2002, after the resignation of Tom Ament as Executive of Milwaukee County, Walker won in a special election to fill the seat, winning the first of three terms serving as County Executive in Milwaukee County from 2002 to 2010.

In his first run for Governor in 2006 he dropped out before the Republican primaries. Walker again ran for the governorship in 2010 winning in a three person race in the Republican primary. He faced Democratic nominee, Milwaukee Mayor Tom Barrett, in the general election, where Walker won with 52% of the vote. After being sworn into office in 2011, Walker introduced a controversial budget repair plan which eliminated many collective bargaining rights for most public employees and made over $1 billion in cuts to the state's biennial education budget and $500 million in cuts from the state's biennial Medicaid budget. The budget cuts led to significant protests at the Wisconsin State Capitol and sparked an effort to recall Walker.

In a special election in June 2012, Walker again faced Barrett in Wisconsin's first and only Gubernatorial recall election and defeated him for a second time, obtaining more than 53% of the vote. Walker is the first and only governor in the U.S. to date to win a gubernatorial recall election.
Many reject the idea that a prospective candidate's resume matters. I am not in that camp. It does matter to me and I confess I am not particularly impressed by Walker's credentials.
That said, he is credited with accomplishing a lot of great things in Wisconsin, most notably getting the state's fiscal house in order and defeating the unions.

Louisiana's governor, Bobby Jindal, was high on many peoples' lists until that semi-disastrous SOTU rebuttal speech he gave in 2009. After that it seemed as though the popular opinion was that Jindal was too "odd" to be a serious contender. I don't know if that's true for most people, but in my case it does not matter as I vote in the primaries based on what I want, not based on what I think others want. Based on the past two election cycles, I remain unconvinced that the Smart Set who insist we factor "electability" into our primary process know their asses from their elbows.
In any event, here's a quick summary of Bobby Jindal's resume:
Jindal was born in Baton Rouge, Louisiana, to immigrants from India. Prior to entering politics, Jindal studied for a Bachelor of Science in biology and public policy at Brown University from 1988 to 1991 and then a Master of Letters in political science from New College, Oxford, as a Rhodes Scholar. He worked for McKinsey & Company and interned for Representative Jim McCrery of Louisiana. In 1996, Governor Murphy Foster appointed Jindal Secretary of the Louisiana Department of Health and Hospitals, and in 1999 he was appointed President of the University of Louisiana System. In 2001, Jindal was appointed as the principal adviser to Tommy Thompson, the United States Secretary of Health and Human Services by President George W. Bush.

He first ran for governor in 2003 and won a plurality in the nonpartisan blanket primary but lost in the general election to Democrat Kathleen Blanco. He then won a seat in the United States House of Representatives in the 2004 elections. The second Indian American in Congress, he was re-elected in 2006. He ran for Governor again in 2007 and secured an outright majority in the first round of balloting. He was re-elected in a landslide in 2011.
I don't know a lot about Jindal's record in Louisiana, except I remember being fairly impressed by him during the oil spill, when he called out Obama for the administration's inaction. What I saw of that Jindal suggested to me that he has matured past the 2009 Jindal. IOW, I think a large part of Bobby Jindal's poor performance in the SOTU rebuttal was owing to being overly-managed by some bad advisors. I doubt that would happen again.
I confess, what has put Jindal back on my radar was his rapid (August 16th) and strong response to the malicious prosecution (and indictment) of Governor Rick Perry. In case you missed it, here it is:
"I stand behind Governor Perry in his fight for honest government and I am certain he will prevail in this partisan suit," Mr. Jindal tweeted, adding in separate dispatches, "Governor Perry exercised his constitutional authority and this circus is simply a political witch-hunt." and "The lawsuit against Governor Perry is a blatant misuse of the judicial system by liberal activists who couldn't defeat him at the polls."
Here's Scott Walker's response to the indictment:
Walker urged his counterpart to remain "bold and aggressive" and that he can understand the pressure.

"The bottom line is I can completely understand being under attack from outside sources for political purposes and it appears that's what we're seeing in Texas," Walker said. "I'd encourage him to stick with the truth and point out where politics are being played."
(BTW, I watched the clip of Walker and was not impressed by his delivery. It struck me as rather weak support of an extremely successful Republican governor coming from another Republican governor. YMMV.)

Finally, there's the Governor of Texas. I've been told for years now that I cannot vote for the Governor of Texas in the GOP primary because being the Governor of Texas is disqualifying.
Bullshit.
He's the best-known of these three 2016 prospects, having served as governor since 2000. Here's a quick summary of his resume:
James Richard "Rick" Perry (born March 4, 1950) is an American politician who is the 47th and current governor of Texas. A Republican, he was elected lieutenant governor of Texas in 1998 and assumed the governorship in December 2000 when then-governor George W. Bush resigned to become president of the United States. Perry is the longest serving governor in Texas state history. As a result, he is the only governor in modern Texas history to have appointed at least one person to every eligible state office, board, or commission position (as well as to several elected offices to which the governor can appoint someone to fill an unexpired term, such as six of the nine current members of the Texas Supreme Court).

Perry was elected to full gubernatorial terms in 2002, 2006 and 2010 and is the fourth Texas governor (after Allan Shivers, Price Daniel, and John Connally) to serve three terms. With a tenure in office to date of 13 years, 252 days, Perry is the second longest serving current U.S. governor – after Terry Branstad of Iowa. Perry served as chairman of the Republican Governors Association in 2008 (succeeding Sonny Perdue of Georgia) and again in 2011.

Perry won the Texas 2010 Republican gubernatorial primary election, defeating U.S. Senator Kay Bailey Hutchison and former Wharton County Republican Party Chairwoman and businesswoman Debra Medina. In the 2010 Texas gubernatorial election, Perry won a third term by defeating former Houston mayor Bill White and Kathie Glass.

On August 13, 2011, Perry announced in South Carolina that he was running for the Republican nomination for President of the United States in the 2012 presidential election. Perry suspended his campaign in January 2012 and eventually endorsed Republican nominee Mitt Romney.

On July 8, 2013, Perry announced that he would not seek re-election to his fourth term in the 2014 election, planning to retire instead. Unnamed sources said to be close to Perry told the National Review that Perry may focus on another White House bid for 2016.
There's a lot more given that he's had a very lengthy public record even before his terms as governor.
Of course, if that doesn't matter to you and you care about results, then I direct you to the Texas economy.

Everyone here knows I am a huge admirer of Perry. I also like him. I think he's charming and strong-willed and telegenic.
That said, I have not yet decided on a top guy (or gal) for 2016 and that includes Perry. I hope he runs and runs well. I hope Republicans give him a serious look. I hope the primary tests him - and all of the candidates - and that he (and the others) are all on their game. But, mostly, I hope there's none of that bullshit we saw last time of Republicans misrepresenting each others' records or digging through each others' garbage.
I am confident that each of these three men have "skeletons" in their closet -- racist rocks or exorcisms or academic hiccups. I am also confident that none of those are disqualifying. So if they come out, let's not overplay them. OK?
Of the three prospective candidates, I think Jindal is the smartest, Perry has the strongest record, and Walker may have the fewest negatives. YMMV. As of this moment, my top pick from these three is Perry, but that's largely because I've followed him the most closely.
How about a quick poll to see where you all stand?

To wrap things up, here are some Badger elbows: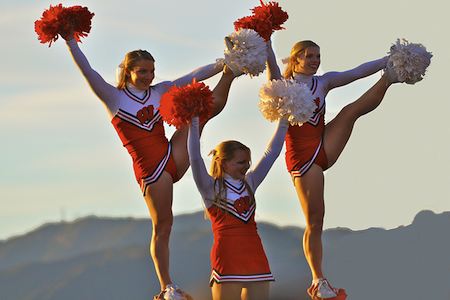 posted by Open Blogger at
03:14 PM
|
Access Comments