« Polygamy Decriminalized in Utah as Federal Judge Strikes Down Criminal Prohibition
|
Main
|
Top Headline Comments 8-29-14 »
August 28, 2014
Overnight Open Thread (8-28-2014) - Strategy-less Edition
Stuff Jefferson Actually Said, Vol. VII
"...I advise the gun. While this gives a moderate exercise to the body, it gives boldness, enterprize, and independance to the mind. Games played with the ball and others of that nature, are too violent for the body and stamp no character on the mind. Let your gun therefore be the constant companion of your walks."

-- Thomas Jefferson on what form of exercise he thought was best
Apparently not - once you adjust for other factors. Granted it's a study from Sweden but then if poverty does really cause crime, then given Sweden's homogenous population and culture and relatively low crime rate you would expect the link to be more clear-cut and obvious there than anywhere else. But it wasn't.
In Sweden the age of criminal responsibility is 15, so Mr Sariaslan tracked his subjects from the dates of their 15th birthdays onwards, for an average of three-and-a-half years. He found, to no one's surprise, that teenagers who had grown up in families whose earnings were among the bottom fifth were seven times more likely to be convicted of violent crimes, and twice as likely to be convicted of drug offences, as those whose family incomes were in the top fifth.

What did surprise him was that when he looked at families which had started poor and got richer, the younger children-those born into relative affluence-were just as likely to misbehave when they were teenagers as their elder siblings had been. Family income was not, per se, the determining factor.

That suggests two, not mutually exclusive, possibilities. One is that a family's culture, once established, is "sticky"-that you can, to put it crudely, take the kid out of the neighbourhood, but not the neighbourhood out of the kid. Given, for example, children's propensity to emulate elder siblings whom they admire, that sounds perfectly plausible. The other possibility is that genes which predispose to criminal behaviour (several studies suggest such genes exist) are more common at the bottom of society than at the top, perhaps because the lack of impulse-control they engender also tends to reduce someone's earning capacity.

...There were no associations between childhood family income and subsequent violent criminality and substance misuse once we had adjusted for unobserved familial risk factors.
And you'll be shocked, shocked to learn that the man suspected of beheading James Foley was not driven to it by poverty nor by oppression. He got his money - and taste for killing - the old fashioned way - he inherited it.
British rapper Abdel-Majed Abdel Bary, AKA "L Jinny," is the prime suspect in the murder of Foley, according to sources in MI15. Bary's father, Adel Abdul Bary, the terrorist charged with participating in the bombings of embassies in Tanzania and Kenya in August 1998, is awaiting trial in New York after an 8 month extradition battle with the US.

...The "root causes" of [Abdel-Majed Abdel] Bary's radicalism aren't poverty and hopelessness. He grew up in a $3 million home in London, and had the best of everything growing up. His rap career never amounted to much but those who know him say he became radicalized when he began attending one of the many radical mosques in Britain. He is disciple of extremist preacher Anjem Choudary, who has expressed a desire to go to Syria and join Islamic State.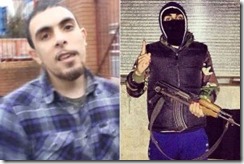 Mass Executions, Armored Invasions, and Routine Beheadings Oh My
You know back in 1994 if you had asked me to guess at the top 1000 things to expect in the year 2014, I don't think any of the above would have appeared on the list.
Such Wonderful People Those Tsarnaevs
The sister of the Boston bombers was arrested for making a bomb threat. And given the family track record this is one threat I would take seriously.
"Ailina Tsarnaeva, 24, of North Bergen, N.J., turned herself in to officers in Manhattan around 2:30 p.m. yesterday and was charged with aggravated harassment, according to police.

"'She made phone threats against another female, saying, "I know people who can go over there and put a bomb on you,"' said New York police Lt. Paul Ng.

"Tsarnaeva allegedly called the mother of her boyfriend's children in Manhattan on Monday around 3 p.m. and made the threats, according to Ng. Police did not identify the mother or the boyfriend.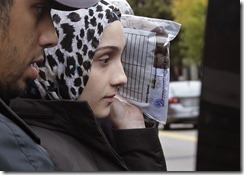 Americans Could Learn a Lot From our Neighbors to the North About how to be Better Americans
And no this isn't a joke.
U of Oregon Cracks Down on Jokes
Students at the University of Oregon began their fall semester on Monday amid controversy over conduct charges filed against a female student for making a joke.

The university is under fire for filing five charges against the student after she yelled "I hit it first" to a couple passing under her window during the summer semester. The student, who requested anonymity, said she did not know the couple and called out the phrase in jest, according to her account to the Foundation for Individual Rights in Education.

FIRE is now calling on the university to drop the charges and revise what it calls unconstitutional speech codes.

...Aside from harassment, the student has been charged with "disruption" and "disorderly conduct." The notice of allegations she received from the university outlined all the charges.
Note that once FIRE got involved the university quickly dropped all charges. Two thoughts - 1. This really wasn't offensive, and doesn't even qualify as a joke and 2. what kind of people have the time and energy to track down a person who yelled something random at them from a window and actually file formal charges?
CA Forces Catholic Colleges to Cover Elective Abortion
Although the federal Affordable Care Act does not compel employers to provide workers with health insurance that includes abortion coverage, the director of California's Department of Managed Health Care said in a letter to seven insurance companies on Friday that the state Constitution and a 1975 state law prohibits them from selling group plans that exclude the procedure. The law in question requires such plans to encompass all "medically necessary" care.

"Abortion is a basic health care service," department director Michelle Rouillard wrote in the letter. "All health plans must treat maternity services and legal abortion neutrally."
How can a procedure be both elective and yet medically necessary?
It's Always Nice to Find Common Interests Such as Killing Previous Spouses
Here is a bizarro story out of Wyoming where a 75 year old woman was convicted of killing a previous husband in 1974 after his body was recently found in an abandoned mine shaft. But it turns out that her current husband has also pleaded guilty to independently killing his wife and her kids back in the 70s. Supposedly neither knew of the other's killing ways until the husband's body was found last year. I can only imagine how that conversation went.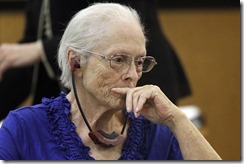 Why the Increase in Food Allergies?
Over-cleanliness and widespread use of antibiotics seem to be the culprits.
Food allergies have increased about 50% in children since 1997. There are various theories explaining why. One is that the 21st century lifestyle, which includes a diet very different from our ancestors', lots of antibiotic use, and even a rise in cesarean section deliveries, has profoundly changed the makeup of microbes in the gut of many people in developed countries. For example, the average child in the United States has taken three courses of antibiotics by the time he or she is 2 years old, says Martin Blaser, an infectious disease specialist and microbiologist at New York University in New York City. (See here for more on the reach of microbiome research these days.)

Cathryn Nagler, an immunologist at the University of Chicago in Illinois, has spent years probing links between the immune system, intestinal bacteria, and the onset of allergies. Back in 2004, she and her colleagues reported that wiping out gut bacteria in mice led to food allergies. Since then, Nagler has continued trying to understand which bacteria offer allergy protection and how they accomplish that.
Or perhaps the plants are evolving better defense mechanisms.
First World Problems: "Knee Defender" Argument Diverts Plane
Burn, Baby, Burn: A Look Back at Disco Demolition Night
The first - and only - anti-disco riot.
These antics were child's play compared to what would become known as Disco Demolition Night. The anti-disco demonstration was to take place at Comiskey Park in Chicago on the evening of July 12, 1979 between a doubleheader game between the Chicago White Sox and the Detroit Tigers. The White Sox agreed to Dahl's demonstration because ticket sales were dragging that year and they wanted to fill seats. Attendees could get in for just under a dollar if they brought along a disco record they wished to see destroyed. The plan was to blow up the pile of vinyl on the middle of the field in between the two games, and the event received heavy promotion on Dahl's sponsoring radio station, 97.9 WLUP-FM.

...Dahl detonated the records, leaving a damaging hole in the middle of the outfield. That's when all mayhem broke loose, as thousands of disco-despising attendees stormed the field. The batting cage was ripped apart, and bats were stolen (one of the thieves that night was the late actor Michael Clarke Duncan.) Grass was ripped up and a bonfire started as the crowd ignored Veeck's instructions to return to their seats. Chicago police were called in wearing full riot gear to get the situation under control. Though there were no deaths from the event, several people were injured and 39 people were arrested for disorderly conduct.

The field was deemed unplayable, even after an hour of debris clean up. The second baseball game had to be cancelled due to the deplorable condition of the field.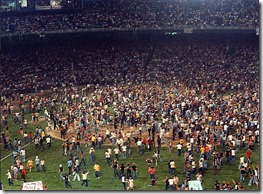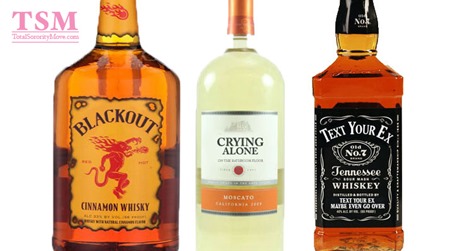 Do you even need a card to receive pity?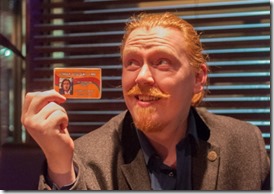 Yahoo group. That is all.
Come on be a smartie and join the yahoo group party! For the children.
And my lo-fi Twitter spew.
Tonight's post brought to you by the Alcatraz menu for next week: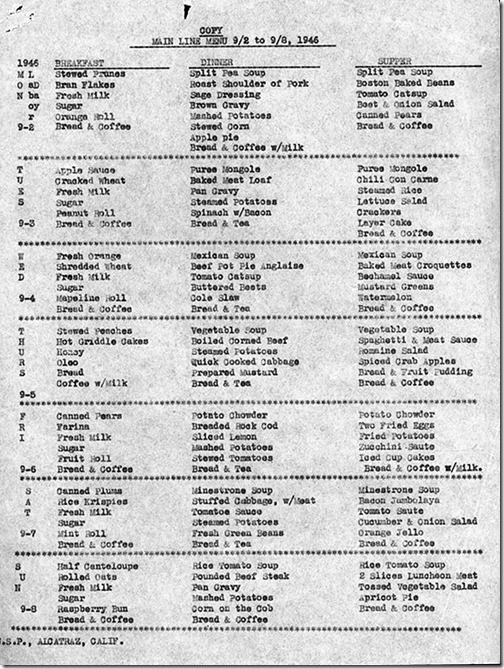 Notice: Posted with the authority of the now Canadian AceCorp Inc. It is forbidden by the RCMP to taunt happy-fun ball without a permit. Be nice and have a nice day.

posted by Maetenloch at
10:24 PM
|
Access Comments