« Telling [OregonMuse]
|
Main
|
I expected nothing, I got even less than that (Gaming thread) »
August 17, 2014
Sunday Travel Thread: Globe-trotter Edition [Y-not]
This is from last year, but I thought it could be fodder for a travel thread:
The WEF [World Economic Forum] gathered the data from late 2011 through late 2012 by asking respondents, "How welcome are foreign visitors in your country?" The WEF explains that the survey results are meant to help "measure the extent to which a country and society are open to tourism and foreign visitors."

According to the data, the top three most welcoming countries for foreigners are, in order: Iceland, New Zealand and Morocco. Other high-ranking countries include the rich and peaceful of the Western world (Ireland, Canada, Austria), a few tourist havens (Thailand, United Arab Emirates), and, for some reason, big parts of West Africa.

The three countries least welcoming to foreigners are, in order: Bolivia, Venezuela and Russia.
Here's the map: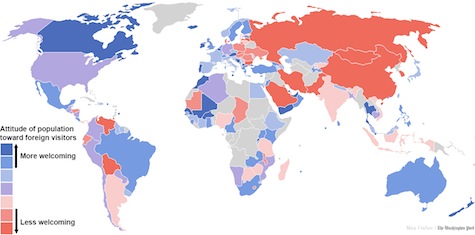 (Go to the link above to see it at full size.)
So what's interesting to me is that this map is based upon individuals' perceptions of how friendly they (and their countrymen) are, rather than on the opinions of visitors to those countries.
One might, for example, consider oneself to be quite welcoming of strangers, but be disappointed by how unfriendly your fellow citizens are. In that case, the results are skewed by cultural ideals and how well people think they are measuring up to them. This could, I suppose, explain why the United States does not rate higher.
Or citizens might recognize that they are not particularly welcoming simply because they are honest about themselves and/or because their culture does not want outside influences. I think we can think of societies that might trend this way!
I would say that in the U.S. I found Chicago to be a very welcoming city in the 80s. I noticed a distinct downturn after 9/11, when I was living in Indiana and so visited Chicago pretty frequently for work. And the last time I was there I'd say it had stabilized at "friendliness level" that's closer to New York (sadly) than it was when I lived there. In general, I think big U.S. cities have become less friendly than they were a decade or two ago.
In terms of international travel, I remember being told by most of my European friends and colleagues (from my science days) how I would love Germany because Germans and Americans are so alike. But, I did not find that to be the case. I tried to use my extremely rudimentary German and was treated pretty shabbily by shopkeepers and waiters. A lot of impatient eye rolling and lack of helpfulness. And this was in the Heidelberg area, where they should have had some exposure to international visitors and Americans.
In contrast, with the exception of Parisians, I had great interactions with the French, both in Strasbourg and Montepelier. While it's true that my French was considerably better than my German, I was by no means fluent. But they were quite nice to me and patient with my attempts.
Of the foreign places I've visited, the folks who stood out as the most friendly and welcoming to me as an American were the Portugese. Really delightful people and I don't speak a lick of their language.

Which countries (or states) have you visited that you found the most welcoming? How about the least?
Have you noticed any changes over the years in how "friendly" places have become?

posted by Open Blogger at
01:01 PM
|
Access Comments