« Overnight Open Thread (19 Jul 2014)
|
Main
|
To What Shall The MSM Be Compared? [OregonMuse] »
July 20, 2014
Early Morning Open Thread - [Niedermeyer's Dead Horse]
Good morning.
Bacon Pie (4 servings)

5 large eggs - lightly beaten
2 cups milk
1 teaspoon sugar
3/4 teaspoon salt
3/4 cup grated sharp Cheddar cheese
4 strips bacon - cooked and crumbled
1 ready-to-bake pie crust (or prepared dough)
3 additional strips bacon for garnish

To serve 4, line individual baking dishes or one 8-inch pie tin with thinly rolled pie crust. Flute the edges.

Fill with this mixture. well blended: 5 lightly beaten eggs, 2 cups milk, 1 teaspoon sugar, 3/4 teaspoon salt, 3/4 cup grated sharp cheese, 4 strips Swift's Premium Bacon fried until crisp and broken in pieces.

Bake for 10 minutes in a 450 degree oven; lower heat to 300 degrees and baked 20 to 30 minutes longer.

Top with America's best-liked bacon - Swift's Premium.
Is the Swift Bacon Company still around? Heck if I know, but I left it in because these old marketing pieces are so charming.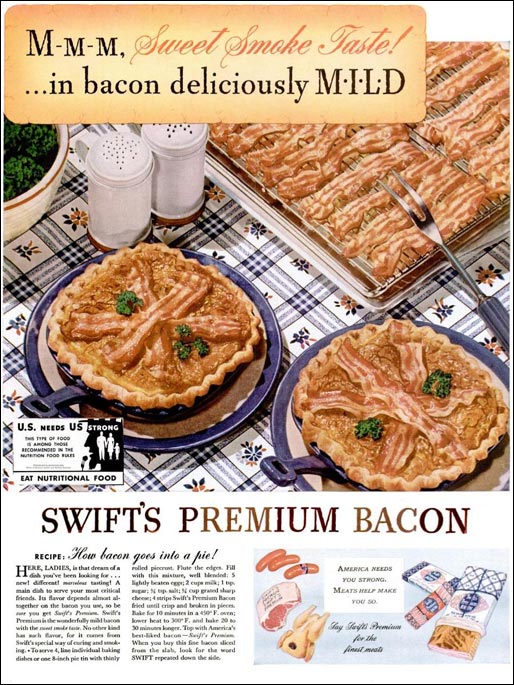 UPDATE: Just learned of the passing of James Garner.
What a guy.

posted by Open Blogger at
06:45 AM
|
Access Comments