« Senate Democrat Twitter Account Praises, Promotes Senator Warren's Claim that the GOP Shut Down the Government to Deny Women's "Access" to Birth Control
|
Main
|
Recycled Ploys: Lois Lerner's Former Co-Worker at the FEC Also Had Her Hard Drive Recycled During an Inquiry »
July 15, 2014
Weird Al Yankovic's Parody of "Blurred Lines"
Kind of funny.
I'll combine this blow-off post with another blow-off post about Thor being a girl now, below.

So on The View today, someone from Marvel comics announced that Thor would now be a woman.
This isn't the first time Marvel has aggressively marketed the character Thor to women, of course.
So now Thor is a girl.
Marvel is excited to announce an all-new era for the God of Thunder in brand new series, THOR, written by Jason Aaron (Thor: God of Thunder, Original Sin) complimented with art from Russell Dauterman (Cyclops).

This October, Marvel Comics evolves once again in one of the most shocking and exciting changes ever to shake one of Marvel's "big three" -- Captain America, Iron Man and Thor-- Marvel Comics will be introducing an all-new THOR, GOD OF THUNDER. No longer is the classic male hero able to hold the mighty hammer, Mjölnir, a brand new female hero will emerge who will be worthy of the name THOR. Who is she? Where did she come from and what is her connection to Asgard and the Marvel Universe?

"The inscription on Thor's hammer reads 'Whosoever holds this hammer, if HE be worthy, shall possess the power of Thor.' Well it's time to update that inscription," says Marvel editor Wil Moss. "The new Thor continues Marvel's proud tradition of strong female characters like Captain Marvel, Storm, Black Widow and more. And this new Thor isn't a temporary female substitute -- she's now the one and only Thor, and she is worthy!"

Series writer Jason Aaron emphasizes, "This is not She-Thor. This is not Lady Thor. This is not Thorita. This is THOR. This is the THOR of the Marvel Universe. But it's unlike any Thor we've ever seen before."
This has produced all the typical reactions, with males grumbling "But Thor is a man" and feminists drawing unreasonable (fake) excitement over a dumb comic book stunt.
As for the actual character swap: This happens every few years in the comics. Thor has been published monthly almost continuously for something like fifty years. Readers get bored, and even more important to the writers, writers get bored.
So they pull stunts. Batman gets replaced by a violent hero called "Azrael," and then by Nightwing.
By the way, Nightwing replaced Batman when Batman died a couple of years ago. Did you know he died? Yeah, he did. He died, and died forever. This time, it was no silly stunt; Bruce Wayne was officially dead forever.
"Forever" meaning "about nine months."
Anyway, this isn't even the first time some other being has lifted Thor's hammer Mjolnir and gained "the power of Thor." The last time, a weird-looking horse-headed space alien monster became Thor for a while. His name was Beta Ray Bill.
No seriously.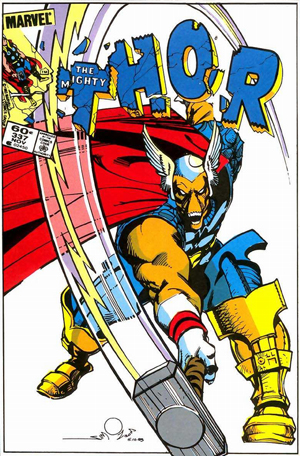 Oh, meanwhile, Wolverine's going to die in the next several months. Forever. Just like Captain America died. Forever.
Look, these operations, comic book companies, are not really super-rich. They're owned by rich corporations, but the outfits themselves are not huge.
They don't advertise on TV, for example. Too expensive.
So what do they do? Every three months they attempt to get Free Media by announcing some TRANSFORMATIVE!!! change in fifty-to-eighty year old IPs, hoping to get America's Dumb Magazine Writing Class to write about them.
And it always works.
And then people who don't actually read the comics get all upset about it -- "I can't believe they're killing Captain America (he got better) or Superman (he got better) or Spiderman (he got better) or Batman (he got better)!"
Anyone who reads these things knows it's a six-to-eight month storyline.
Thor is slated to return in The Avengers 3. He'll be played by, get this, Chris Hemmsworth. Same as ever.
He will not be played by Alice Eve.
And three months before that movie's opening, Marvel will have a startling new announcement:
THOR IS BACK!!!
Yes, the One True Thor will retake his rightful reign as the God of Thunder in an astonishing reversal that no one saw coming!!!
The female character who temporarily gained the power of Thor will gain some other superpowers and will be called something else.
It's a way of giving that new character some credibility -- from now on, other Marvel superheroes will always say, "Better look out for her -- she once wielded the power of Thor!!!"
But she'll turn into some other female hero, with enhanced strength and enhanced cans.
Meanwhile, the actual being we know as "Thor" will, in the meantime, attempt to redeem himself, by adopting some other persona. Probably a new "superhero," though this guy won't have Thor's godlike strength, but will instead be just a strong man.
And by contending heroically against great power with his limited human-level power, he'll discover something something that made him Thor all along or whatever.
It's all very silly carnival barking and seriously no one should fall for it.
Related: Jaguar Campaign Features Testimonials from British Actors Known For Playing Educated Villains, Including "Loki."

posted by Ace at
06:32 PM
|
Access Comments