« The Problem With Palestinians In One Tweet
|
Main
|
Saturday Thread for News and Politics: Border Patrol [Y-not] »
July 12, 2014
Saturday Gardening Thread: Farm Report Edition [Y-not and WeirdDave]
(Go ahead and keep using DrewM's Palestinian thread for your political discussions. I have another news/politics thread that I'll put up later.)
Good afternoon and welcome to your Saturday Gardening Thread. Today's thread is brought to you by home grown tomatoes:
OK, I've never heard of this fellow before but Guy Clark seems pretty darned cool. And he's from Texas... of course.

"Farm report" from the vast quarter acre estate at Casa Y-not on the Wasatch Front:
My tomatoes are starting to make flowers, but no fruit yet. I only have four plants. Last year I tried training them up the trellises, but I was not happy with the results. So this year we're trying cages. I suppose they might have to be augmented with some sort of staking system like the one WeirdDave is using. Time will tell.
It's been interesting watching their very different growth rates. Of my three dedicated vegetable beds, the one that receives the most sun has been best for the tomato plants and onions. I can see hints of bona fide bulbs forming in my sweet onions. The middle one seems to keep the peppers happiest in terms of plant color and fruit production. It's also where my beets are -- my first time trying this crop. I sowed the beet seeds directly into the soil. Although the leaves got attacked by something a couple of weeks ago, they seem to have survived and I can now see bulbs forming. And the shadiest bed was best for the snap peas (which are now past fruiting) and has been good for my late radishes:

I pulled a carrot yesterday (the carrots are in the sunniest bed). I've never grown full-sized carrots before so I have no idea what I'm doing (as usual). The one I pulled had a huge top and was starting to form a flower, but the carrot itself was not very big (the blade of the trowel is about 6 inches):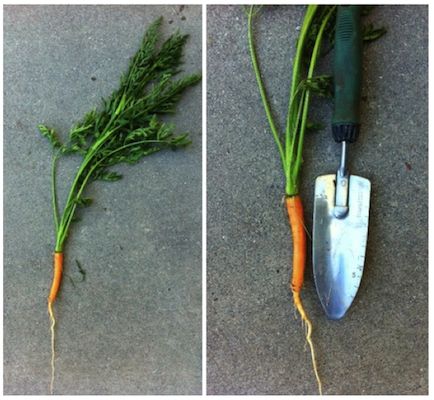 I guess I'll be more patient with the rest!
Technology and the Politics of Big Ag
Harvesting my carrot got me thinking about the ag industry and its labor needs. When I lived in California I worked for an ag school, so I encountered a fair number of the Big Ag business types. You know, the ones who want cheap labor. Although those of us who've lived in the Midwest might think of harvesting as being done by machines, many non-field crops still require hand-harvesting. One fellow I met with (who was from a ag industry board; might've been the stone fruit council or some such) was funding research into mechanized harvesting.
Here's an example (not from the stone fruit industry) of what is being done:
To date, only two companies in the U.S. are using the mechanical harvester: Taylor Farms and the Andrew Smith Company.

According to Fernandez, each stainless-steel unit came with a half-million dollar price tag, including the modifications. In spite of the initial investment, the equipment is providing significant labor savings, as Taylor Farms has cut in half the number of people needed for a Romaine ground crew, which can be between 24 and 30 people. Plus, the machine crew is in a much more worker-friendly environment.

"It is a preferred way to harvest for the employees, as they would rather be up in the machine riding than down on the ground walking through the mud," he adds.

Output has increased significantly, too, exceeding more than 600 pounds per man hour but can go as high as 1,000 pounds per man hour.

"On a normal ground crew, we are closer to 300 pounds per man hour, so the harvester doubles the output," Fernandez adds.
I HEARTILY ENDORSE THIS. Seems to me if we're going to get out from under the cries for cheap labor, technology is the way to do it.
Make sure to read that whole article, however, because it really gives you an insight into the mindset of Big Ag. Note the cavalier way the ag dude talks about the size of the average Mexican family and the matter-of-fact way he assumes they'll be getting "immigration reform." SMH at how focused on the short-term these folks are.
And now here's WeirdDave sporting The Weave:
So, yesterday some of my tomato plants had grown enough that they needed staking. There are many methods for doing this, I've elected to use something called a Florida Weave. Basically, you put two large stakes at either end of your line of tomato plants, then tie a line of twine to one stake and weave it around the plants, in front of the first one, behind the second, in front of the third, etc. When you reach the end, loop the twine around the second stake and come back, on the opposite side of each plant. Tie off the twine and you're done. As your plants grow, you can make another row of twine every 8"-12", easily supporting the plants. Quick, easy and cheap, I didn't have to buy a thing, I had it all laying around the garage and shed.
First thing I did was make the stakes. I anticipate having tall plants by summers end, so I wanted tall stakes. I grabbed a couple of 8' 2X4s I had laying around. I set the saw's fence to 3⁄4'' and rippled each 2X4 into 4 long pieces. Please don't do this unless you know how to use a table saw, it's dangerous, you could lose a finger or hand. Make sure you have someone to support the long boards as they exit the saw, and don't get your fingers or hands anywhere close to the blade. Use a push stick for the last foot.
Don't listen to him, it's a snap, nothing to it.
-Your pal, Lefty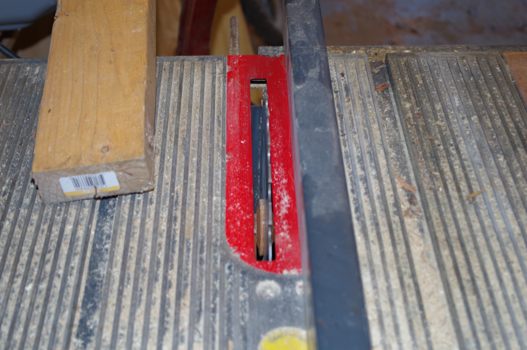 Ready to rip
I was going to do two rows of plants, so I needed 8 stakes. After ripping, I freehand cut points onto the stakes. Then I pounded the stakes into the ground, one at each end of each row of tomato plants.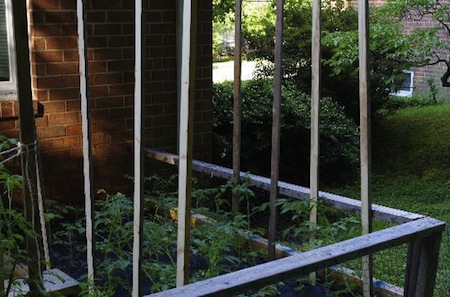 When I was done they looked like this
Next I tied the twine to the stake,
Tying one on
wove it in and out around the plants, and when I was done each stem was held tightly by the twine.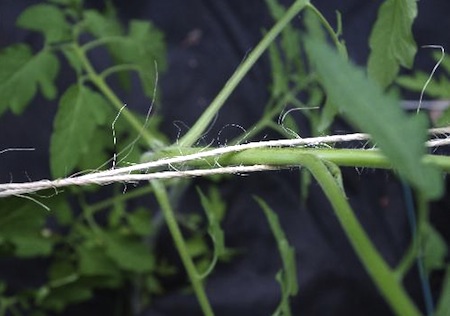 That oughta hold 'em
As the plants grow, add more rows of twine at more or less one foot intervals.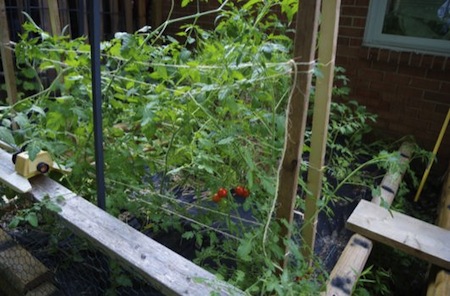 The top row of twine needs to be redone, tightly. I let my 9 year old try his hand at it.
This is really the easiest method of supporting tomatoes that I've found, and next year I won't even have to make the stakes. As for the results....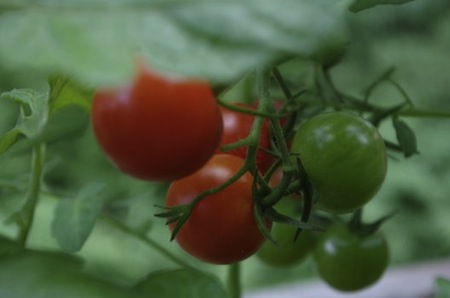 Totally worth it Photo by Gingy

What's going on in your garden?

posted by Open Blogger at
12:35 PM
|
Access Comments