« Overnight Open Thread (4 Jul 2014)
|
Main
|
Early Morning Open Thread - [Niedermeyer's Dead Horse] »
July 05, 2014
Wrapping Up Hurricane Arthur (tmi3rd)
Hi, Morons and Moronettes. tmi3rd again, and this should be our last update for Hurricane/Tropical Storm Arthur.

As you've probably gathered by now, Hurricane Arthur is starting to wind down. As of the 11 PM EDT advisory, Hurricane Arthur is a HINO (hurricane in name only) with winds of 75 mph. It is heading off to the northeast at 31 mph (that's hauling ass for any weather system), and was located 75 miles east-southeast of Chatham, MA.

More below the fold...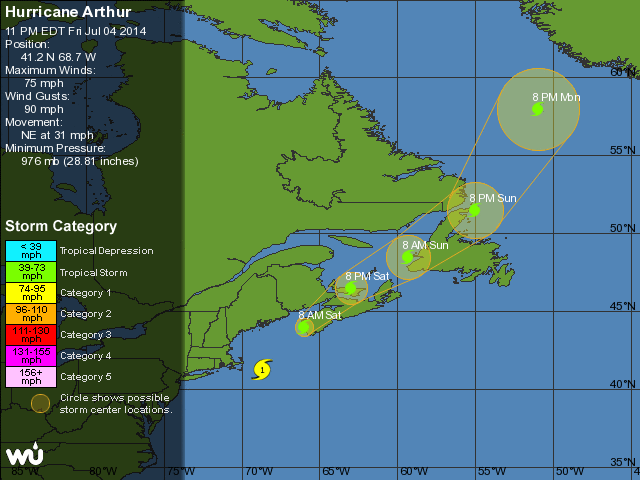 A Tropical Storm Warning is in effect for:

* Nantucket

* Cape Cod from Provincetown to Woods Hole

* Nova Scotia including Cape Breton island

* Prince Edward Island

* New Brunswick from the U.S./Canada border to grand-Anse

In addition, high wind warnings for winds in excess of 40 mph are in effect for portions of eastern Maine.

Arthur is transitioning from a tropical cyclone to a post-tropical or extratropical cyclone as we speak. What does that mean? That means that it's changing from a warm-core (tropical) system to a cold-core system. It'll become broader and less symmetrical, and often merge with a front, even though it may still have some impressive winds. You also don't usually get the same type of storm surge when it makes landfall that you do with tropical cyclones.

There are still some hazards out there. Specifically, the winds are going to stay pretty high through the weekend in New England as a cold front overtakes what's left of Arthur. In addition, coastal flooding is still very much a possibility around Cape Cod tonight. 2-4 inches of rain is expected along coastal Maine and Massachusetts tonight, but most of the bad rain should start to move into the Canadian Maritime provinces tonight.

If you're anywhere along the East Coast north of the Outer Banks of North Carolina, please be very aware of high surf and riptides. The water's going to be treacherous for at least another 24-36 hours until Arthur moves on.

Hope you all had a great Fourth of July, and stayed safe... this will be the last update on Arthur. We'll keep an eye on the tropics for you from the AoSHQ Weather Desk, and if I have anything intelligent to contribute outside of the weather, I'll run it by the Head Ewok and see you then!

As ever, you can find me on Twitter with any questions you may have, and thanks for reading.

-tmi3rd

posted by Open Blogger at
12:03 AM
|
Access Comments