« Today's Meme: Obama is Giving Up
|
Main
|
Tropical Storm Arthur (tmi3rd) »
July 02, 2014
Overnight Open Thread (7-2-2014)
So I've been thinking about my vacation plans for later in the year and was able to briefly borrow Ace's time machine to go scope out September 2014.
Verdict: Eh. Decent but not great. So if you've already made plans, I wouldn't bother changing them.
In 2012 the IRS illegally released tax documents for the National Organization for Marriage including the names and addresses of all of its donors to the gay rights group Human Rights Campaign. This was so egregious that the IRS settled out of court rather than go to trial. And the criminal investigation? Not-gonna-happen because Eric Holder.
In the absence of a special prosecutor, the best opportunity for piercing the veil of secrecy and evasion that surrounds the IRS handling of groups perceived as enemies of the Obama administration lies in civil litigation.  The National Organization for Marriage has just obtained a $50,000 settlement from the IRS for its criminal release of confidential donor information to an opposition group. But so far Eric Holder's Justice Department is not pursuing inquiries into who feloniously released that information.
People intensely dislike profits. The belief that turning a profit is tantamount to operating some sort of con is disturbingly common. In their paper "Is Profit Evil? Associations of Profit with Social Harm," Amit Bhattacharjee, Jason Dana, and Jonathan Baron asked research subjects to guess at the profitability of certain firms (e.g., Visa, Barnes & Noble) and certain classes of firms (e.g., oil companies, professional sports teams), and to estimate the social value of those companies and enterprises. The findings were not qualitatively surprising - the bias against profit in popular thinking is well-established - but they are quantitatively surprising: The correlation between perceived profitability and perceived social value was negative .62 for individual companies and negative .67 for classes of companies. (The always-insightful Bryan Caplan's thoughts on the matter are here.) Identical economic tasks were judged very differently when the actor in question was identified as a nonprofit rather than a for-profit firm. It is worth noting that the anti-profit bias generally persists across party identification and political affiliation.
HHS Bars Congressman from Seeing Immigrant Children
HHS "Brown Shirts" Threaten To Arrest Doctors & Nurses Treating Illegals If They Talk About Medical Risks
And no the term 'Brown Shirts' isn't an exaggeration - that's what the HHS security forces call themselves. Apparently irony is dead in government.
Plus Why All the Illegal Children Are Going to Get Green Cards
"Special Immigrant Juvenile Status is something that we attorneys on the border have been getting CLE training in for a while, but largely it has not been well known outside of CPS attorney work.

With the invasion now taking place, it is going to explode.  No parents means that any immigrant child under 18 can apply for a Green Card as soon as they are deemed "abandoned" by their parents for 6 months by the court system.  There are some other minor rules, but that is the big one..
The bill renewal was the Trafficking Victims Protection Reauthorization Act of 2008.  It modified and exempted application of certain rules which would normally result in inadmissibility..  Also, it set up an "expedited" review schedule that USCIS is REQUIRED to adjudicate SIJ petitions within 180 days of filing, and that interviews may be WAIVED for SIJ petitioners under 14 years of age or when it is determined that an interview is unnecessary.

...What nobody is talking about (or maybe nobody has realized yet) is that this is going to flood the child welfare courts FIRST, before they get to the USCIS (certain findings of fact which can only be made by the state are prerequisites to SIJS applications) with a sudden influx of "abandoned" children, and put a strain on the CPS system like nothing that has ever been seen."
Yeah yeah I know you hate soccer. We get it. But even if you do, you should still recognize and respect Tim Howard's achievement in the sport and in the World Cup.
He's one of the few goalies in professional soccer to have ever scored a goal on his own.
And his goal defense almost single-handedly kept the US team alive in the US vs Belgium game earning the respect of even world cup snobs. How good was he in the game? This good.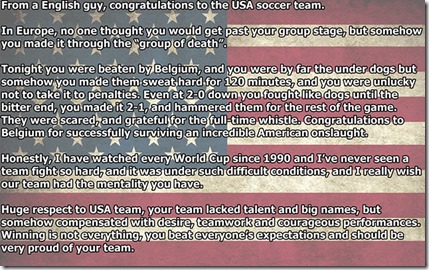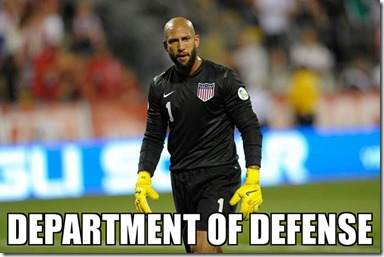 But if it makes you feel any better, there's always this to comfort you: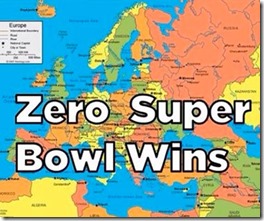 Are you: 1) A person with disabilities; 2) A person with children with disabilities; 3) A person with a spouse/domestic partner with disabilities; 4) A member of the LGBT community 5) An ally of the LGBT community, but not personally identifying as LGBT?
Choose wisely because your job at Chase may depend on your answer. Also how come no option for being an ally of the disabled but not actually disabled yourself - why does Chase hate the disabled?
Was against fashion. Here are the Secret Service uniforms he ordered in 1970. They were so awful that the uniforms were gone in under two weeks. No word on what happened to them but I'm betting a local production of The Pirates of Penzance saved some money out of their costume budget that year. (thanks to RD Brewer)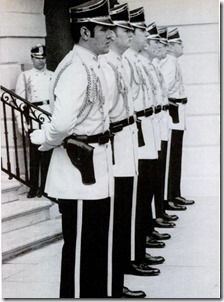 'Hot Mug Shot' Felon Gets Modeling Contract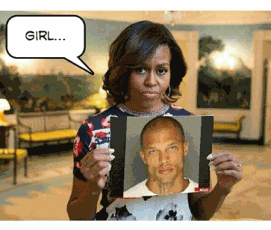 Being Proud of Losing Weight is Now a Macro-Aggression
As Adam 'Man Vs Food' Richman learned to his dismay when he tangled with 'body image' activists.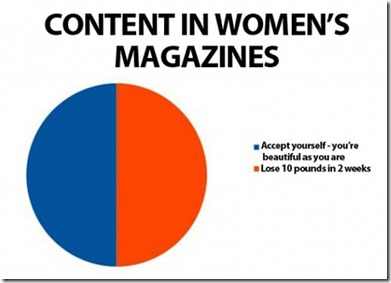 Can You Spot the Math Error in This Story About a Teen Who ODed on Caffeine?
So Bridesmaid Butt Baring is Now a Thing
I want to believe.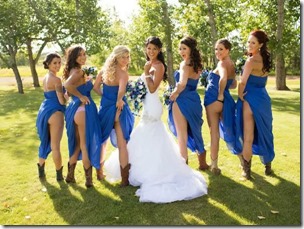 The Group knows what you did.
Tonight's post brought to you by my kind of agriculture: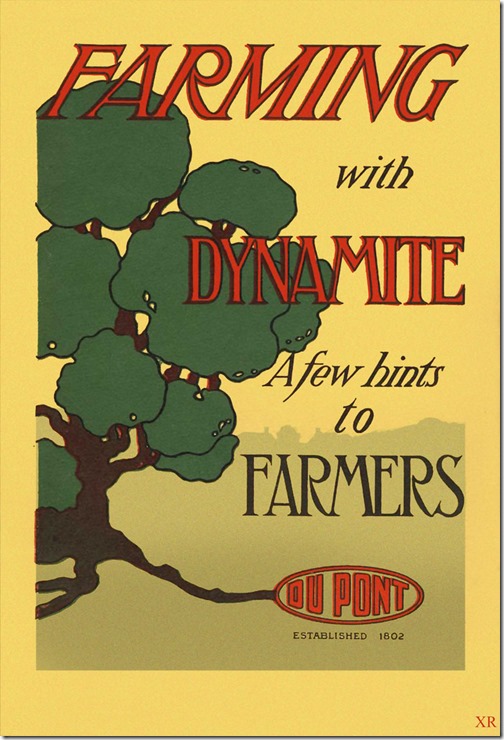 Notice: Posted by implicit permission of AceCorp LLC. Please e-mail overnight open thread tips to maetenloch at gmail. Otherwise send tips to Ace.

posted by Maetenloch at
10:50 PM
|
Access Comments