« Don't hate the party, become the party
|
Main
|
Top Headline Comments 7-1-14 »
June 30, 2014
Overnight Open Thread (6-30-2014) – July Eve Edition
The Left Has a Freakout over the Hobby Lobby Decision
Of course OUTRAGE!!! doesn't requires any facts or understanding of the case.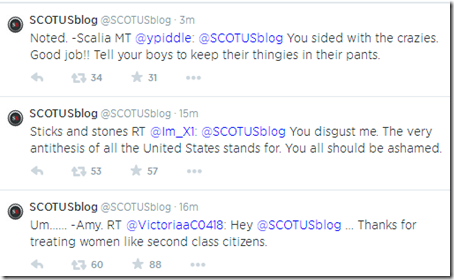 Even if you're a US Senator.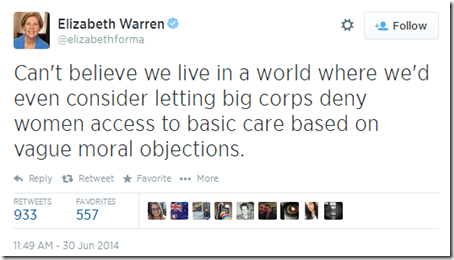 And even Harry Reid got in on the insane outrage action.

But wait - the Supreme Court decision just upheld the 1993 Religious Freedom Restoration Act as providing an exemption from the Obamacare contraception mandate. Hmm 'Religious Freedom' - that sounds kind of scary and conservative. Just what kind of rightwing monsters were supporting this RFRA back in 93?
Why this kind:
RFRA passed in 1993 with overwhelming bipartisan support. It was sponsored by Democrat N.Y. Sen. Charles Schumer and earned the votes of leading lib dinosaurs including Harry Reid, Dianne Feinstein, Patty Murray, and Barbara Boxer.
So twenty years ago a religious freedom exception to some laws was the orthodox liberal position - today it's the new fascism. But with the same old liberal faces bellowing and raging over it.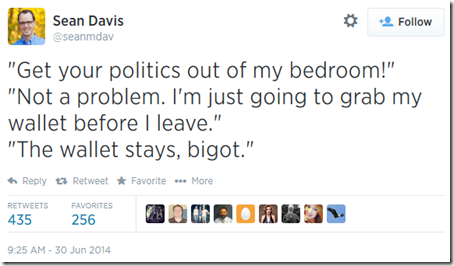 They must always have a Great Evil to crusade against, because only crusading against a Great Evil can excuse their own actions.

  -- Glenn Reynolds on the Left
Quote of the Day II - The #WarOnWomen Begins
The Religious Freedom Restoration Act, which Senator hosta and I, and 23 other Senators have introduced, would restore the compelling interest test for evaluating free exercise claims. It would do so by establishing a statutory right that adopts the standards previously, used by the Supreme Court. In essence, the act codifies the requirement for the Government to demonstrate that any law burdening the free exercise of religion is essential to furthering a compelling governmental interest and is the least restrictive means of achieving that interest.

The act creates no new rights for any religious practice or for any potential litigant. Not every free exercise claim will prevail. It simply restores the long-established standard of review that had worked well for many years and that requires courts to weigh free exercise claims against the compelling State interest standard. Our bill is strongly supported by an extraordinary coalition of organizations with widely differing views on many other issues. The National Association of Evangelicals, the American Civil Liberties Union, the Coalitions for America, People for the American Way, just to name a few, support the legislation. They don't often agree on much, but they do agree on the need to pass the Religious Freedom Restoration Act because religious freedom in America is damaged each day the Smith decision stands.

-- Sen. Ted Kennedy (D-MA), September 18th, 1992.
The Like 100 Years Old Constitution Actually Had a Pretty Good June
Last week the Supremes shot down Obama's "recess" appointments because under that old document, they were not really recess appointments.

And also free speech buffer zones, because even people protesting to protect the unborn are entitled to speak their minds.

And hey, government, leave our cellphones alone.

Today, in Hobby Lobby, the principles of religious freedom in the First Amendment, as codified additionally in legislation, were upheld.

And also today, the Supremes upheld freedom of speech principles in holding that home care workers could not be forced to subsidize public sector union political activities.

For an old lady, the Constitution is holding up just fine.
So Julian Assange Has a New Gig
Crushing bastards Male modeling.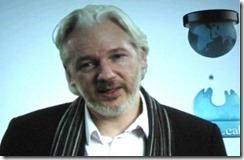 Former Guns & Ammo Writer Dick Metcalf Keeps Digging
Salt Lake PD Enter Owners' Property, Shoots His Dog While Looking For a Lost Child
"We were looking for a lost child," an Salt Lake City police officer tells dog owner Sean Kendall. "He entered the yard looking for a lost child. He was threatened by the dog and shot the dog. That's as simple as it gets." I don't think so. While the cops' claim of exigent circumstances and their immunity from prosecution will shield them from all but the mildest legal blowback, the video above will do major damage to the SLCPD's relations with the community.
The takeaway here is that your dog is not safe in your own fenced yard if there are police nearby who feel like taking a look around.
'A Swat Team Blew a Hole in My 2-Year-Old Son'
MA SWAT Teams Claim They're Private Corporations and Immune from Open Records Laws
So they're heavily armed agents of the government when it's convenient, but a private corporation when the law cramps their style. Of course being a private corporation ought to also mean giving up all qualified immunity for their actions as well.
As it turns out, a number of SWAT teams in the Bay State are operated by what are called law enforcement councils, or LECs. These LECs are funded by several police agencies in a given geographic area and overseen by an executive board, which is usually made up of police chiefs from member police departments. ... Some of these LECs have also apparently incorporated as 501(c)(3) organizations. And it's here that we run into problems. According to the ACLU, the LECs are claiming that the 501(c)(3) status means that they're private corporations, not government agencies. And therefore, they say they're immune from open records requests. Let's be clear. These agencies oversee police activities. They employ cops who carry guns, wear badges, collect paychecks provided by taxpayers and have the power to detain, arrest, injure and kill. They operate SWAT teams, which conduct raids on private residences. And yet they say that because they've incorporated, they're immune to Massachusetts open records laws. The state's residents aren't permitted to know how often the SWAT teams are used, what they're used for, what sort of training they get or who they're primarily used against.
Florida Man Faces $48k Fine For Jamming Drivers' Cellphones
Because he didn't like people talking on cell phones during his commute home.
An American driver is facing a $48,000 fine after using a mobile signal jammer in his car to block motorists around him from using their phones on the road. Jason Humphreys reportedly used the jammer from the back seat of his Toyota Highlander for around two years before being caught by Florida police. The 60-year-old said that he used the jammer - which transmits radio signals that interfere with mobile phones - because he was 'fed up' with watching others use their phones on the road.

...The case along I-4 started on April 29, 2013, when the cellular company Metro PCS contacted the Federal Communications Commission because a transmission tower along I-4 would suffer in the morning and evening. A week later, agents from the FCC's enforcement division in Tampa staked out the freeway on May 7, 8, and 9 and pinpointed a "strong wideband emission" in the cellphone wireless range "emanating from a blue Toyota Highlander sport utility vehicle," with Florida license plates, according to a complaint issued by the FCC on Tuesday. Another clue: When Hillsborough County Sheriffs deputies stopped the SUV, their own two-way radios were jammed."
Of course everyone looking down at their phones when their calls abruptly cutoff probably didn't make for safer driving either.
Not in the urban dictionary...yet.
10 Celebrities Who Live With Their Parents
Or in some cases it's really their parents who live with them.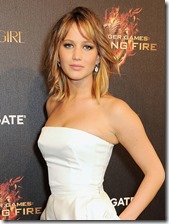 The Yahoo AoSHQ group - it's got electrolytes.
And my twitter thang.
Tonight's post brought to you by the Lusitania: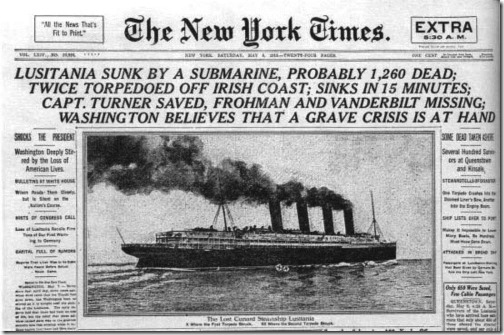 Notice: Posted executive authority of AceCorp LLC. Please e-mail overnight open thread scraps to maetenloch at gmail. Otherwise send your sexy garbage to Ace.

posted by Maetenloch at
10:14 PM
|
Access Comments