« People - A Story of Bemusement [WeirdDave]
|
Main
|
The March Continues [Y-not] »
June 28, 2014
Saturday Gardening Thread: Fantasy Edition [Y-not and WeirdDave]
Good morning and welcome to your Fantasy Edition of the Saturday Gardening Thread. Today's thread is brought to you by poppies:
Did you know that the Wizard of Oz is 75 years old? That means Vic first saw it while taking his great-grandchildren to the movies! Here are some fun facts about the movie for your amusement.
Take it away, WeirdDave:
So let's talk about gardening in video games. There are lots of garden themed games out there. Everybody I know on Facebook seems to send me an invite for some farming game or another. Since I rarely use FB, and I never accept these invitations, I know nothing about them. Some of y'all who do play them can tell me what they are like. I tried Hay Day on the iPad, but it got old fast. One place where I do garden virtually, however, is in World of Warcraft.
This is my WoW garden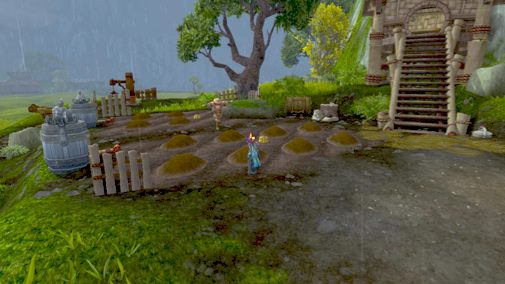 WoW has always had a lot of content that doesn't revolve around fighting monsters and getting gold and gear. Blizzard really went the extra mile to make it a "world", giving players the ability to cook and fish, to make clothes, to mine ore and lots of other stuff. With the Kung Fu Panda expansion (Mists of Pandaria) they added farming. One faction on the island of Pandaria is the Tillers ( a faction is a group of either players, like Alliance or Horde, or non player characters who share a common theme. The Tillers are NPCs who farm). Once you meet the Tillers, they will give you quests to do ( go kill 10 rabbits in the carrot patch ), quests completed improve your reputation with the faction. As your reputation grows, they give you a farm, small at first but it grows over time. Once you have your farm, you can till the earth and plant crops.
Like a pink pumpkin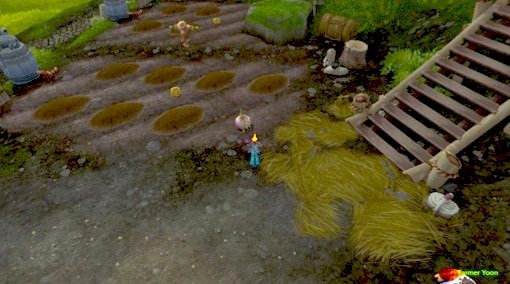 You have to care for your plants too. You have to water them,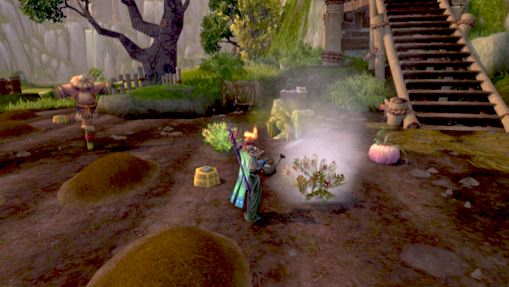 Spray for bugs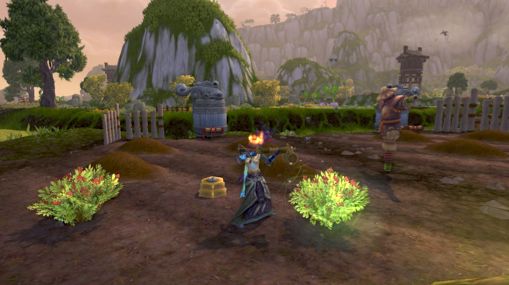 And even pull weeds.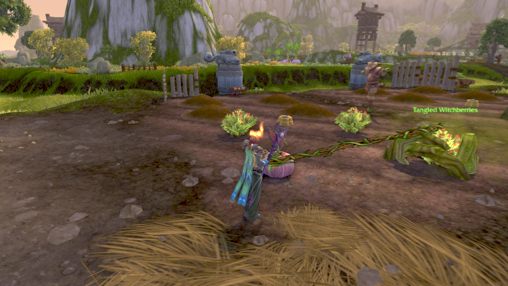 Anything planted today you can harvest tomorrow ( would that the real world worked that way! ). You can grow food crops that can be cooked to make food that restores health or improves stats, or you can grow plants that, bizarrely, give you materials for other professions ( a plant that yields ore, for example ). It's silly and stupid, but somehow I find myself spending 15 or 20 minutes gardening whenever I sign on to WoW to save the world.
Anyone else have any video game gardening stories?
And now from your co-hostess Y-not:
As it turns out, I was planning on sharing some pictures I took on a recent two-day jaunt to Daniels Summit, Utah, this week that kind of fit with WeirdDave's "virtual reality" theme. That, combined with the fact that I am well and truly sick of well over half of the people in this country means you're getting a somewhat abbreviated thread this week.
In any event, here's a picture taken from the lodge where Mr Y-not and I stayed: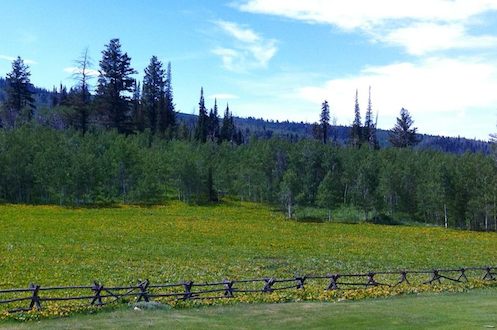 The entire hillside is covered in a blanked of yellow flowers. It really reminds me of the poppy field in the Wizard of Oz. Seems very surrealistic somehow.
Here's what they look like closer up: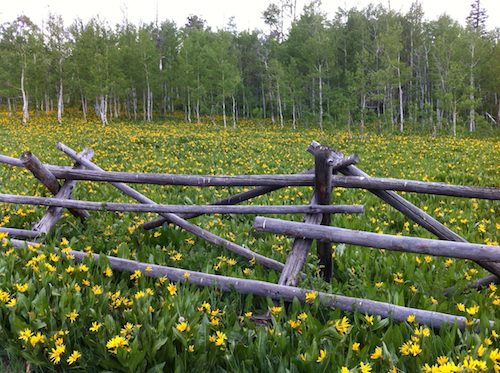 And still closer: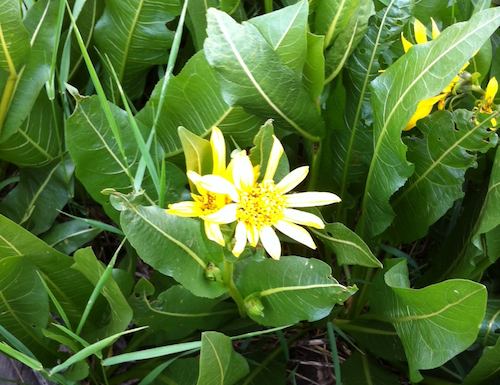 We've gone to this lodge a few years now, but I'd never taken the time to look up the name of the flowers. Years ago when I was young I learned a bit about plant identification in school, but I haven't retained much. More recent visits to botanical gardens have lead me to develop the Weasel Theory of Plant Taxonomy. You know how the Head Ewok says that every living animal is some sort of weasel? Well, the corollary to that, which I learned after many visits to botanical gardens, is that every plant is a member of one of three plant families: mint, pea, or rose. No, no, it's true! The next time you go to a botanical garden check out the little signs by the plants and see how many of them fall into one of these three types.
Of course, as with all things in biology there are exceptions. And even to my untrained eye I can tell that these yellow flowers are NOT members of the mint, pea, or rose family. So let's hit the computer and see what we can learn.
On-line tool number one is from a place called MyWildflowers dot com. On first blush, it looks like a great tool. It asks you for the following information about the plant you're trying to identify: flower shape, flower color(s), flower arrangement (single vs clustered), plant dimensions, plant type ("regular," vine, or woody), and bloom time. Interestingly, it did not ask for information about where the flower was growing, which seems to me pertinent information.
In any event, I entered in the information for this flower, but got zero hits. Then I removed the "bloom time" information and got over a dozen hits, but none seem to fit the flowers in question.
I still think this is a great tool that was developed by someone as a hobby (and stress-reducer). But after looking more closely I found that the developer is located in Pennsylvania, so it probably won't be of much help to me here in Utah.
Onto the next flower identification tool, this one is from Colorado. WildFlowerChild is basically a catalog of wildflower images, with the names and locations where they were photographed by the author. There is a simple search tool or you can just look at the images by flower color. Although there were some hits that seemed similar, none of them looked right on the money to our mystery flower.
The next tool I tried was WildFlowersWest. This tool is very similar to the WildFlowerChild one, primarily cataloging the flowers by color. Unfortunately, it doesn't have a very sophisticated search function for things like leaf shape or petal number. I didn't see anything that looked exactly like the mystery flower in this tool, either.
I was starting to get frustrated, so I cheated and did a general web search for "Daniel's Summit yellow flowers" which brought me to this site, "Janie and Steve, Utah Trails." BINGO! Those are the flowers viewed from the same spot and everything.
They're called "Mule's Ears" because of the shape of the leaves. Using that common name, I went in search of more information about them, which I found at U.S. Wildflowers. Here's what I learned:
Wyethia helianthoides - White Mule's Ears, White Wyethia, White-rayed Wyethia. The plants of the Wyethia (Mule-ears) genus is found in the western part of the United States. There are 10 classified species, of which two are hybrids. Only three of these are found in Idaho, where these photos are taken. Two of the pure species, Wyethia amplexicaulis and this one, W. Helianthoides, hybridize to form the third classified species found in Idaho, W. Xcusickii.

While White Mule's Ears is a relatively low-growing plant, usually less than 24 inches tall, with the long leaves for which the genus gets its common name being up to 16 inches long.
You'll note that the flowers also come in a white version, so that may be why I didn't find them through the other sites.
In a few weeks there will be a three-day wildflower festival at some of the ski resorts around here. Mr Y-not and I went one year and really enjoyed it, so we'll probably go again. And I'll definitely put together a post on that when we do. If you'd like to share pictures of wildflowers, please contact me on Twitter at moxiemom or use my g mail account, bailesworth. Include when and where you took the pictures. And if there are any ones that you can't name, share them anyway and we'll see if the group can identify them.
Where do you go to look at wildflowers?
To close up, here's an oldie from the Wallflowers:
The Wallflowers - One Headlight
by Tunashaker

posted by Open Blogger at
12:00 PM
|
Access Comments