« AOSHQDD Primary Night: FL19, MS-Runoff, Oklahoma, Colorado and New York
|
Main
|
Top Headline Comments 6-25-14 »
June 24, 2014
Overnight Open Thread (6-24-2014) – Contractual Obligation Edition
Here's -- we know six things, Chris. We know first the targeting occurred.

Therefore, second, we know that this is worse than article two of the Nixon impeachment count, which said Nixon endeavored to use the IRS. The IRS back then resisted.

Third, we know that this became public in an act of deceit when Lois Lerner planted a question with a friend in an audience to try and get this out on her own terms.

Fourth, we know that she has taken the Fifth Amendment because she has a right to do this when she has a reasonable suspicion that there might be criminal activity involved.

Fifth, we know that from the timeline you put up today, that there has been 13 months of stonewalling on this.

And sixth, now we know that not only her hard drive, but six other people intimately involved in this suddenly crashed in an amazing miraculous coincidence. Religions have been founded on less, ten days after the investigation started.

-- George Will on Fox News Sunday this weekend
Being a professional writer is not a heroic job, but it does have at least one moral requirement:  you mustn't lie.  If you make your living by writing, it stands to reason there are people who read what you write; you therefore have at least some power to inform, influence, enlighten or persuade. You can be wrong - we're all wrong sometimes; you can err - everyone does. But to use whatever amount of power you have to deceive intentionally by commission or omission or distortion is wicked; it's a sin.

So if Katie McDonough, an assistant editor at Salon, finds herself feeling angry all the time, as I very much suspect she does, it's not because conservative columnist George Will pretended "rape never happens," because that never happened; it's not because Will claimed that being a rape victim is a "coveted status," because Will never did; it's not because Will feels uncomfortable discussing sexual assault, because he very obviously does not; it's because she's ashamed of herself for deceiving her audience by distorting Will's words, thoughts and intentions, as she very well should be. Shame and self-disgust sometimes make you lash out at other people to keep you from facing what you've done yourself.

-- Andrew Klavan on Salon hackess Katie McDonough
So here, alas, is where we now stand six years into the Age of Obama: The President isn't making America safer at home, he doesn't have the jihadis on the run, he has no idea how to bring prosperity, democracy, or religious moderation to the Middle East, he can't pivot away from the region, and he doesn't know what to do next. He's the only President this country has got, and one can't help but wish him well, but if things are going to get any better, he needs to stop digging. He probably needs to bring in some new blood, and he must certainly ask himself some tough questions about why so many of his most cherished ideas keep leading him and his country into such ugly places.

-- WRM, losing the faith.
"Hey, he's a better speechwriter than his speechwriters, a better policy analyst than his policy analysts, and a better Muslim than the Muslims. It's not his failure. It's the world of Islam that let him down. Poor Barack. The world just isn't up to his standards."

-- Glenn Reynolds
"I hate that man Obama more than any man I've ever met, more than any man who ever lived."

-- Bill Clinton according to Ed Klein in Blood Feud
Joe Biden: I'm Dead Broker Too!
Slow-Joe claims to be the poorest man in Congress:
When discussing the struggles that working parents experience as they balance their careers and family time, Biden told the audience, "I can speak a little bit from my own experience."

Though he noted that he is wearing a "mildly expensive suit" and has a good pension and salary, the vice president said, "I don't own a single stock or bond . . . I have no savings account."
Except that as Patterico points out this claim - like most things that come out of Biden's pie-hole - is a blatant lie.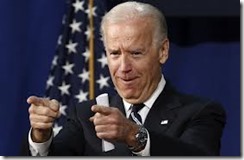 Oh and I doubt you'll be surprised that Biden also terrorizes children with military-style assault weapons.
HISTORY MADE: First On-Air Trigger Warning Broadcast on MSNBC
Because MSNBC viewers are such delicate hot-house little flowers that even discussing the news on a news channel might upset them.
MSNBC host Joy Reid has made history (probably?) by uttering the first on-air "trigger warning" on network television.

Reid was discussing the controversy surrounding the Washington Redskins, a name she described as a "racial slur" and refused to repeat on air. Before playing a clip of Senate Majority Leader Harry Reid (D., Nev.) talking about the Redskins on the Senate floor, the MSNBC host told viewers: "He does use the name of the team, so I'm just going to warn you guys about that in advance."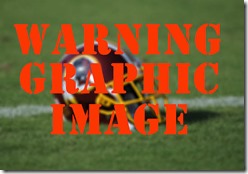 The C-Word That Can't Even Be Said in Public
Conservatives are impressed by his courage; DemProgs are outraged by his daring to express such evil views. I mean, that's what's going on, right? We don't let people stand in a public forum and express evil views such as Nazism or Christianity.

What I want to know is when did Christianity, which is still the majority religion in the U.S., become a viewpoint so evil that private citizens can no longer voice it in public?
Video here.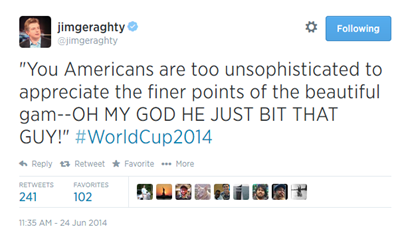 I suspect that one of the reasons mainstream American sports fans resist soccer (as a fan sport, not a recreational pastime for youth) is because of the breathless insanity of soccer partisans. I don't know what it is about soccer, but the people who love tennis and hockey and lacrosse never try to frog-march the rest of the sports world into following them. They're happy being fans of a niche sport. Soccer people are different.
Le Shock: Study Finds That Men and Women Have Different Personalities
This is only surprising to academics and feminists.
Sex differences in personality are believed to be comparatively small. However, research in this area has suffered from significant methodological limitations. We advance a set of guidelines for overcoming those limitations: (a) measure personality with a higher resolution than that afforded by the Big Five; (b) estimate sex differences on latent factors; and (c) assess global sex differences with multivariate effect sizes. We then apply these guidelines to a large, representative adult sample, and obtain what is presently the best estimate of global sex differences in personality.

...Even excluding the factor showing the largest univariate ES, the global effect size was D = 1.71 (24% overlap). These are extremely large differences by psychological standards.

Significance

The idea that there are only minor differences between the personality profiles of males and females should be rejected as based on inadequate methodology.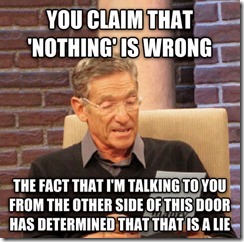 The 1930s Jazz Cover of 'Careless Whisper'
As performed by the talented group Postmodern Jukebox. After hearing this I suggest we simply destroy all copies of the Wham! version and never mention it again.
20 Celebrities Who Are Also STEM Stars
STEM being Science, Technology, Engineering, or Math.
Mayim Bialik is an American actress and neuroscientist. From early January 1991 to May 1995, she played the title character of NBC's Blossom. Since May 2010, she has played Dr. Amy Farrah Fowler on CBS's The Big Bang Theory. Bialik earned a B.S. in neuroscience and Hebrew & Jewish studies at UCLA in 2000, and later attained a PhD in neuroscience from UCLA in 2007.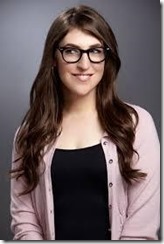 The AoSHQ group. Watch yer cornhole.
Teh Tweet!
Tonight's post brought to you by semaphore: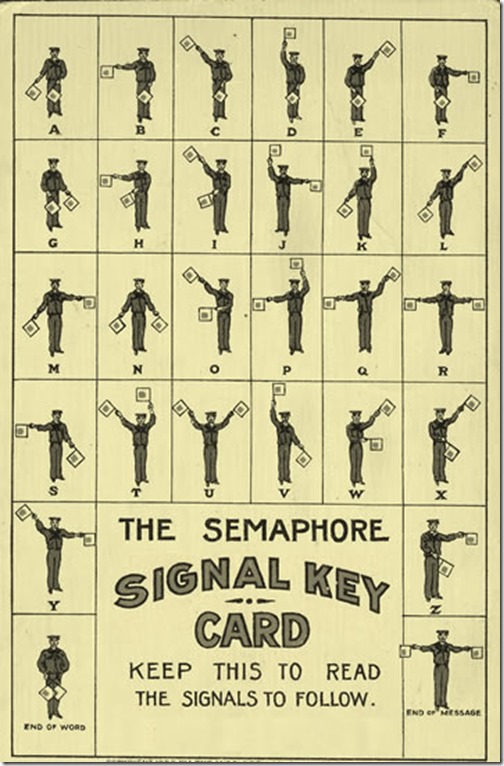 Notice: Posted by bla bla bladdy bla. Please yada yada yada at the bla at the wonka wonk. Otherwise bla bla you know and hey there you go.

posted by Maetenloch at
10:30 PM
|
Access Comments