« Gov. Scott Walker Responds to Media Coverage
|
Main
|
Into The Belly of The Beast [CBD] »
June 21, 2014
Saturday Yard and Garden Thread for the Birds [Y-not & WeirdDave]
Greetings, Gardening morons and moronettes, and welcome to the First Day of Summer:
For much of the country, temperatures have already reached well into the 80s since at least early May. Meteorologically speaking, summer has already started since atmospheric researchers consider June 1 as the first day of the summer season.

But astronomically, the summer solstice, more commonly known as the first day of summer, will arrive Saturday, June 21, 2014 at 6:51 a.m. EDT.
Today's thread is brought to you by the Druids:
Spinal tap - Stonehenge
by samithemenace
Without further ado, take it away, WeirdDave:
"Yes We Can"
I know we talked about this before, but this week I made a big pot of spaghetti sauce and canned it. I took pictures, and thought I'd share it with you Morons.
First, lay out all of your supplies. You'll need jars, lids, threaded rings, a canning funnel, a pair of jar tongs and a lid lifter. Oh, and a pot full of sauce. You'll also need a large canning pot full of boiling water and a jar rack that goes into the pot.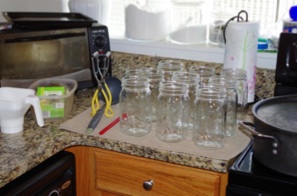 The first thing to remember is that sterility is key. Wash the jars in the dishwasher, then steam sterilize them by putting them in a pan with a little bit of boiling water. Don't touch the inside of the jars or the rims after sterilizing them, use the jar tongs.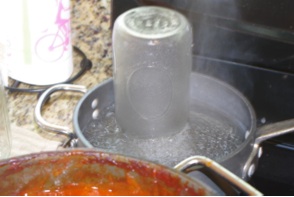 Next, put your canning funnel into the mouth of the first jar. Ladle the sauce into the jar. It's always best to can hot sauce, if the sauce is cold the jars are more likely to break when they go into the pot of boiling water. Put the lids and rings into your little pan of boiling water to kill germs and to soften the seals. Don't fill the jars to the rim, live a 1/4 to 1/2" gap between the top of the sauce and the rim.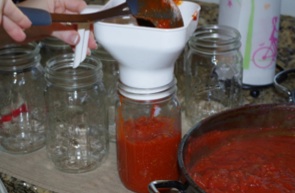 After filling all the jars, dip a rag into the boiling water and carefully wipe any excess sauce from the rims of the jars.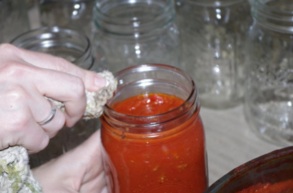 Use the lid lifter to retrieve the lids from the hot water and place them on the jars. Use the lifter to get the rings too. If you're a tough guy, use your fingers, I don't care. Put the rings on the jars, but you don't need to crank them down. They are there simply to hold the lids in place.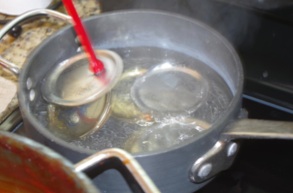 Transfer the jars to the jar rack (if you don't have a jar rack, use something to insulate the jars from the bottom of the pot or they will shatter. Extra rings work well ). Lower the rack into the boiling water, making sure that the water covers the jars. Add hot water if needed. You'll see bubbles coming from under the lids of the jars.
One the water is boiling again, leave the jars submerged for 20 minutes. After that, lift the rack out of the water and hang it on the edge of the pot. Use the jar tongs to transfer the jars to a towel for drying. As soon as they come out of the water, you'll start hearing the lids "pop" as they seal. Count the pops to make sure every jar seals properly.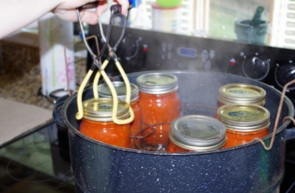 Aaaaaand.....that's it. You now have jars of sauce that will store at room temperature for several years.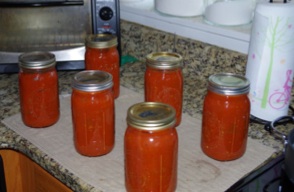 UPDATE: I decided we needed something to link the two very different halves of this post, so here's this: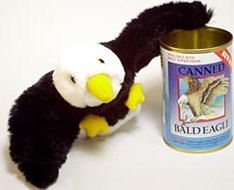 And now from your co-hostess, Y-not, here's what's happening in my corner of Utah:
Well, Summer may have already started, but we had snow on "our" mountain (the one that looms over our suburban neighborhood) earlier this week. Even down at our elevation, the overnight lows came pretty close to the 30s. Fortunately, although a couple of pepper plants looked a little limp after the cold snap, I didn't lose any plants.
In terms of the gardens of the vast quarter acre estate at Casa Y-not, it was business as usual. I did some weeding, a bit of rose trimming (which made for a nice bouquet; below), and harvested some snap peas. Other than that, we have a few Padron peppers, but not enough to do much more than season another dish. I'm hoping that there will be a time when all 12 plants (I really like these peppers) have several peppers so we can do up a big batch of them for a snack.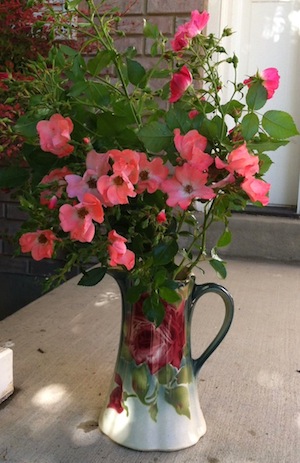 By far the most exciting activity in our yard this week was provided by our songbirds. We had several fledglings make an appearance this week, including this little robin who hung out on our deck for a while: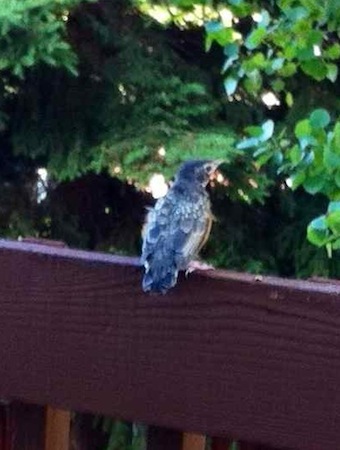 American Robins are much more interesting than many may realize. It turns out the parents hang around with the "kids" for a while, even after the babies leave the nest. They teach them the ropes of finding food. (In my case, this appears to include teaching them to eat my strawberries!) And, gauging from the number of times this week that Papa Robin hopped around making his "alarm" calls when our dogs were in the yard, I gather they teach the young about the dangers found in suburban backyards.
We also had the Black Headed Grosbeaks' young 'un make a few appearances at our feeder. As well as what I believe were juvenile Lesser Goldfinches hanging around with their parents. The Lesser Goldfinches are new to our yard this year (we've had the more common American Goldfinches before) and boy oh boy are they ever fun. Really striking in both their markings (of the male) and their size (they are very small).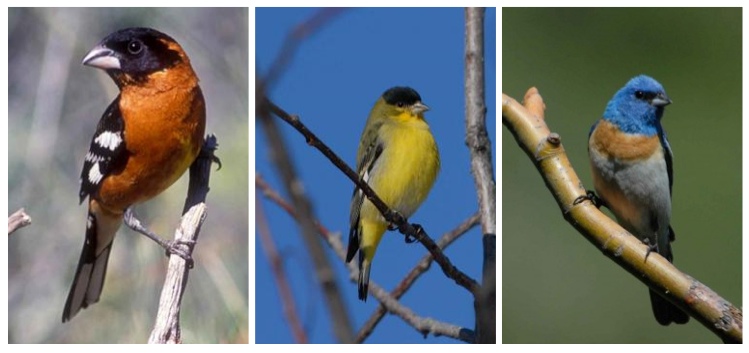 Black Headed Grosbeak, Lesser Goldfinch, and Lazuli Bunting. (Images from http://www.public-domain-image.com)
A few weeks ago we had a Lazuli Bunting pair make an appearance, but sadly I haven't seen any sign of them lately. They are very beautiful birds.
My favorite backyard birds here in Utah are California Quail. They are very common, more so than pigeons in my neighborhood, and a barrel of fun, especially when they are running around with their chicks in tow. Here are a couple my dog and I spotted during our walk yesterday: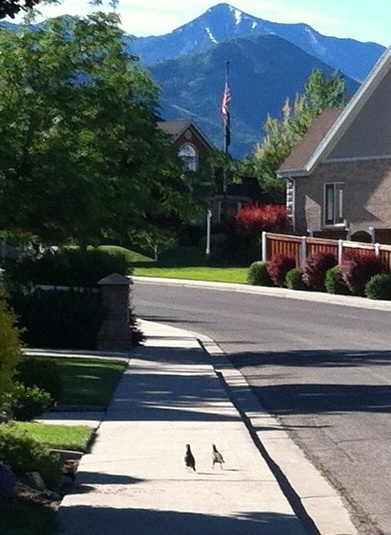 Mr. and Mrs. Quail high-tailing it away from Y-not... apparently having heard about her love of these tasty-tasty birds.
I'd like to attract more quail to our yard, so I've started investigating how to make our yard quail-friendly. This is what I've learned so far...
In terms of habitat, they don't want a large, green lawn:
The California Quail feeds on the ground near the cover of brush. They like areas of bare dirt for dust baths. They flap around in the dust to remove parasites. They like open areas to feed where they can see predators.

They do not like grass as it obscures their view. A male usually perches on a nearby shrub as the rest of the covey feeds. He signals danger to the others. They like to eat Lupine seeds. Cats are very destructive to Quail. As Quail nest on the ground, they are especially vulnerable to cats.
In terms of food plants, this Q&A from SF Gate had great information:
Some quail favorites among native plants that are popular in gardens are: ceanothus, ribes (native currants), lonicera (native honeysuckles, which are shrubby, not vining), rhus (such as lemonberry), fragaria (California strawberry), lupines, sambucus (elderberry), Heteromeles arbutifolia (toyon), Atriplex lentiformis breweri (Quail bush), and salvia (native sages).

Quail like to have oaks nearby, as they like to eat the acorns. They don't like most native or introduced grasses either for seed or cover. Most of their preferred plants are from summer dry California habitats, so are drought tolerant.

Plants that California Quail like include members of the ribes family, native honeysuckle (lonicera), and California strawberry.
I gotta say, the idea of converting my backyard into a quail haven is pretty appealing to me. A lot of these plants are ones I like and we already have some dry, lawn-free patches owing to all of the aspen roots in our backyard.
Here are some other good resources I found for making your yard bird-friendly courtesy of the National Wildlife Federation, a publication called Birds and Blooms, and the Brooklyn Botanic Gardens.
And, if you're into birds in a big way, I highly recommend Cornell's All About Birds website. It is chock-a-block full of useful information. You can even become part of their YardMap project:
YardMap is a landscape mapping project developed by the Cornell Lab of Ornithology. YardMappers use simple point-and-click tools to create detailed maps of bird-friendly habitat in their yards. It doesn't matter if you have a tiny area or hundreds of acres, all maps created help Cornell scientists learn how we can support bird populations right in our own backyards.

To close things up, here's a little ditty by the Yard Birds:
(You thought I was going to put up For Your Love, didn't you? Well, I can't stand that song!)
I really dug early Clapton back in the day.
Of course, the definitive version of this song is by John Lee Hooker:
You might remember this number performed by Hooker many years later from the Blues Brothers movie. I think it was filmed on Chicago's Maxwell Street, which was still A Thing in the 80s (when I lived there), but sounds like it is no more.

posted by Open Blogger at
12:39 PM
|
Access Comments