« Obama to Congressmen: If I Alone Decide to Declare War on Iraq Unilaterally, I'll Be Sure to Send You an Email About It
|
Main
|
Top Headline Comments 6-19-14 »
June 18, 2014
Overnight Open Thread (6-18-2014)
"Redskins" Trademark Cancelled by USPTO as "Disparaging"
Well given that the cancellation was based on the complaints of just five Indian activists maybe others can play at the same game.
I'm not familiar enough with trademark law to say just how far of an outlier this is, but many people now consider the phrase "Negro" and "Colored" to be disparaging. Just as at one time "Redskins" was not disparaging, so too times have changed and calling someone "Negro" or "Colored" could be deemed disparaging.

So does that mean the United Negro College Fund and National Association for the Advancement of Colored People should have their trademarks revoked?
So if there are any scandi-types, acromegaliacs, or pirate-Americans in the house, well now it's your time to get in on the offensive NFL name action. Fame and fortune awaits.
Why Won't You Just Accept Our Lies They Sneeringly Explained
Commenting from Air Force One about the missing emails, White House spokesman Josh Earnest dismissively sneered:


You've never heard of a computer crashing before?

When informed that emails are stored on servers and not hard drives, Earnest predictably went on the attack:


I think it's entirely reasonable because it's the truth and it's a fact. And speculation otherwise I think is indicative of conspiracies that are propagated in a way that left people with a disinformation about exactly what occurred.

So a good-faith effort has been made by the IRS to cooperate with congressional oversight. The far-fetched skepticism expressed by some Republican members of Congress is not at all surprising and not particularly believable.
Peggy Noonan on Why the Nixon IRS Scandal is Different From Today's IRS Scandal
Yeah I know she's still on pundit probation for at least another four years but she's dead right on this topic.
The mischief of the Nixon administration was specific to it, to its personnel. When Chuck Colson left, he left. All the figures in that drama failed to permanently disfigure the edifice of government. They got caught, and their particular brand of mischief ended.

But the IRS scandal is different, because if it isn't stopped-if it isn't fully uncovered, exposed, and its instigators held accountable-it will suggest an acceptance of the politicization of the IRS, and an expected and assumed partisanship within its future actions. That will be terrible not only for citizens but for the government itself.

And the IRS scandal will also have disfigured government in a new and killing way. IRS scandals in the past were about the powerful (Richard Nixon) abusing the powerful (Edward Bennett Williams). This scandal is about the powerful (Lois Lerner, et a.) abusing the not-powerful (normal, on-the-ground Americans such as rural tea-party groups). If it comes to be understood that this kind of thing is how the government now does business, it will be terrible for the spirit and reality of the country.

So many of those who decide what is news cannot, on this issue, see the good faith and honest concern of the many who make this warning. And really, that is tragic.
First world problems and reflexive heavy-handed statist solutions.
Representatives Ileana Ros-Lehtinen (R., Fla.) and Lois Capps (D., Calif.) have, at the urging of reformed adman Seth Matlins (D., formerly of Creative Artists Agency, Rock the Vote, etc.), offered up a very silly bill to empower the federal government to censor advertising on the theory that the overuse of photo-editing software causes anorexia and other eating disorders. The world being full of stupid people, there is an emotionally incontinent for-the-children petition demanding that the Federal Trade Commission implement this censorship, on top of Mr. Matlins's earlier demand that advertising in which images have been altered - which is to say, advertising - be labeled to alert beef-witted Americans to the fact of that alteration.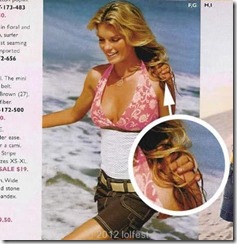 One of These is Not Like the Others
From the New Yorker:
The idea of progress-the notion that human history is the history of human betterment-dominated the world view of the West between the Enlightenment and the First World War. It had critics from the start, and, in the last century, even people who cherish the idea of progress, and point to improvements like the eradication of contagious diseases and the education of girls, have been hard-pressed to hold on to it while reckoning with two World Wars, the Holocaust and Hiroshima, genocide and global warming.
Amanda Marcotte Doesn't Even Know What Amanda Marcotte Used to Think
Which is to say her feminist views are all situational and generated on the fly according to whether a leftist did it or not.
What If the Bergdahl Exchange Had Happened During WWII?
The controversy began as soon as this story broke. Bergdahl's parents came to the White House to stand beside Obama in the Rose Garden as he announced the prisoner swap. Perhaps in solidarity with his son's captors, Bob Bergdahl sported a square moustache.

"I'm your father, Bowe," the elder Bergdahl said. "The people of Germany, the same." He thanked Obama in English and then added, "Sieg Heil! Deutschland uber alles!"

These comments seemed to parallel another statement that the elder Bergdahl tried to erase from the record. As he once wrote: "I am still working to free all Nazi prisoners. God will repay for the death of every German child. Amen."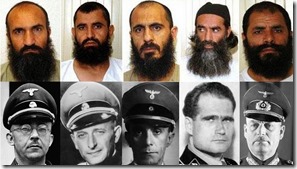 The  National Highway Traffic Safety Administration Wants to Regulate All Map Software in Cars, Smart Phones
Because they can.
The NLRB Rules That You Can't Fire Employees For Cursing Out Managers or Owners in Public
Or anyone triggered by the suggestion that they could go work elsewhere.
In the first case, "Plaza Auto Center, Inc. and Nick Aguirre," the NLRB ruled on May 28th that a Yuma, Ariz., car dealership owner was wrong in 2008 to fire a worker who had called him an "asshole" and "f---ing crook" and similar insults during an office meeting to discuss a wage dispute. The NLRB said that owner had instigated the incident by telling the employee that if he didn't like the pay, he could work elsewhere. That was an "implied threat" of firing, according to the board.
Beware of Greeks Bearing Lawsuits
Or why you shouldn't sell any high value items (like say submarines) to Greece. Because as the Germans learned, they're litigious deadbeats.
The Navy's Area 51 Base in an Idaho Lake
The Navy's Acoustic Research Detachment (ARD) at Bayview, Idaho, which is some 375 miles from the ocean, is where new submarine and surface ship shapes and subsystems are tested in a sub-scale environment that closely mimics the ocean. In other words, ARD Bayview is the Navy's lower-key subsurface Area 51, and massive Lake Pend Oreille is a water based, smaller, and more outsider friendly Nellis Range Complex.

The lake's depth (it's deeper than Loch Ness at about 1150 feet), large size, clear water and quiet conditions provided by steep tree-lined shores and a flat muddy bottom, along with a constant chilly temperature under 100 feet, are all key factors that have made it such an attractive testing location for the US Navy since WWII. Also, the lake stays remarkably calm for its size, allowing for fantastic testing conditions.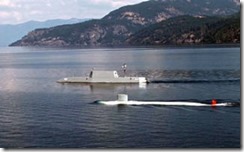 A Classic: The Ritual Attack of the Soccer Scolds
Future Darwin Award Candidates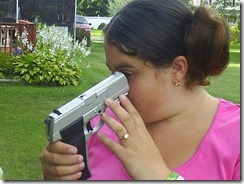 Reporter Robbed While Doing Live Coverage of a Robbery Outside a Police Station
Can you guess the city without looking?
Thoughts on Lorde Taking a Spill on Stage Steps
I remember being a teenager and looking at some 30-something and thinking, you don't get me, you don't get us, you're time is passed, old man. I didn't really think like a cheaply written multicultural gang member in the movies, but we had our own definition of cool and we were pretty certain the adults didn't get it. I can't tell if Lorde is teen cool or just trying too hard to be cool. I know a million girls want to be just like her which should probably assist in declining teen pregnancy rates. She can actually sing which sets her apart from anywhere between most and all of her counterparts. Since God did not intend for people to have too many gifts, he made the talented artists awkward looking and clumsy. If Lorde doesn't die in a workplace accident, she should go on to be a serious musician issuing tons of annoying social and political statements. Somebody get more steps.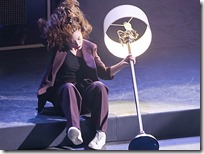 11 Hawt Teachers Who Banged Their Students
Where the hell were these lady teachers when I was a student? Most of my female teachers in middle and high school were strict, older, paunchy, fond of polyester, and generally frightening to my penis.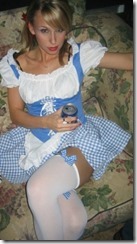 The Group knows what you did.
Tonight's post brought to you by mad as hell: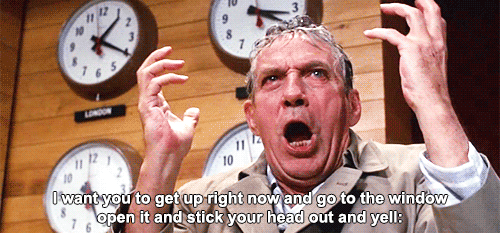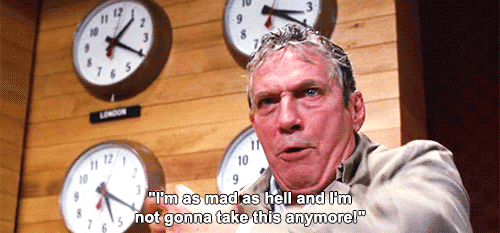 Notice: Posted by executive authority, AceCorp LLC was notified after the fact. Please e-mail overnight open thread tips to maetenloch at gmail. Or not. We get not-paid the same either way.

posted by Maetenloch at
10:40 PM
|
Access Comments