« The VA Has Myriad Problems but Funding Ain't One [Y-not]
|
Main
|
Sunday Morning Open Thread »
May 31, 2014
Overnight Open Thread (5-31-2014) - [Niedermeyer's Dead Horse]
Our friend, Joe, otherwise known as CDR M, is off celebrating his birthday tonight, no doubt unwrapping the new puppy that his little ones thought he might need.
Let's all wish him the heartiest, happiest birthday ever.
In the meantime, you're stuck with me, and my potluck. I'm feeling rather linkyish tonight, so link-stew it is:

Kicking off the Caturday link-stew is the cutest, most determined little cat who ever lived. Meet Clark Gable, otherwise known as Bella:
RIP, my Bella.

You had to know that with all the media attention focused on the VA scandal, the Feds would be forced to take action. It seems they have a plan.
"I just boogie!" says 82-year old Iron Nun who has completed more than 340 triathlons.
You've gotta love 'er.

You know those fancy observation decks at the Sears Willis Tower? The ones that I will never, ever step foot upon? Yeah... about that:
Have no fear! It was only the "protective coating" which couldn't withstand the weight.

For no particular reason:

The National Spelling Bee has resulted in a tie. It's the first such result in 50 years.
(CNN) -- Sriram Hathwar and Ansun Sujoe correctly spelled so many words Thursday that the Scripps National Spelling Bee had to declare them both winners.

Why? Because there weren't enough words left on the competition's list for them to keep facing off until only one was left standing.

In the bee's final round, Hathwar, 14, an eighth-grader from Painted Post, New York, correctly spelled the word "stichomythia" -- dialogue especially of altercation delivered by two actors.

Sujoe, 13, a seventh-grader from Fort Worth, Texas, correctly spelled the word "feuilleton" -- part of a European newspaper.
Must-see moments from the spelling bee

It's the first time the bee has ended in a tie in more than 50 years. The last time there were co-champions was in 1962, organizers said. Ties also ended the bees in 1950 and 1957.
This year's spelling bee champ is .... Spelling bee runs out of ... words?

"It feels pretty good because not only do I get the victory, but I get to share it with someone else, so it means a lot to me," Sujoe told CNN's "New Day" on Friday.
A pretty amazing attitude, eh?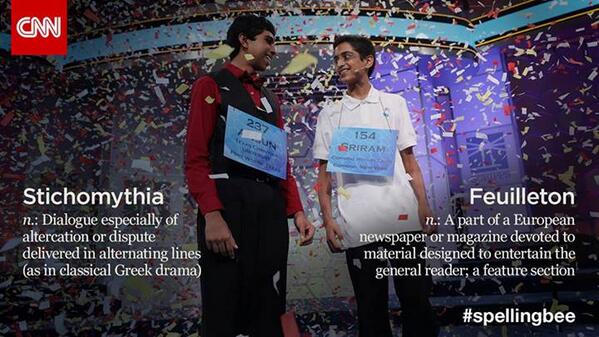 Congrats to both the winners and to all who competed.

More on #YesAllWomen. He's such a sensitive fella.
Men are surging with far more aggression-stoking testosterone than women, but they are brought up in a way that makes them uniquely ill-suited to manage anger, sadness or any emotion at all. Consequently, and contrary to popular stereotypes, women are more likely to have constructive ways to deal with difficult emotions and men's emotions are often out of control. It is therefore not surprising that men are much more likely to be involved in violent crime, including but not limited to sexual crime. It is also not surprising that men are four times more likely to commit suicide than women.

And so the rape problem, the gun violence problem and the suicide problem are all in many respects different facets of the same problem, different symptoms of the same disease: Men are never taught how to deal with difficult emotions, and so they take it out on other people or themselves.

Of course, treating a disease often requires treating symptoms, which is why it is crucial to continue taking steps such as raising male awareness about sexual violence and dealing with firearms. But if we want to address the underlying causes of these issues, then part of the solution must be to construct a healthier form of masculinity that empowers men to deal with complex emotions in positive ways.
Wait. Did he just refer to the state of being a man as a "disease"?

This seems an appropriate time to link to this: 5 Things Your Doctor Really Wants To Say To You (But Won't)

Excellent! Tonight's ONT brought to you by a creature who is clearly plotting to take over the world:

Please feel free to send any complaints or commendations to me at Twitter: Nied's Dead Horse.

posted by Open Blogger at
10:09 PM
|
Access Comments