ę Sunday Morning Open Thread
|
Main
|
Sun. Morning "Open Before The Book Thread" Thread [OregonMuse] Ľ
May 25, 2014
Memorial Day Weekend Travel Thread [Y-not]
Greetings traveling morons!
This thread brought to you by Fill 'er up!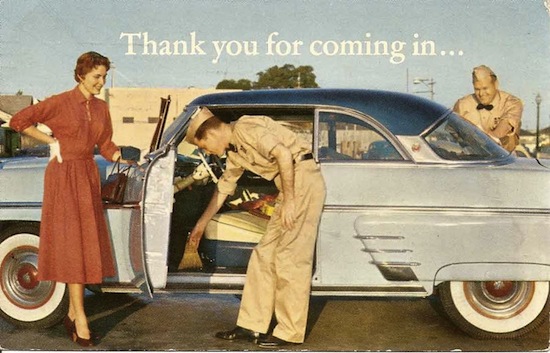 I hope your Memorial Day Weekend has been a great one thus far. Here at Casa Y-not we are sticking close to home as Utah's freeways are filled with travelers, many of whom are towing boats, ATV, campers, and other recreational equipment... and Mr Y-not has a stomach bug.
This is traditionally a big travel weekend. Here are some stats courtesy of AAA:
Memorial Day is rapidly approaching and an estimated 36.1 million people are gearing up for a trip of some kind to celebrate the official start of summer, says AAA Travel in its 2014 Memorial Day Travel Forecast. That's an uptick of 1.5% from last year, which saw 35.5 million people travel during the holiday weekend, and would be the highest number of people on the move for summer's first holiday weekend since 2005 and the second highest since 2000.

AAA says that the increased number of travelers is due to several factors including this past year's harsher than usual winter. This winter was so cold that AAA reported that dead-battery service calls increased nearly 12%.
And here's how they are getting there: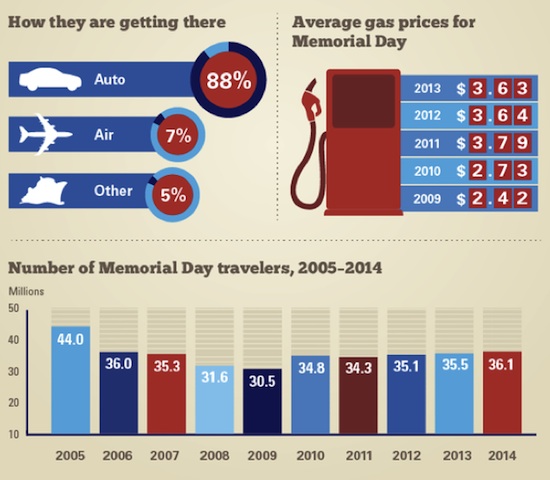 I don't usually insert politics into the Travel Thread, but this article from the Kansas City Star (that I found while looking for travel stats) really irked me:
If the price of gasoline looks familiar this Memorial Day thatís because it is. For the third year in a row, the national average will be within a few pennies of $3.64 per gallon.

Stability wasn't always the norm. Between 2003 and 2008 average retail gasoline prices more than doubled, reaching an all-time high of $4.11 per gallon in 2008. Prices then collapsed as the U.S. plunged into recession. But after a two-year run-up between 2009 and 2011, the price of gasoline has remained in a range of roughly $3.25 to $3.75 per gallon.

Drivers can handle that, according to AAA, and are ready to head out for Memorial Day driving trips in the highest numbers since 2005. "It is unlikely that gas prices will have a significant effect on travel plans compared to a year ago," AAA wrote in its annual Memorial Day forecast.
Insanely high gas prices are a good thing, apparently, because STABILITY! Shaking my head at that one.
Here's the ten-year historical chart of gas prices courtesy of Gas Buddy: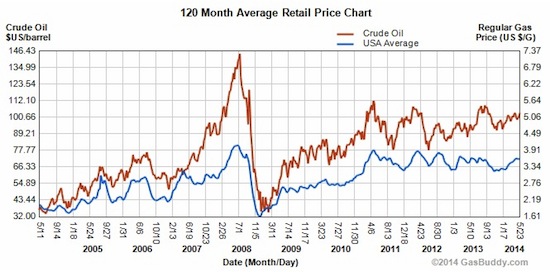 The Dems sure do make a lot of bank off of that six-month price spike at the end of Bush's term.
In any event, back to the topic at hand...
Although I tend to stay off the roads on the big travel holidays like this one, I sure do enjoy driving and road trips. Some of my favorite vacations have involved scenic drives in places like New Mexico, Hawaii, and Vermont. USA Today assembled the top scenic drives in all 57 states.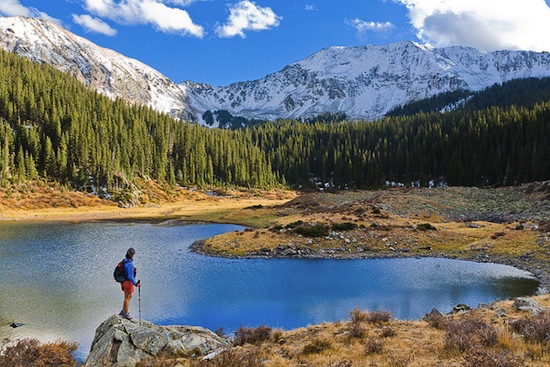 One of my favorite drives is the Enchated Circle in New Mexico. There's even a festival. (I haven't been to that.)
What are your favorite drives?

To close things up, how about some MATH courtesy of Spurious Correlations?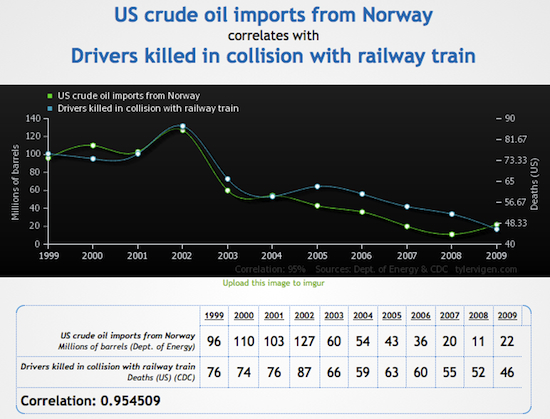 Watch out for trains, morons!

posted by Open Blogger at
10:15 AM
|
Access Comments