« Twitter "Lycan" Calls Robert George "House N*****"
|
Main
|
Top Headline Comments 5-22-14 »
May 21, 2014
Overnight Open Thread (5-21-2014)
The VA Scandal isn't Really a Scandal - This Is What Government-Run Health Care Looks Like
The obvious question to ask about the VA scandal is: Why? Why would a VA hospital administrator direct doctors not to perform colonoscopies until patients had three positive tests for bloody stools? Or why were VA employees ordered to "cook the books" and hide long wait times that veterans faced when seeking care from heart, cancer, or other specialists? Why did some VA administrators go so far as to create a secret waiting list to hide year-plus wait times?

There's only one plausible answer to these questions: rationing. The VA is but a smaller version of the sort of government-run, single-payer health care with which the political left is so enamored.

When individuals receive care through the VA, it becomes the only payer and hence, the only decision-maker. The VA decides who gets care, when, and how much. Moreover, as the single payer, the VA bears the risk of loss: If tax dollars aren't enough to pay for the care demanded, there's only one result - rationing of care.
Welcome to the US version of the NHS along with all its typical quality, service, and accountability. Now just wait until ObamaCare and the IPAB get into full swing.
If I understand college administrators correctly, colleges are hotbeds of racism and rape that everyone should be able to attend.

- David Burge (@iowahawkblog) May 12, 2014
Along with the obligatory link.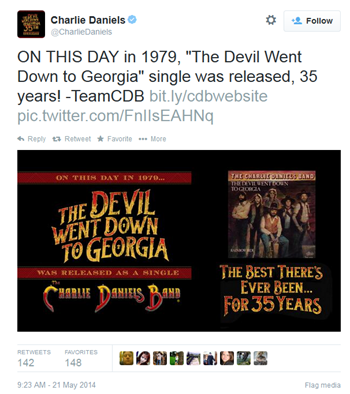 Just How Bad is the 'Rape Epidemic' in the US?
Not very bad considering that rape-rapes are currently at a 40 year low.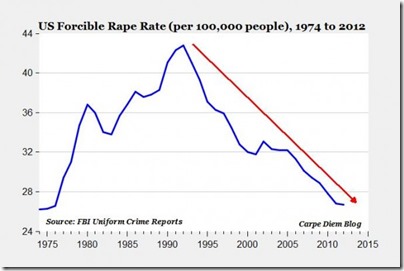 Suspended Columbia Athlete Files Federal Lawsuit Over Campus Sexual Assault Conviction
Well if universities insist on having their own little system of criminal courts with red queen rules, expect actual courts of law to get involved.
Russia has mastered the stealth-krieg.
The first clear lesson from the Crimean operation is that the Russian military understands how to carry out operations with a minimal use of force. This observation may initially seem banal or trivial, but we should keep in mind how Russian troops acted in previous operations in Chechnya and even to some extent in Georgia. Subtlety was not a strong suit in these operations, nor did it seem to be particularly encouraged by the political leadership. Instead, the goal seemed to be to use overwhelming force without much regard for civilian casualties. By contrast, the entire operation in Crimea was conducted with virtually no bloodshed or violence.
Is Your Handshake As Dangerous As Smoking?
Short answer: No. But that won't stop the Nanny-Do-Gooders.
A commentary in the Journal Of The American Medical Association says it's time to say goodbye to the handshake greeting in a health care setting. Or for that measure, goodbye to the goodbye handshake as well.

Sure, a firm handshake can be seen as a sign of greeting and compassion, but it's also believed to be one of the easiest methods to transmit germs. We've actually believe this for a long time but perhaps there is new urgency in the mysterious new world of diseases like MERS.

So the recommendation is to treat handshakes like smoking. In other words, since there are a lot of places that simply have smoke free zones, it seems like a good idea to have handshake free zones.
Danish Reporter Gives Leftist Protestor the Leftist Treatment
I'm guessing the activist and her handler were only polite about it because they knew they were on camera. And because they're Danes.
Outdoor Channel went to CCI in Idaho to show how .22LR ammo is made. They make 4 million rounds a day. Sounds like a lot. But when you see that one pallet is only 250k rounds, then that means  they only make 16 pallets a day. It isn't that much when you start thinking of how stores are supplied across the country. A 1/4 pallet in one store, another pallet in a bigger store. It starts to add up fast.
Also .22 Vs Windshield. Advantage: .22.
Portland Problems: Rogue Level 5 Elf Warriors Running Wild in the Streets
The last thing the woman from Northeast Portland probably expected when she got up Tuesday morning was that she would be attacked by a sword-wielding elf.

But that's what happened around 7 a.m. as she drove her red BMW by the intersection of Southeast 7th and Morrison.

A man dressed in chain-mail with a helmet, shield and carrying a sword and staff ran into traffic and started attacking her car.

She called 911, reporting that "a pirate" was attacking her car.

When police got there, they detained Konrad Bass of Glendale, Oregon.

Bass told officers that he wasn't a pirate but a "high-elf engaged in battle with the evil Morgoth."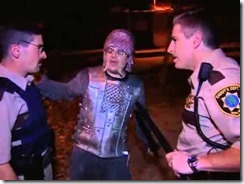 The Group knows what you did.
Tonight's post brought to you by patterns: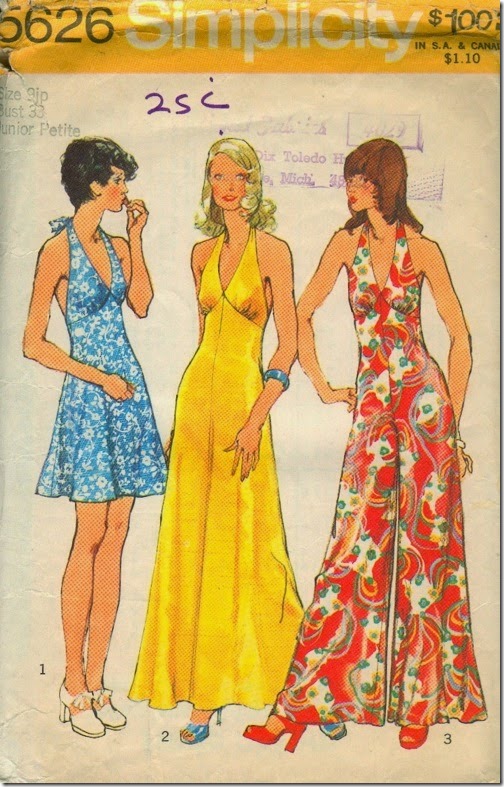 Notice: Posted by permission of AceCorp LLC. Please e-mail overnight open thread tips to maetenloch at gmail. Otherwise send tips to Ace.

posted by Maetenloch at
10:32 PM
|
Access Comments