« Open Thread (reserved for politics and other stuff) [CBD]
|
Main
|
Can Georgia Conservatives Avoid the Baskin-Robbins Problem? »
May 18, 2014
Food Thread: Buttermilk Biscuits [CBD]
We Politely Request That All Off-Topic or Political Comments Be Directed to the Thread Directly Below This One, Which Will Serve Officially as the Current "Active Conversation" Thread for All Discussions Not Related To This Topic.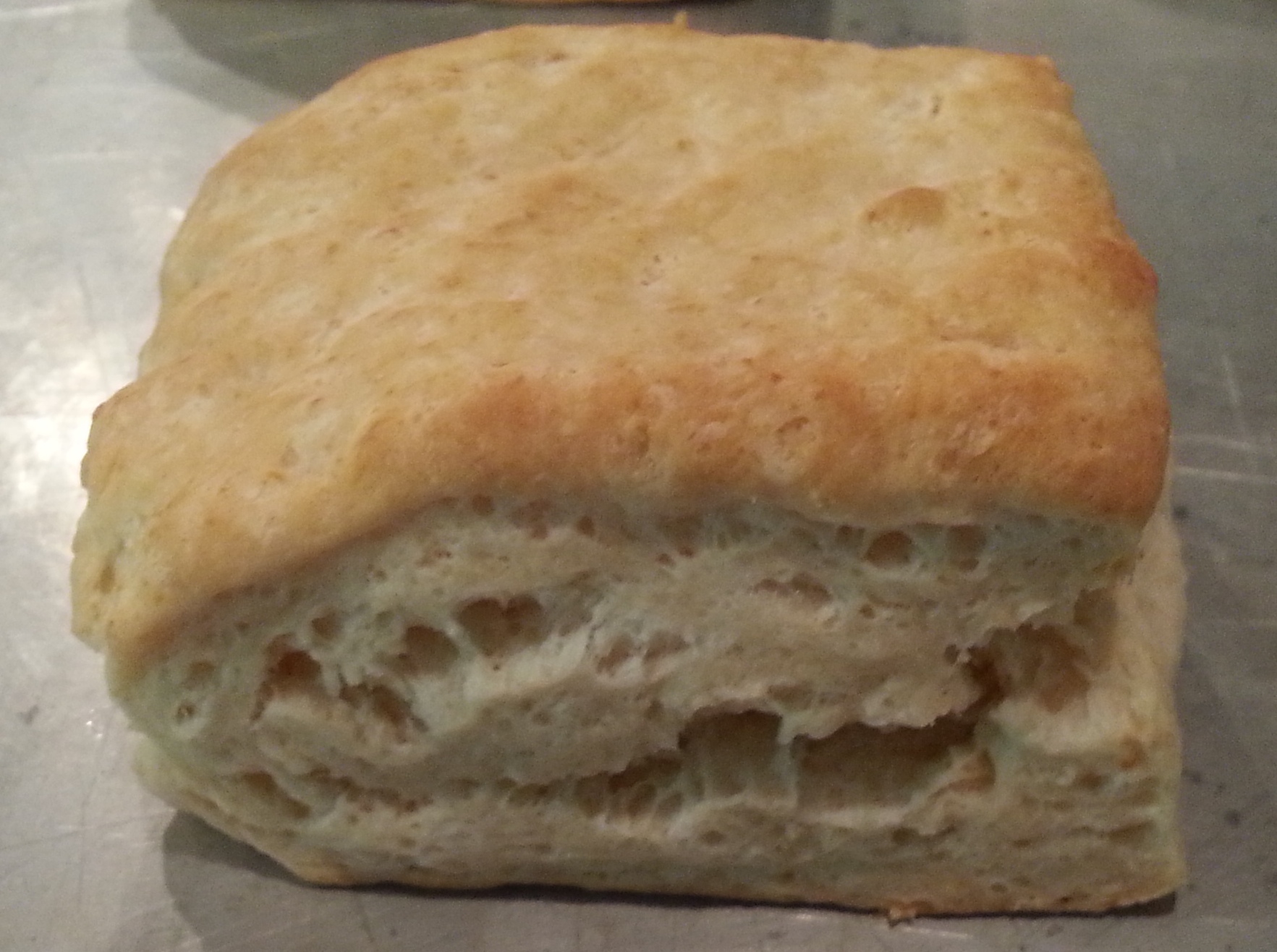 There is nothing so deceptively simple as a biscuit recipe: flour, butter, some leavening agent, a bit of salt, and buttermilk (anything other than buttermilk is a crime against nature).
But don't be fooled....the technique is far more important than the proportions, and why grandma makes better biscuits than you do.
I have been using this recipe for awhile, and it works well. There's nothing special about it, and I am sure that there will be a few comments pointing out how profoundly incorrect it is.
But it works for me, especially now that I have figured out that real biscuit makers are serious when they say don't overhandle the dough.
One issue is the scraps that are left after cutting those perfect circles of dough. Reforming them just doesn't work. That extra bit of handling makes a tough, flat biscuit.
So I decided to make square or rectangular biscuits...cleverly avoiding those leftover bits of dough. But there is a problem with that plan. The uncut edge on the perimeter keeps that side from rising, so some of the biscuits are lopsided. I tried to gently slice through the uncut side, and that seems to work reasonably well.
Next time I will cut more deeply, or maybe twice, and that should fix that problem.
Here is a recipe from The Homesick Texan, who has a fun website, and a fine appreciation for good food.
Biscuits
(Courtesy of The Homesick Texan)
Ingredients:
Two cups of flour
1 tablespoon of baking powder
1 teaspoon of sugar (can add more to taste)
1/2 teaspoon of salt
1 stick of butter, cold (8 tablespoons)
3/4 cup of buttermilk, cream or half-and-half
Method:
Preheat the oven to 450 degrees.
Mix all the dry ingredients together.
Cut the stick of butter into pieces, and work into the flour mixture with your hands or a pastry blender until it resembles pea-sized crumbs.
Add the liquid, mixing until a bit loose and sticky.
Pour dough out on a floured surface, and knead for a minute. Dough should be smooth and no longer wet. You can sprinkle more flour on the surface if you find it is sticking.
Take dough into a ball, and hit it with a rolling pin, turning it and folding it in half every few whacks. Do this for a couple of minutes.
Roll out dough until it is 1/4 of an inch thick, and then fold it in half.
Using a round cutter (can use a glass or a cup if do not have a biscuit cutter) cut out your biscuits from folded dough.
Place on a greased baking sheet close together (so they rise up not out), and bake for 15 minutes or until the tops are golden brown.
Makes 10-12 biscuits.
If you do not want to roll and cut them out, after kneading and beating the dough you can drop the dough onto the baking sheet with a spoon. They are not as symmetrical (dropped biscuits are also known as cat head biscuits) but they are no less delicious.


posted by Open Blogger at
04:15 PM
|
Access Comments