« Movie Night With The Morons: Battleship Edition - [Niedermeyer's Dead Horse]
|
Main
|
Sunday Morning Open Thread »
April 26, 2014
Overnight Open Thread (26 Apr 2014)
Interrogation Music
Some bonafide good songs on this and some truly awful ones that would be torture in all settings. CIA interrogation methods included these 21 songs, artists. Here's the list to save you having to click picture by picture.

1. "The Real Slim Shady" by Eminem
2. "Zikrayati (My Memories)" by Mohamed el-Qasabgi
3. Meow Mix commercial jingle
4. "I Love You" by Barney the dinosaur
5. "Babylon" by David Gray
6. "Saturday Night Fever" soundtrack
7. "Take Your Best Shot" by the band Dope
8. "We Will Rock You" by Queen
9. "The Beautiful People" by Marilyn Manson
10. "F--- Your God" by the band Deicide
11. Tupac Shakur album "All Eyez on Me"
12. "Bodies" by the band Drowing Pool
13. Songs from "Sesame Street"
14. "Baby, One More Time" by Britney Spear
15. "Enter Sandman" by Metallica
16. "March of Pigs" by Nine Inch Nails
17. Songs by the band AC/DC
18. Songs by Prince
19. Songs by the band Red Hot Chili Peppers
20. Songs by the band Aerosmith
21. "Dirrty" by Christina Aguilera
So what songs would you morons use to torture/interrogate someone?
Modern "Art"
Does someone actually buy these "art" pieces? NSFW!!!!!! Performance artist fires ink-filled eggs out of her 'gina.

the creator of a performance piece titled "PlopEgg" - a name that is actually highly appropriate when you find out what the entire work involves.

Firstly she injects eggs with a variety of colourful inks and paint then shoves each egg deep inside her vaginal canal. And for the grand finale, she then "gives birth" by pushing and ejecting the eggs out onto a canvas, causing them to smash and create all manner of abstract shapes.

And all this, whilst stark naked in full public view.
Redneck NASA
Pretty sad these folk are doing more rocketry than NASA is.

Car Stuff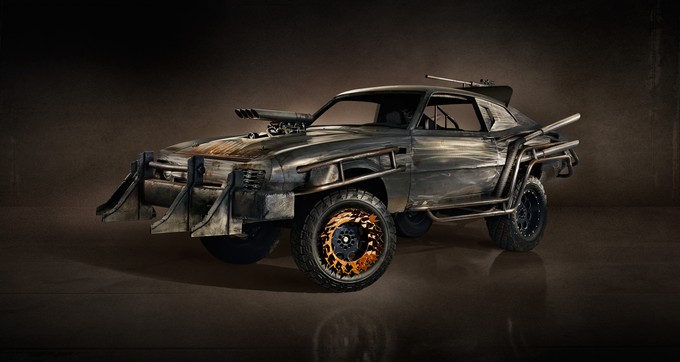 The Mad Max remake isn't coming out until next year, but his car was unveiled for the upcoming video game.
This would be a pretty sweet idea if it lasted longer than a year. Nissan's dirt-phobic paint keeps a car spotless for the duration of a PR video.
Wondercon
Gun Control
Ridiculous. Students playing "Nerf Gun Wars" cited by police and placed on academic probation.
Naked Beer Festival
This sounds like trouble. Mere coincidence it is happening around the NoVa moron meetup? PA resort to hold naked beer festival.
Furniture For Cats
Evidently, a desk for cat owners. I still want the Constanza desk for work though.
h/t rdbrewer
Cat Video
Tonight's ONT brought to you by bacon wrapped onion rings:
Notice: Posted by permission of AceCorp LLC. Please e-mail overnight open thread tips to maet or CDR M. Otherwise send tips to Ace.

posted by CDR M at
10:07 PM
|
Access Comments