« Open Thread
|
Main
|
Overnight Open Thread (4-13-2014) »
April 13, 2014
Spaced-Out Challenge: Total Lunar Eclipse
[We Politely Request That All Off-Topic or Political Comments Be Directed to the Open Thread down page, Which Will Serve Officially as the Current "Active Conversation" Thread for All Discussions Not Related To This Topic. Enjoy!]
Image by Keith Burns
Welcome again to the Spaced-Out Challenge! Whether you have a question about equipment, a new astronomical discovery you want to expand on, or just want to kick back and enjoy the cosmos above, come one come all on our weekly astronomical journey.
This week, we enjoy a fantastic sight: a red moon eclipsed by our home, joined by the showstoppers of our solar system. Let's dive in!

NASA has an excellent write-up on the tetrad, the differences in lunar eclipses, and what exactly will give the moon it's amber-red color tomorrow night:


The April 15th eclipse begins at 2 AM Eastern time when the edge of the Moon first enters the amber core of Earth's shadow. Totality occurs during a 78 minute interval beginning around 3 o'clock in the morning on the east coast, midnight on the west coast. Weather permitting, the red Moon will be easy to see across the entirety of North America.

Why red?

A quick trip to the Moon provides the answer: Imagine yourself standing on a dusty lunar plain looking up at the sky. Overhead hangs Earth, nightside down, completely hiding the sun behind it. The eclipse is underway.

You might expect Earth seen in this way to be utterly dark, but it's not. The rim of the planet is on fire! As you scan your eye around Earth's circumference, you're seeing every sunrise and every sunset in the world, all of them, all at once. This incredible light beams into the heart of Earth's shadow, filling it with a coppery glow and transforming the Moon into a great red orb.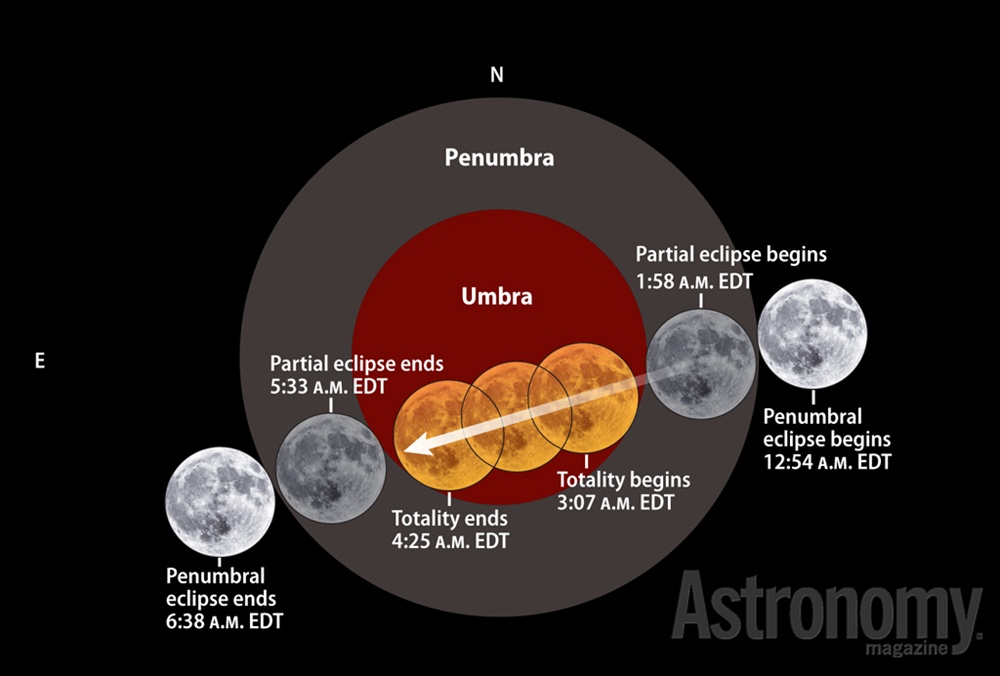 The above diagram, courtesy Astronomy Magazine's Roen Kelley, illustrates the various stages over tomorrow night's long eclipse event. Those of us on the West Coast won't need to stay up terribly late, but those on the East Coast will need to set their alarm clocks, per Sky and Telescope's chart below: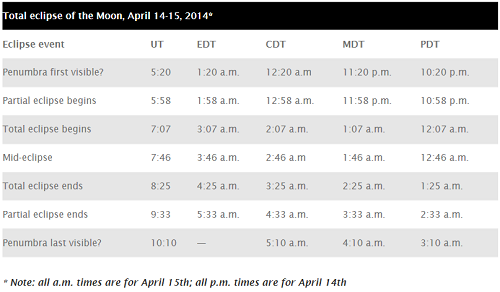 As a bonus, several planets and a close star will frame the scene. Mars will be at it's brightest appearance tomorrow night, a week after it's opposition. With the usually glaring full moon eclipsed, it will be a great chance to get a look at the red planet, along with the bright star Spica, which lies just a degree to the Moon's west. Jupiter will be heading towards the Western horizon, but will still make for a great target of amateur telescopes. Finally, the crown jewel of the solar system, Saturn, will be rising out of the east. If the glowing red moon isn't enough of a reason to stay up, it's host of companions certainly is!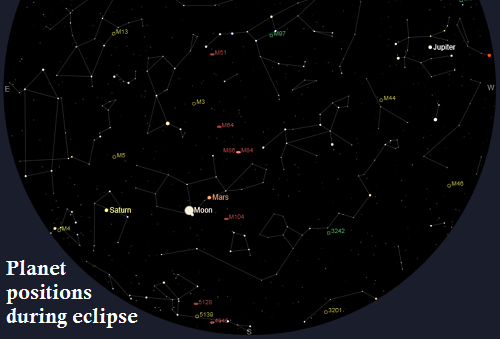 Live Stream and Google Hangout
If the weather looks poor in your area, don't fret! Orange County Telescopes here in California will be hosting a live stream and hangout with astronomer Mike Fowler starting at 9:30pm Pacific time here. The event runs until the moment of greatest eclipse, just before 1am local time.
Pubic Eclipse Viewing Party in Southern California
The live stream above coincides with OC Telescopes' public viewing party tomorrow night, and I encourage any SoCal area readers who can make it to do so. In addition to giving out eclipse-related goodies, you will have a chance to observe some of the finest objects in the solar system, and get an up close view of the fiery moon. If you've never seen Saturn through a telescope, brace yourself.
***
Best of Twitter Astrophotography
This week, the fattening moon and Mars activated many an amateur. Here's a round-up of some great shots- no aperture is too small, budget so limited to hide the sky!
Snapped photo of Mars w/ my Nikon L310 at max zoom. Ain't much, but there yago. 10 Apr 2014 0430 UTC. @ConArtCritic pic.twitter.com/2VanJUDMWt

— Jason Milldrum(@NT7S) April 10, 2014









While this last shot doesn't show a lot of detail, it is my favorite: this guy snapped it with a smartphone through just a $50 telescope. The sky above has never been so accessible to so many.
If you have a shot you'd like to share, be sure to tweet it!
***
The full Beginner's Buyer's Guide, our Comet Guide (featuring additional grab-and-go telescopes), and any other edition you're looking for can be found in the master index of all Spaced-Out Challenge threads
here
, but of course you can always inquire about binoculars, telescopes, and all the rest in the comments. As always, if you have astrophotography, product recommendations, or astronomy news you'd like to see on a future Spaced-Out Challenge, email me at theoneandonlyfinn (at) gmail.com, or tweet me
@conartcritic
.
If you have any more questions about your new optics, feel free to ask below. Until next time, clear skies to you, and keep looking up!

posted by CAC at
08:30 PM
|
Access Comments