« Sunday Morning Open Thread
|
Main
|
Elk vs. Photographer (and Open Thread) [CBD] »
April 13, 2014
Sunday Morning Book Thread 04-13-2014 [OregonMuse]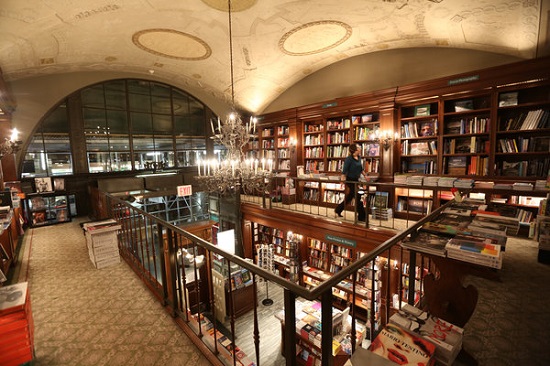 (The interior of Rizzoli bookstore on West 57th Street in Manhattan. Credit Chester Higgins Jr./The New York Times )

Good morning morons and moronettes and welcome to AoSHQ's prestigious Sunday Morning Book Thread.

Blue City Blues
Manhattan used to have a ton of bookstores, but now they're disappearing:
Rising rents in Manhattan have forced out many retailers, from pizza joints to flower shops. But the rapidly escalating cost of doing business there is also driving out bookstores, threatening the city's sense of self as the center of the literary universe, the home of the publishing industry and a place that lures and nurtures authors and avid readers.
And rents in Manhattan are like nowhere else:
"They were unsustainable," Ms. McNally said. "Small spaces for $40,000 or more each month. It was so disheartening."
I remember Rush Limbaugh complaining about this years ago when he lived in an apartment in New Yord City. He said, you just have to adjust your thinking to understand the rent situation in NYC. And back then, it was only $10,000 per month.
Naturally, an exquisitely liberal publication like the New York Times isn't going to mention this, but New York City is one of the most rent-controlled cities in the world, where building owners are saddled with a bewildering array of housing regulations and rules about what kind of rents they may or may not charge their tenants. The idea that these burdensome housing regulations may be a factor behind the high rents simply does not enter into their minds.
Years ago, as one of my first purchases through the 'Conservative Book Club' (remember that?), I picked up Excluded Americans: Homelessness and Housing Policies by William Tucker, who presented a large amount statistical evidence to prove a correlation between high rates of homelessness and rent control. Along the way, he spent a lot of time talking about NYC rent control and I was surprised to learn that Manhattan, now the home of $40,000/month rents, used to have so much housing that they practically had to give it away. Rents were affordable by practically everybody. Then they imposed rent control during WWII as a "temporary war-time measure" and that introduced distortions in the housing market that have become permanent. And nobody wants to repeal any of these regulations because too many politicians and legislators have used their positions of influence secured sweet, sweet deals for themselves (like a nice, upstairs apartment for $237.50 per month) and so there's no way they're going to want to change anything.
So the closings continue:
Independents like Coliseum Books, Shakespeare and Company on the Upper West Side, Endicott Booksellers and Murder Ink have all closed their doors.
And it's not just the little guys:
But now the chain stores are shutting down, too. Since 2007, five Barnes & Noble stores throughout Manhattan have closed, including its former flagship store on Fifth Avenue and 18th Street, which was shuttered in January. Five Borders stores in Manhattan were closed in 2011 when the chain went bankrupt, vacating huge spaces on Park Avenue, near Penn Station and in the Shops at Columbus Circle.
I'm tempted to jeer at the wealthy Manhattan liberals who have brought this turn of events upon themselves. Still, I hate to see all these bookstores closing their doors, and I hope that somehow, the trend can be reversed.
PS- Rush also mentioned that he couldn't get a garbage disposal installed in his kitchen because of the contract the building had with the garbage-collectors' union.

The Boss Always Finds The Good Stuff First
On Friday, ace posted a link to these two sentence horror stories. Some of them are deliciously creepy. I'm trying to think of one myself, but only could come up with this, inspired by Lovecraft, and it's kind of lame:
As I was gazing at the old photo of my grandfather, I happened to think of those poor people over on the coast in Innsmouth who gradually turned into groteseque fish creatures as they got older. Wait, is that a gill behind his ear?
And here's one for AtC and MWR:
Last night I had this horrible dream of feeling a bunch of huge, hairy spiders crawling all over me. I woke up choking and had to pull a large wad of silk threads and an egg sac the size of a golf ball out of my mouth.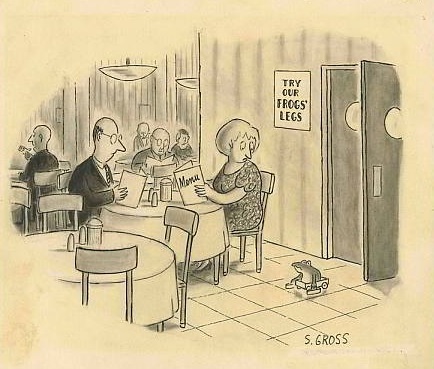 Nostalgia
Those of you who were fans of the old National Lampoon mag, as I was in the days of my misspent yoot, should probably check out Mark's Very Large National Lampoon Site. The site is no longer being updated, but there's a ton of stuff there. The magazine itself, issue by issue, is of uneven quality, but I really like some of their ancillary publications, such as National Lampoon 1964 High School Yearbook parody by P.J. O'Rourke. Also National Lampoon's Truly Tasteless Cartoons: The Best of the Worst (see above).
Of course, you can get the National Lampoon Magazine All 246 Issues Plus 36 Radio Show Episodes and Cover Art Gallery 2 Disc Set Rare New Find for the low, low price of $9.95.
...and Speaking of Comics
The ONT may have mentioned this already, but if not, let me be the first:
Archie Andrews will die this summer.
According to the publisher, Archie will "sacrifice himself heroically while saving the life of a friend." The "Life with Archie" series detailed what happened to the main character after he finished college. However, "Life" has followed two different timelines, one showing what Archie's life would be like if he pursued a relationship with paramour Betty and the other following his life if he chose Veronica.

"The final issue, however, will show readers Archie's final fate in both timelines – and they're the same," Archie Comics CEO Jon Goldwater told CNN.
More on this earth-shattering turn of events here.

Historical Note
So a couple of days ago, I stumbled upon When The Wicked Seize A City, and as it happens, it is the very first ebook I ever read on teh internets, which would have been around 1998 or 1999. It costs $3.99 now, but back then, I could read it for free. The book is a recounting of events that happened in the late 80s/early 90s that, strangely enough, are still relevant today:
1. Group starts Presbyterian church in San Francisco
2. Short on music help, said church hires guy to play the piano
3. Guy turns out to be gay
4. Church fires gay guy
5. Hilarity ensues
6. And by "hilarity", I mean harassing/obscene phone calls to the church and pastor's private phone at all hours, lawsuits, verbal abuse, death threats, vandalism, and street protests, including property damage with the San Francisco police standing around like potted plants.
These days all of this stuff is pretty much old hat, but back then, it was sort of unprecedented.
The church got zero help from local civic authorities, and precious little from its own denomination (OPC). And they stuck to their guns. What that small church had to endure was truly frightening. Don't know if they would be able to get away with something like that today, though.

A Print Version of Wikipedia?
So how much material is on Wikipedia? C'mon, guess. Actually, it's about 2.6 billion words. And now they're trying to raise the funds to come out with a print version:
Conceived by the team who work on the open source book tool for Wikipedia at publisher PediaPress, the Indiegogo fundraiser is looking to raise $50,000 (£30,000) to bring Wikipedia into print...It would run to over a million pages, featuring more than four million articles by 20 million volunteers: an "record-breaking" new project to turn Wikipedia into 1,000 books has just launched on Indiegogo.
So how big would something like this be?
The team, PediaPress's Heiko Hees, Christoph Kepper and Alex Boerger, believe the complete English Wikipedia would fit into approximately 1,000 books, with 1,200 pages each. "All volumes will have continuous page numbers, so the last article could as well be on page number 1,193,014," they say. The text, which will include images, will be laid out in three columns across 600,000-odd sheets of paper, which will be "FSC-certified paper that comes from sustainable forestry", they said...They envisage the books fitting on a 10m-long book case, which they would hope to display at the Wikimania conference in London this August.
Of course, given how Wikipedia works, the print version would be outdated practically instantaneously.

What I'm Reading
So I'm still reading Stephen Ambrose's Nixon biography, and I just got to the part about his first congressional race in 1946, against the entrenched Democrat Jerry Voorhis. The wikipedia description of Nixon's successful campaign is surprisingly bland:
[Nixon] contended that Voorhis had been ineffective as a congressman and suggested that Voorhis's endorsement by a group linked to communists meant that Voorhis must have radical views.[48] Nixon won the election, receiving 65,586 votes to Voorhis' 49,994.[49]
In fact, it was a ridiculously dirty campaign. Ambrose, a sympathetic biographer, nevertheless sums it up by saying that
his campaign as a whole was characterized by a vicious, snarling approach that was full of half-truths, full lies, and innuendos, hurled at such a pace that Voorhis could never catch up with them. Nixon had promised a "rocking, socking campaign," but what he gave the people of the 12th District was a dirty one.
But then later on, he denied the whole thing entirely:
In 1955, Nixon told a reporter that "Communism was not the issue at any time in the '46 campaign. Few people knew about Communism then, and even fewer cared." That was a breathtaking assertion, reckless in its disregard of the truth, outrageous in its denial of the facts, as was Nixon's further claim that he had never implied that Voorhis was a Communist or raised the issue of Communism in the campaign.
The truth? Nixon admitted
"Of course I knew Jerry Voorhis wasn't a Communist."...But it's a good political campaign fire to use. I had to win. That's the thing you don't understand. The important thing is to win. You're just being naive."
So it's OK to do whatever you have to do to win? A more succinct declaration of absolute amorality would be hard to come by. This is the Nixon everyone knows and hates. How he went from being a nice Quaker boy to a ruthless politician is something that no one, to my knowledge, has ever explained. There is no evidence, in anything he ever said or wrote, that he was conscious of any change from the one to the other. So it's hard not to conclude that that's just who he always was.
I started out being impressed by Nixon, now I'm kind of disappointed.
Easter Bleg
So, this is for all of you Christians, I would like to know your thoughts on what are good theological/devotional writings appropriate for Easter, and if I get enough responses, I'll compile a list for the Easter Sunday book thread.
___________
So that's all for this week. As always, book thread tips, suggestions, rumors, threats, and insults may be sent to OregonMuse, Proprietor, AoSHQ Book Thread, at aoshqbookthread, followed by the 'at' sign, and then 'G' mail, and then dot cee oh emm.
What have you all been reading this week?


posted by Open Blogger at
09:55 AM
|
Access Comments