« Animals in the News
|
Main
|
Saturday Home Improvement & DIY Thread - [Niedermeyer's Dead Horse & Countrysquire] »
April 12, 2014
Food Thread: Special Addition --Beer Thunder-Dome.... [Beerslinger & CBD]
But first, the news...in beer...
Third world problems are once again plaguing first world countries...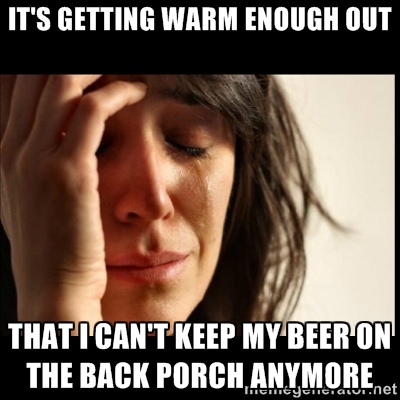 Although this happens to me every spring, I'm sure the media will blame global warming climate change or ozone depletion.

Climate change already to blame for coming beer inflation...
Apparently this ain't gonna fly....
Now, not that I'd ever sit around in a box with my fishing line stuck down an ice hole, but the FAA slapping this down crushes the entrepreneurial spirit of, well, beer drone delivery. Kind of ruins it for the rest of us too. I mean wouldn't this be the near perfect solution to keeping the drunks off the road?
The FDA ain't helping Beer Thunder-dome either.

My guess here is that they're gonna claim that these spent grains the farmers are buying off breweries, and feeding to their cattle, are the primary cause of the methane in cow farts which deplete our ozone layer.
Prohibition is still kicking and can be seen in such legislation...
And a more in depth article on the three tier system, inane beer distribution laws, and possibly some light on the horizon... (warning, NYT link)
I'm sure that there are some here in the horde that prefer some carcinogens with their grilled steaks, but for those who don't, some happy beer news...
Let's get on with it already....
BEER THUNDER-DOME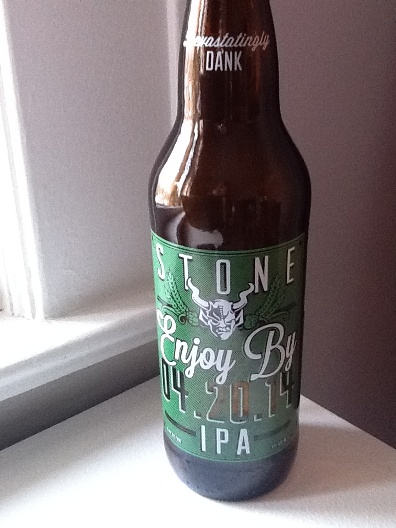 Since I hate the tedious project of pairing beer with food when none comes to mind, food mind you, I will pair it with a great driving song ...and at 9.4%, it might just give you red eyes....props to The War on Drugs....
Have you gotten your hands on this '14 edition of 'Enjoy By' yet? If not, ya better hurry. This beer is not built to last, and that's on purpose, by the brewers. As the name suggests enjoy it by 4.20.14. This is not the beer you buy to stock in the wine cellar, that I trust you've converted into a beer cellar already. An annual imperial IPA, Stone always offers a pack a punch with this annual series. This year's smells incredibly dank but it's flavor simply does not live up to it's aromatic expectations. Still, a solid beer.
This full bodied and malty double IPA won't disappoint.That said, I didn't care for the piney finish. But yes, I'll have another.
'White' - Allagash - Portland, ME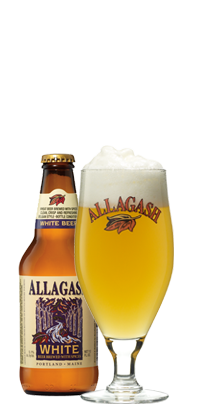 A clean, crisp, Belgian wheat beer with coriander spice and citrus. It's got a lemon rind nose to it. One of the better selling micro-brewed White beers out of the states right now.
'WTF' or 'Wilco Tango Foxtrot' - Lagunitas - Petaluma, CA -- A Malty, Robust, Jobless Recovery Ale
This Imperial Brown Ale looks like a tree ring when you pour it into your glass. What a beauty! The bitter in the back sneaks up after the sweet front. Or, as the bottle states, "Great principles don't get lost as they come to light. They're right here. You just have to see them again." I gotta a feelin' I'm gonna see this beer again. Hopefully the same cannot be said about the jobless recovery part.
'The Maharaja' - by Avery - Boulder, CO
In my humble opinion, this is not a balanced beer. Slightly confusing. Kind of like talking backwards...
Rich backbone, I suspect from the malted barley.It's pungent smell is piney with a grapefruit essence. It claims to be regal, intense, fierce and mighty with its hops and malts, but I think the brewer forgot the additional hops. Not hoppy enough for me to call an IPA, much less an imperial. Only 102 IBU's, (international bitterness units, or hops), which isn't much for an Imperial IPA. Avery makes some great beers, but this one ain't my favorite. Avery's recommends it with shrimp cocktail.
How about jalapeños? Yeah, let's go there. Holy hotness...
'Hot-Jala-Heim' - Horseheads Brewing - NY.
This fine specimen deserves both, a soundtrack and food to pair...
This spicy, herb vegetable beer is brewed with jalapeño and Anaheim peppers. The nose is delectable. Think peppers meet honey. It is so money. Sweet going down and spicy going out on the tongue. The jalapeño is on the back of the bite, kinda hanging out, just to let you know who your hanging out with. The heat is a gentle heat. Go for it. Goes down well with chips and a Mexican white cheese sauce. Yeah, I paired that! That, and a chili releno. You MUST get your drones on this beer.
And, just because...and I'm not saying you gotta get out there and get one, just because...
!Viva La Jesus!
'Even More Jesus' - Evil Twin Brewing - Westbrook Brewing Co, SC
It's hard to keep up with this gypsy brewer from Denmark. For now he brews along the eastern seaboard of the U.S.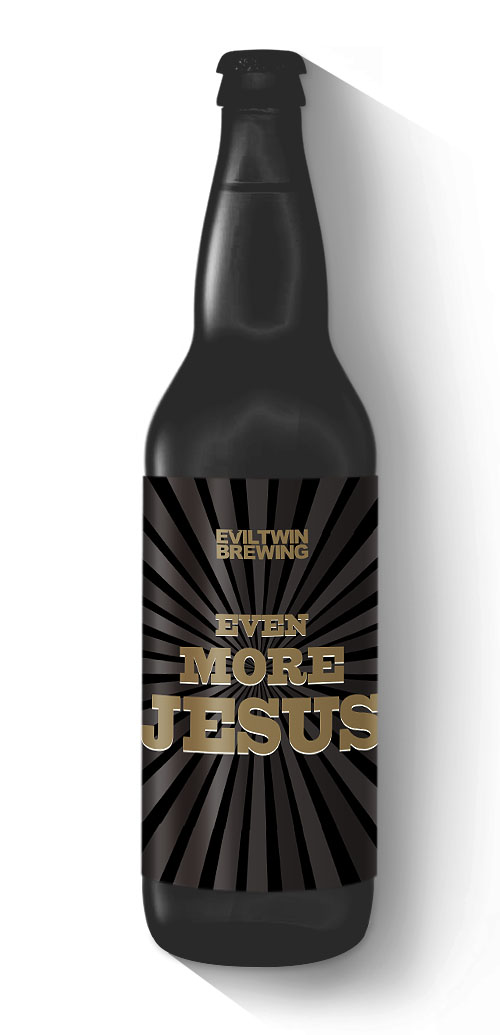 This moment in cinematic history deems appropriate for such a beer as 'Even More Jesus'.
Decide for yourself. Freewill.
What's in your glasses?
Adios, el tontos.


posted by Open Blogger at
01:49 PM
|
Access Comments