« Open Thread (reserved for politics) [CBD]
|
Main
|
Tesla for Thee But Not For Me - [Niedermeyer's Dead Horse] »
April 06, 2014
Food Thread: Unexpected Treasures [CBD]
We Politely Request That All Off-Topic or Political Comments Be Directed to the Thread Directly Below This One, Which Will Serve Officially as the Current "Active Conversation" Thread for All Discussions Not Related To This Topic.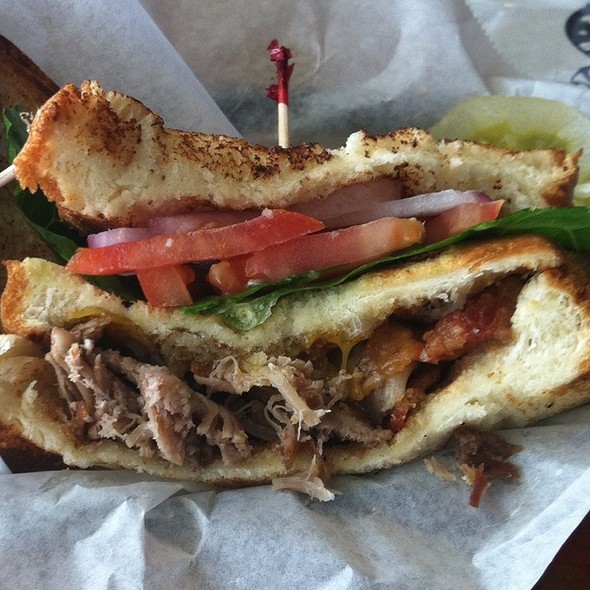 It's simple to find good food in major metropolitan areas. Getting a great meal in New York or Chicago or San Francisco or Miami or, my personal favorite Charleston (suck it NYC!), is an issue only of money if you have no time, or a little time for research if you have no money.
Outside of many cities it is difficult to find great restaurant cooking. And before you get all huffy and call me am egg-sucking, sheep stealing, one-eyed son of a stuffed monkey (Platinum membership for the first to identify that quotation), I am not talking about good, solid food that makes you happy. I am talking about that rare meal or dish that makes you want to dance with joy, or order another plate of it.
In a crappy neighborhood on the North side of Charleston, on the way in from the airport, there is a sandwich of such ethereal, glorious, fattening magnificence that everything else on the menu of this solid roadhouse pales in comparison. It's called a duck club, and it's made with confit of duck, excellent bacon and some smoked cheddar on a surprisingly sweet Hawaiian bread. The Tattooed Moose is worth braving the neighborhood. Hell...it's worth a flight to Charleston just for that sandwich.
Heading in the other direction, in a nondescript little town in central Vermont lives the perfect rural café. We were in the area for a long weekend and stopped in for a late breakfast our first day...and then our second day...and then our third day...and then our last day. I think they were embarrassed for us and gave us a locals discount that last day. The hostaery, in Ludlow Vermont does everything well. They have nothing complicated on the menu, but everything is made exactly how it should be. Fresh eggs, fresh bread, great bacon and sausage and ham, and short-order cooks who know what they are doing and take pride in a job well done.
The restaurant is in ski country, where there is plenty of money and lots of beautiful inns with fancy and expensive restaurants, all catering to the dinner crowd, but the meals at this simple place beat anything in the area.
So.....where are those little gems that thrill you and surprise you? Nothing in a metro area or anywhere where you would expect good food. And nothing regional, like great BBQ in the middle of nowhere...that's exactly where it's supposed to be.
Cheddar Ale Soup
4 T. (1/2 stick) unsalted butter
1 yellow onion, finely diced
2 celery stalks, finely diced
2 carrots, peeled and finely diced
1/3 cup all-purpose flour
1 3/4 cups milk
1 3/4 cups chicken stock
1 bottle (12 fl. oz.) ale (Use something with flavor and a little bite)
1 Tbs. Worcestershire sauce
1 tsp. dry mustard
1 1/4 lb. sharp cheddar cheese, grated
Salt, to taste
Cayenne pepper, to taste
In a stockpot over medium-low heat, melt the butter. Add the onion, celery and carrots and cook, stirring occasionally, until very soft, 10 to 15 minutes. Stir in the flour and cook for 3 to 5 minutes. Increase the heat to medium-high and whisk in the milk and stock. Bring to a simmer and cook, stirring often, until thickened, about 10 minutes.
Using an immersion blender, puree the soup until smooth. Strain the mixture through a fine-mesh sieve into a large bowl.
Return the mixture to the pot and set over medium heat. Add the ale, Worcestershire and mustard and simmer for 5 minutes. Whisk in the cheese 1/2 cup at a time, letting each addition melt before adding more; do not allow the soup to boil. Season with salt and cayenne.
Ladle the soup into warmed bowls and serve immediately.
Serves 4 to 6.

posted by Open Blogger at
05:00 PM
|
Access Comments