« Sunday Morning Open Thread
|
Main
|
Gun Thread (4-6-2014) »
April 06, 2014
Sunday Morning Book Thread 04-06-2014: Burn the Heretic! [OregonMuse]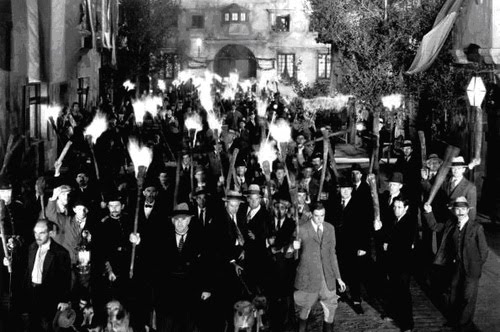 Mozilla: "We Believe In Openness & That No One Should Be Persecuted For The Beliefs They Hold, No Matter What They Are."

Yes, that's an actual quote. It's from the official Mozilla Twitter feed earlier this week.
Good morning morons and moronettes and welcome to AoSHQ's prestigious Sunday Morning Book Thread. Please direct all non-book conversation to Andy's open thread below this one. Thanks.

You May Not Be Interested In Gay Marriage, But Gay Marriage Is Interested In YOU
Now that Brendan Eich has been purged and driven out by the howling mob, I'm remembering these Genesis lyrics from one of their early LPs:
I'll give you the names of those you must kill,
All must die with their children.
Carry their heads to the palace of old,
Hang them high, let the blood flow.
Now, in this ugly world
break all the chains around us,
Now, the crusade has begun
give us a land fit for heroes,
Now
So I guess maybe he's lucky it's just him and not his entire family.
So, the events of this week caused me to start moving away from Firefox. My goal is to dump it altogether. This is something I've been wanting to do for awhile. There's something about how it's installed on my computer, or the add-ons I'm using, or some combination of the two, that causes it to eat up memory like Michael Moore at a Chinese buffet. If I leave the AoSHQ link open all night, the firefox.exe process will be using over 1.2GB of RAM (according to the windows task manager) by morning.
So I'm trying to move everything over to Opera, and we'll see how that goes. Opera uses a lot of memory, too (I guess all browsers are memory hogs), but at least it appears to be stable. Hopefully soon, I'll be able to uninstall Firefox and be done with it.
I'm trying to think of an appropriate book for this, this being the book thread and all. I don't know, perhaps this one. No, maybe not. This book by Ben Shapiro is more to the point, I think.

Literary Hoaxes
Here's an April Fool's quiz about famous literary hoaxes. I scored 5 out of 10, which they say is better than the average, but that's only because I guessed right a couple of times.
Too bad this hoax wasn't included. Of course, 'hoaxes' and 'out-and-out plagiarism' are two different things.
Although it did make it onto this list.
If you found the hoax quiz hard, here's a poetry quiz that's a bit easier. At least it was for me. You should be able to get more than a few.
More Classics
A couple of weeks ago, I mentioned a video game based on the works of Franz Kafka. Well, Buzzfeed found 9 more video games based on classic novels, including Fahrenheit 451, Tom Sawyer, and Les Misérables. Wait, Les Misérables? What's that about? Do you spend the entire game running away from some creepy French policeman? Actually, no, even though that would make sense, and could actually work. This version of Les Miz is a Street Fighter type single-combat fighting game, using characters from the book.
And speaking of classic works, I like this:
6 Writers Who Accidentally Crapped Out Masterpieces
I hate the Cracked site, because it really knows how to push my buttons: every time I click on one of their links, I always get sucked into clicking on more of their links and pretty soon I have 8 or 9 browser windows open and I've wasted several hours. I feel like one of those experimental monkeys they give crack to when they press a button. Anyway, this is an interesting list of some well-known works whose authors didn't consider good, or put very little effort into writing, or perhaps wrote them just to get paid.
They're all pretty interesting, but the Franz Kafka's story is the one I wish I knew more about:
[Kafka] had little to no faith in his writing ability, considering very little of it to be worthy of publication, and asked for it to be destroyed upon his death.

...his best friend and executor of his estate Max Brod promised to carry out Kafka's wishes, and then immediately turned around and published then hell out of everything he had been specifically told not even to read himself.
So my question is, if Kafka hated what he wrote and didn't want it published, then why didn't he destroy it all himself? Perhaps this is like a suicide note written by a teen-aged girl, i.e. not serious. Perhaps he didn't hate his writing as much as he thought.
Oh, and another thing: Despite all of the hinting around and sniggering about Alice in Wonderstand, there is absolutely no evidence that Lewis Carroll was a pedophile. He was an odd duck, and no mistake, but certainly no predator. It is difficult for us in our current hypersexualized atmosphere to understand this.
And on the same page, I see they put a link to another list, 6 Musicians Who Accidentally Crapped Out Masterpieces. Those bastards. How can I not click on that?
(and all of the music stories are worth reading, by the way)

Hwæt!
For the first time ever, Christopher Tolkien will release his father's translation of the tale. It will be published as a book titled Beowulf: A Translation And Commentary and will include lectures J.R.R. Tolkien gave on the poem. According to The Guardian, which originally reported the news, the younger Tolkien edited the work, which his father wrote back in 1926. HarperCollins will release the translation May 22.
Available for preordering on Amazon.
Note: "Hwæt!" can be roughly translated as "listen up, jack-wagons!"

Quickies
If you have a few extra minutes to kill, you might want to select one of these 15 Short Stories You Can Read in Under 15 Minutes to fill the time.
Or, if you're into something retro, you can take a few seconds to peruse this collection of manly action paperback covers from the 1970s. Some of these are mildly NSFW, and what I find amusing is that, in a strange sort of way, they remind me of cheesy covers on women's romance novels.
Also, I can't believe there's an action hero named "Coxeman". I mean, c'mon...

Moron Recommendations
Last week, moronette 'Kathy from Kansas' wrote a fulsome review of Uncle Tom's Cabin. I'm also reading this book and finding it very enjoyable. And as Kathy said last week, Uncle Tom is not some cringing, traitorous boot-licker. His primary motivation for saying the things that he says, and doing the things that he does, comes from him consciously trying to put his Christian faith into practice.
So I'm enjoying the book quite a bit.

Books of Note
The LA Times reports that 'Breaking Bad' star Bryan Cranston will be writing his memoirs:
"With this book, I want to tell the stories of my life and reveal the secrets and lies that I lived with for six years shooting 'Breaking Bad,' " Bryan Cranston said in the press release announcing his upcoming memoir. The as-yet-untitled book will be published by Scribner in 2015.
Meh. Generally, these things never live up to the advertising.

Books by Morons
The Dragon's Fury is a book by moron David Mickelson I mentioned a while back. David e-mailed me this week to let me know it will be on sale for a few days:
I wanted to let you know that there will be a "Kindle Countdown Deal" for my book starting Sunday, April 13 and running for a week. For the first two days it will be available for download for just 99 cents.
So there you are.

___________
So that's all for this week. As always, book thread tips, suggestions, rumors, threats, and insults may be sent to OregonMuse, Proprietor, AoSHQ Book Thread, at aoshqbookthread, followed by the 'at' sign, and then 'G' mail, and then dot cee oh emm.
What have you all been reading this week? Hopefully something good, because, as I keep saying, life is too short to be reading lousy books.

posted by Open Blogger at
10:00 AM
|
Access Comments