« 15 Hours Until Monday
|
Main
|
Improbably -- But Inevitably -- Bridgegate Figure Bridget Kelly Becomes New Democrat/Feminist Icon and Latest Martyred Soldier in the #WarOnWomen »
March 30, 2014
Sunday Morning Book Thread 03-30-2014: The Return of Pulp [OregonMuse]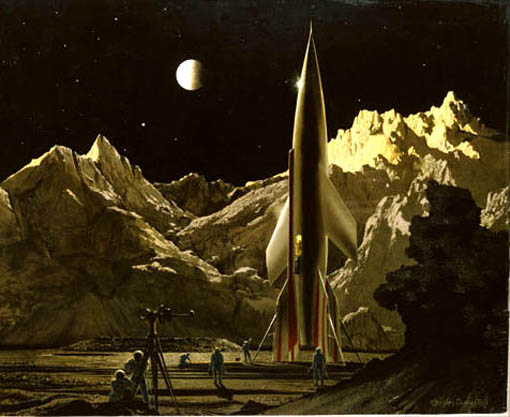 "Hey, Isn't This Thing Supposed To have An Engine?"
Good morning morons and moronettes and welcome to AoSHQ's prestigious Sunday Morning Book Thread.

Every Moron Likes Free Books
...especially if they're pulp sci-fi books from the 50s. So I discovered this site here that specializes in what they call "off- trail" sci-fi, fantasy, and horror. The have a free section where it looks like they've adopted the Baen strategy of offering some of an author's work for free in the hopes that you will like it well enough to actually purchase other books.
A lot of the freebies are reprinted "pulp" authors from the 50s. And some of the titles are a real hoot:
The Man Who Saved The Universe [The Adventures Of Johnny Mayhem #1] by C.H Thames. (Look, any book with a main character named 'Johnny Mayhem' has got to be worth reading)
The Dream Girl [The Hilarious Adventures of Toffee #1] by Charles F. Myers. (OK, the title isn't much, but look at the cover art -- dude's obviously living the moron lifestyle)
Interplanetary Huntress by Arthur K. Barnes. The blurb for this one is great:
Science Fiction's first heroine! Out of print for more than 50 years! The action-packed exploits of Gerry Carlyle, Interplanetary Huntress, on assignment from the London Interplanetary Zoo to capture the rarest alien lifeforms in the solar system – and "bring 'em back alive." The only fly in the ointment of this intrepid woman is pilot Tommy Strike, who's just as determined to prove no woman is his superior. Their battles with the most fearsome of otherworldly critters are nothing compared to their battle with each other!
So check 'em out.

Gone With the Wind Prequel Coming
And the main character will be Mammy:
The Mitchell estate has authorized writer Donald McCaig to write a novel, titled "Ruth's Journey" (Ruth is Mammy's real name in this telling), that details how the character is brought to America as a slave and how she views the events of Mitchell's original novel. McCaig's novel "Rhett Butler's People," which was released in 2007 and explores the childhood and family history of "Wind" romantic hero Rhett, was one of two books previously authorized by the Mitchell estate, with author Alexandra Ripley's "Scarlett" also approved.
Huh. I hadn't heard about these other prequels. I'm thinking they can't be good, but what do I know?
@
Ripped from the AOSHQ sidebar: I found this article from Smithsonian magazine that gives an interesting explanation of the origin and history of the 'at' sign.
Guy named Ray Tomlinson, who worked for a company contracted with the government to develop the ur-Internet, called Arpanet, was tasked with how to send messages from one guy at one computer to a different guy at a totally different comoputer. He needed a separator for the different elements that make up the mailbox address:
Tomlinson's eyes fell on @, poised above?"P"?on his Model 33 teletype. "I was mostly looking for a symbol that wasn't used much," he told Smithsonian. "And there weren't a lot of options—an exclamation point or a comma. I could have used an equal sign, but that wouldn't have made much sense." Tomlinson chose @—"probably saving it from going the way of the 'cent' sign on computer keyboards," he says. Using his naming system, he sent himself an e-mail, which traveled from one teletype in his room, through Arpanet, and back to a different teletype in his room.
And speaking of vintage e-mail addresses, how many of you morons remember Compuserve's old octal-based e-mail addresses, i.e 73051.2224@compuserv.com

A Look Back
The Bookslut blog has an interesting idea, to wit: the Daphne Awards, which are explained this way:
If you look back at the books that won the Pulitzer or the National Book Award, it is always the wrong book. Book awards, for the most part, celebrate mediocrity. It takes decades for the reader to catch up to a genius book, it takes years away from hype, publicity teams, and favoritism to see that some books just aren't that good.
So they're going to be deciding what the best books are from 50 years ago. The first iteration of this contest will deal with books that were published in 1963.
Subsequent Bookslut posts (like this one) provided the 1963 candidates to chose from. Some of these books I've heard of, some I've haven't, and I'm sure all those choices will reflect their conventionally liberal sensibilities, but the underlying idea, that some things can be fully understood only after you think about them for a long time, is a basically conservative one.
Which is why we're not served well by the 24/7 news cycle. I've often thought that if we didn't hear about "current" events for days or weeks, we'd be better off. But when something big happens, like 9/11 or Katrina, or a school shooting, all the news channels spring into action and there's intense competition among them to get to the story first or report on an aspect of the story that no one else has thought of, so every little scrap of information or rumor gets pounced on and the result is that 95% of what goes out on the news broadcasts is crap. Sifting through all the available information, determining what's true and what's false, what's important and what's trivial, can take days, weeks or even longer, to properly assess.
There was a funny bit in the South Park 'Katrina' episode that went something like this:
"We hear that there's cannibalism in the Super Dome."
"Have you made any attempt to verify this story?"
"No, but that's what we're reporting."
It probably doesn't help matters that most reporters are liberals who've been taught by their liberal j-school profs to push a narrative rather than discover truth they might not agree with.

Whither Conservative Books?
Here is an interesting Buzzfeed piece on the diminishing of the conservative book market, and by 'interesting' I mean 'lacking any hard data or evidence.' When I first clicked on the link, I was expecting something like, "20 years ago, the conservative book market was x million dollars. But in 2011, it was x - y million dollars, and here is why this happened..." It's hard to accept something you don't want to be true, but I don't think that's the case here. I have no problem with the article itself, which is actually worth reading, it just didn't bring in any verifiable numbers to bolster its central argument.
But I agree with the quotes in the article about the "ghettoization" of conservative authors into conservative publishers not being a good thing. And this holds true in a wider sense. For example, I hated it in when free-market libertarian John Stossel jumped from ABC to Fox. I know why he did it (he thought the audiences at Fox would be greater than that of ABC's 20/20), and that's fine, but I think it's unfortunate he didn't remain where he was, inflicting pain everywhere he went at ABC, driving them bughouse crazy, because his very high ratings meant that they couldn't just dump him, as they no doubt really wanted. I remember him conversing with Barbara Walters after one of his 20/20 segments and the look on her face was like she was being forced to deal with some loathsome thing she couldn't avoid. Her extreme discomfort at having to listen to a view so utterly foreign to the comfortably fashionable socialist cocoon she lives in 24/7 is something we need a lot more of, only it won't happen any more. In fact, whatever Stossel says on his Fox business how, all they have to do now is scream 'FAUX NOISE!' and that's the end of that.

10 Famous Literary Characters Based on Real People
This article is a bit of light candy. It seems weird that there could have been a real Mrs. Havisham:
Potential Havisham #2: Elizabeth Parker. This Shropshire, England, woman was also jilted on her wedding day and became quite reclusive afterward. Dickins was known to visit Shropshire, and the fact that Miss Parker's house was called Havisham Court seems like it must be more than coincidence.
Also, I had always thought the name Ford Prefect had to be a reference to something else, and it turns out to be true:
Douglas Adams once explained that his Hitchhiker's Guide to the Galaxy alien had "skimped a bit on his preparatory research" of Earth and thought he was choosing an inconspicuous name for himself. Adams later explained further, saying that Prefect saw vehicles swarming the streets of our little planet and "had simply mistaken the dominant life form." The Ford Prefect, by the way, was a British car produced from 1938-1961.

Moron Recommendations
A tool for writers: moronette lurker "TYV" emailed this week to recommend Twine, which she says is "an open-source program that helps you write Choose Your Own Adventure-style branching narratives. The finished product is an HTML file that runs in a browser." She offers her own story, Lore, as an example of what you can do with this writer's tool.

Books by Morons
Mark Huffman (author of Antediluvian) has written a series of holiday-themed short stories about a vampire who has made it a habit to prey on diabetics. Seriously. He can't get enough of that sweet, sweet taste of elevated glucose levels.
The first two, Sweet Tooth and Sweet Tooth: Lord of the Pies, are available for free. The others are 99 cents each.
They're fun reads, the main character is an interesting guy, and Mark really needs to develop the concept into a full-length novel.
___________
A couple of weeks ago, moron author David Dubrow released his first novel, The Blessed Man and the Witch, which the Amazon blurb calls
a paranormal thriller focusing on the end of the world. The first in a projected trilogy about a Biblical apocalypse, it addresses western occultism, angelic phenomena, demonic possession, and the slow dissolution of American society within a credible and original framework.
In addition, David has made the following offer:
I'd be happy to send free copies of the book in Kindle or PDF format to anyone willing to give it an honest review on a blog, Amazon, or Goodreads. Just email me and I'll send the book along.
Dave's e-mail address is:
davedauthor
and then the 'at' sigh.
The domain is, as pronounced, geemaledottcomm.
Dubrow has also written the Ultimate Guide to Surviving a Zombie Apocalypse under the nom de plume of F. Kim O'Neill.
___________

So that's all for this week. As always, book thread tips, suggestions, rumors, threats, and insults may be sent to OregonMuse, Proprietor, AoSHQ Book Thread, at aoshqbookthread, followed by the 'at' sign, and then 'G' mail, and then dot cee oh emm.
What have you all been reading this week? Hopefully something good, because, as I keep saying, life is too short to be reading lousy books.

posted by Open Blogger at
09:58 AM
|
Access Comments